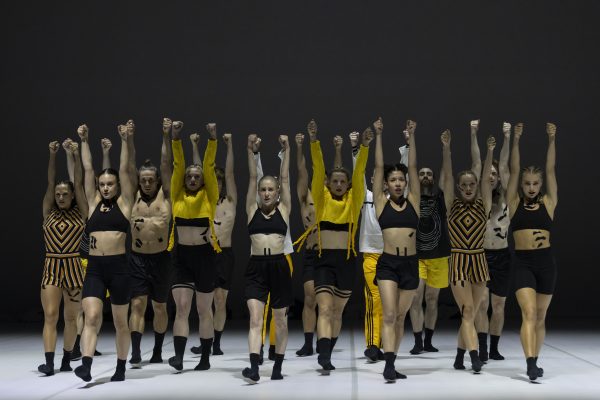 Ascent
Sydney Dance Company
Sydney Dance Company takes to the stage direct from sell-out Sydney and Canberra shows with the spellbinding triple-bill Ascent which is set to premiere in Adelaide at the Dunstan Playhouse from May 11 to 13.
In an inspired triple-bill, Ascent features the work of three leading contemporary choreographers, with the world premiere of Spanish choreographer Marina Mascarell's The Shell, A Ghost, The Host & The Lyrebird, the reprise of Antony Hamilton's Helpmann Award winning Forever & Ever and Rafael Bonachela brings the world premiere of I Am-ness to Adelaide.
Brimming with physicality, Ascent marries world-class contemporary dance with boundary-breaking futuristic experimentation. Full of electric movement and emotional force, Ascent is a powerful and arresting portrait of contemporary dance and its potential to move, thrill and activate audiences.
Brought to life by Sydney Dance Company's superb ensemble, Ascent is a sensorial delight featuring immersive installations and compelling musical scores. Exploring themes of humanity, technology and nature, this is an unmissable creative union which is forceful, splendid and electrifying.
Sydney Dance Company Artistic Director Rafael Bonachela: "After incredible sell-out seasons at Sydney Opera House and Canberra Theatre Centre, I am beyond thrilled to bring Ascent to Adelaide Festival Centre.
"We wanted to start the year on a high with Ascent – a powerful triple-bill that will uplift and captivate audiences as we take them on a journey through three bold, emotive and energising works. I am delighted to be able to share this season with the audiences of Adelaide."
Adelaide Festival Centre CEO & Artistic Director Douglas Gautier AM: "Sydney Dance Company is always a welcome addition to Adelaide Festival Centre's programming. On previous visits to our city, Sydney Dance Company have delighted and engaged Adelaide audiences of all ages leading to sell-out shows. Ascent looks to continue that tradition."
**** "…poignant choreography… a must-watch for the curious." The Sydney Morning Herald 
**** "Hamilton's super-precise, high-definition choreography captures the cool of pop-culture." Limelight
"Bold, emotive and visceral, Ascent is a must-see for lovers of dance." Arts Hub
**** "…an inventive and adventurous ride… original and evocative." Time Out
I Am-ness
Choreography Rafael Bonachela
Music Lonely Angel, meditation for violin and strings by Peteris Vasks
Lighting Design Damien Cooper
Costume Design Rafael Bonachela
Costume Design Realisation Aleisa Jelbart
The Shell, A Ghost, The Host & The Lyrebird
Direction Marina Mascarell
Choreography Marina Mascarell in collaboration with Sophie Jones, Jesse Scales, Lucy Angel, Coco Wood, Liam Green, Dean Elliott, Emily Seymour, Jacopo Grabar, and Luke Hayward
Music Nick Wales
Set & Costume Designers Lauren Brincat and Leah Giblin
Lighting Design Damien Cooper
Forever & Ever
Direction Antony Hamilton
Music Julian Hamilton
Costume Design Paula Levis
Lighting Design Ben Cisterne