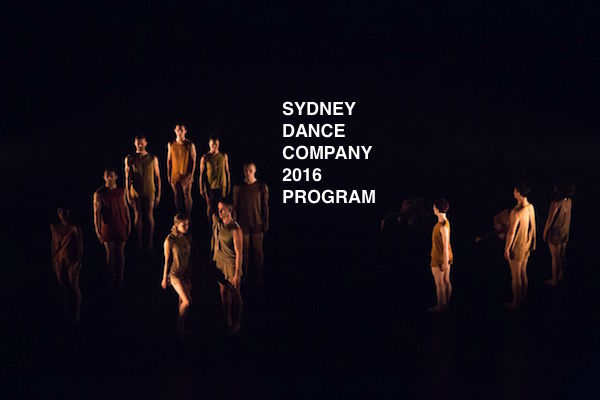 Sydney Dance Company is excited to announce their 2016 Artistic Program, comprising two new works from Artistic Director Rafael Bonachela alongside acclaimed choreographies from Sweden's Alexander Ekman and Adelaide-based Gabrielle Nankivell, in addition to newly commissioned dance works from four up-and-coming Australian choreographers, yet to be revealed.
Sydney Dance Company will open 2016 with a striking world premiere work, Lux Tenebris, created by Rafael Bonachela and set to a dusky sonic soundscape by composer Nick Wales.
In Australia, this stunning new production will be part of a double bill program, CounterMove, paired with a work from one of Europe's most highly sought‐after artists, award-winning Swedish choreographer Alexander Ekman's acclaimed and hilarious Cacti. Originally created by Ekman for the Nederlands Dans Theatre 2, Cacti had its Australian premiere in 2013, as part of De Novo.


A highlight of the year will be an extensive national tour of CounterMove at 18 venues in six states and territories around Australia, from Sydney to Canberra, Melbourne and Darwin, and throughout regional New South Wales, Queensland and Western Australia.
Named for the Latin term meaning 'Light and Darkness', Lux Tenebris is a full ensemble piece, created on the Sydney Dance Company dancers. Movement follows deep, unexpected, visceral beats to discover a dark place where there is space for beauty and light.
For his second world premiere of the year, Bonachela takes inspiration from a vibrant contemporary classical composition by Bulgarian composer Dobrinka Tabakova ‐her Concerto For Cello and Strings. This provides a perfect counterpoint to Gabrielle Nankivell's acclaimed Wildebeest, a masterful and evocative dancework based on the idea that 'underneath it all we are all animals and fanciful creatures. Originally commissioned as part of Sydney Dance Company and Carriageworks' NewBreed 2014 program, Wildebeest will be re-worked for its debut on the Roslyn Packer Theatre stage. These two works come together in an 11-show season of Untamed, opening at Sydney's Roslyn Packer Theatre Walsh Bay October 18.


In November Sydney Dance Company and Carriageworks present the third edition of New Breed, a three-year initiative established to nurture the next generation of Australian choreographers and supported generously by the Balnaves Foundation. New Breed opens at Carriageworks on November 29.
In addition to 78 scheduled performances in Australia in 2016, Sydney Dance Company continues its strong tradition of international touring, presenting the stunning triple bill, Interplay, at Switzerland's prestigious STEPS Festival in April. This is a diverse and high-energy program showcasing Australia's premier contemporary dance ensemble at its poetic and athletic best.
Sydney Dance Company 2016 Sydney Packages go on sale at 10am Tuesday October 6. Tickets to individual performances will be available from November 25.
Book at www.sydneydancecompany.com/2016
Details of the 2016 Education Program will be announced on October 13. For information on School Matinees, Workshops, Masterclasses and more, contact the Education team at education@sydneydancecompany.com

SYDNEY DANCE COMPANY  |  2016 PROGRAM
26 FEBRUARY – 12 MARCH
SYDNEY
Sydney Dance Company presents 

CounterMove


Double bill
World premiere, Rafael Bonachela: Lux Tenebris
Alexander Ekman: Cacti
Roslyn Packer Theatre, Walsh Bay
8-23 APRIL
INTERNATIONAL TOUR, SWITZERLAND/GERMANY
Sydney Dance Company presents 

Interplay


Triple bill
Rafael Bonachela: 2 in D Minor
Jacopo Godani: Raw Models
Gideon Obarzanek: L'Chaim

19 MAY – 4 JUNE
CANBERRA/MELBOURNE
Sydney Dance Company presents 

CounterMove


Double bill
Rafael Bonachela: Lux Tenebris
Alexander Ekman: Cacti
Canberra Theatre Centre, 19-21 May
Southbank Theatre, Melbourne, 25 May – 4 June
JUNE/JULY/AUGUST
REGIONAL NSW, QUEENSLAND, WESTERN AUSTRALIA
Sydney Dance Company presents 

CounterMove


17-18 June, Wollongong
22 June, Orange
25 June, Newcastle
29 June, Port Macquarie


Dancer Chloe Leong. Photo by Irenaeus Herok


2 July, Rockhampton
6 July, Gladstone
9-10 July, Cairns
15-16 July, Gold Coast
29 July, Darwin
3 Aug, Geraldton
6 Aug, Mandurah
9 Aug, Albany
13 Aug, Bunbury
20 Aug, Bathurst
24 Aug, Griffith
27 Aug, Dubbo
18-29 OCTOBER
SYDNEY
Sydney Dance Company presents 

Untamed


World premiere, Rafael Bonachela: Title TBC
Gabrielle Nankivell: Wildebeest
Roslyn Packer Theatre Walsh Bay
29 NOVEMBER – 4 DECEMBER
SYDNEY
Sydney Dance Company presents 

New Breed


Four world premieres
New works by the cream of Australia's up and coming choreographers, commissions to be announced
Carriageworks, Sydney