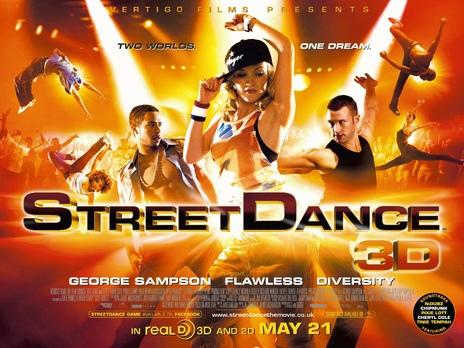 The newest 3D film is Streetdance 3D and it hits Cinemas today!!
Get ready to watch the stars of Britain's Got Talent in 3D… no not Susan Boyle… Diversity & George Sampson… We interview the cast of the new dance movie…
American dance movies have become a craze at the box office, 'You Got Served', 'Stomp The Yard', 'Step Up' (and its three sequels) have all earned millions at the box office. Now the UK are getting in on the act with 'Street Dance 3D', it also has the distinction of being the first UK movie to be filmed in 3D.
The story follows the exploits of a London dance crew training for the UK Street Dance Championships, who are forced to work with ballet dancers from the Royal Dance School in return for rehearsal space. With no common ground and with passions riding high, they realise they need to find a way to join forces to win.
It stars talent like Nichola Burley ( Love & Hate, Donkey Punch) and Richard Winsor (Dorian Grey at Saddler's Wells, Edward Scissorhands at Saddlers Wells) plus dance sensations Diversity, winners of Britain's Got Talent 2009 and George Sampson who won the show in 2008.
Here is an interview with the stars from Movie IE.
What drew you to a 3D dance movie?
Richard Winsor: For me, it was the draw of playing the romantic lead role, and also bringing British dance to the big screen, it is the first time it has really been done. It was a privilege to be involved in that… There is a lot going on in British dance at the moment, helped by George and Flawless and Diversity. Bringing it to the big screen was a really exciting project.
Nicola Burley: I always watched dance films and was amazed. I always wanted to do something with dance and acting and never thought I would get a chance. There are all these girls like 'Honey' and these amazing people. I would be like "I know I could do it if I got an opportunity", but I never thought it would arise, so once I got it, I just wasn't letting it go for anything.
George Sampson : it was just the fact that it was the first British street dance movie and I felt like I had worked so hard up until then I felt like I needed to be involved. I needed to show what I was capable of doing. That's what drew me, when I got asked I was like 'Yeah definitely".
George, when you auditioned for Britain's Got Talent, did you ever dream that you would be in a movie like this?
GS: Not in a million years. I look back now – after two years – to me busking on the street, trying to earn money to go to dance lessons. If someone had said to me then "In two years I can see you doing a 3D, British dance movie" I would have said "You're chatting rubbish" [laughs]
You all have different levels of experience in dance, what was the training for the film like?
RW: It was full on. Ballet-wise, I really needed to get my technique back because I hadn't done classical ballet in years. I had never done it professionally so it was a real challenge to look like a third year ballet student. It was more the street dance for me and Nichola. We had two weeks to…
NB: …Two weeks to get a grip!
[All laugh]
RW: Two weeks to get over the fact that you've got to do this, then we had four weeks to nail the styles. We were pushed really hard.
NB: It was really hard. I think we all put pressure on ourselves because we all had a challenge, which was the opposite to what we did naturally. It was exciting; it was never like "we can't do it". We knew we were going to do it. It was just the process to get there.
GS: It was all freestyle for me; it was what I did best. I did have a bit of training because I wanted to show I was progressing – dance is so competitive, people are always judging you, so you have to constantly train hard. That way you are a little bit better every time someone sees you. I was training before the movie, so I could be better during the movie.
Read the rest of the interview HERE.