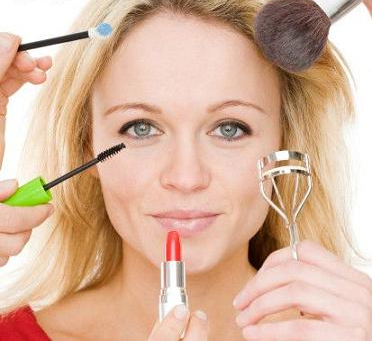 DanceLife Make Up Expert Tina Sparks from Stand Out Cosmetics gives you the essential facts on Make Up to get you started.
• Skin sweats more when we dance
• We loose 40% of our facial features from the Lights on the stage.
• Eye brows frame our face
• Poorly applied make up is a distraction
These facts are just a few on the large list that we will explore this year, so lets look at these today.
When we dance our body produces sweat to help cool our bodies down. For some, sweating can be minor but for others this may be problem they need to learn how to deal with.
• Sweat can drip down our face moving make up from our eyes lips and cheeks. The best way to think of your skin is in the same way a professional painter views their work.
• Start with a clean fresh canvas (your face) by cleansing and moisturizing your skin. If you have oily or combination skin you may not need to moisturize.
• I recommend an oil free non clogging foundation that is a warm tone one shade darker than you natural skin tone.
• Apply this to every inch of skin from the base of your neck upwards (including ears, eye lids, up into the hairline, jaw, front and back of neck.
• Make up does not need to be harsh looking, it should be complimentary, elegant well blended and not a distraction.
• Up to 40%of our features are lost under stage lights. When we don't fill in our eye brows it looks like our forehead goes on forever.
• Choose an eye shadow not pencil to fill in your brows even if they are dark like mine! Using a shadow with an angle brush is less harsh looking and can be easily brushed out with a brow comb or groomer.
• Think of eye brows as sisters not twins, everyone's are slightly different on each face. They beauty of make up is that we can make them look identical or shape them anyway we like.
• Apply your shadow, blush, lip liner & lip stick.
• Finale! Your last and most important step is to powder your skin. Choosing your finishing powder is vital to how your make up will hold out during your performance day.
• Powders come in many forms from lightly colored, invisible, rice, finely milled and more! They are often neglected in our selection whether we are male or female.
• Invisible ones work well as they don't contain any colour and suck up the oil & shine from our skin really well.
• We spend countless hours rehearsing, our parents spend endless nights sewing & if we just take a little extra time choosing the right high quality make up for our skin & that little bit extra applying it you will have a perfect ending to the beginning of an outstanding performance that is unbeatable!
For more tips, information and Australia's number one preferred make up line for on stage and off visit Stand Out cosmetics at www.standoutcosmetics.com.au or email or call me Tina Sparks, any time!