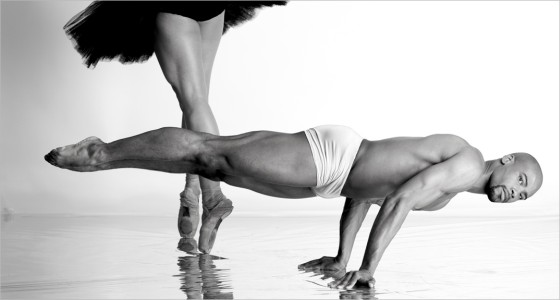 New York City's sizzling Complexions Contemporary Ballet will perform in Canberra, Perth and Sydney in September/October with a mixed bill of current and new work.
Complexions Contemporary Ballet was conceived in 1994 by Dwight Rhoden and Desmond Richardson, former Alvin Ailey shining stars. From classical ballet to its contemporary derivations, it harnesses the strengths of varied dance forms to bring its unique blend of contemporary ballet to audiences around the Globe.
Another fresh work, about evocative and requited love On Holiday, choreographed by Dwight Rhoden, which premiered on August 10, 2010 at Summer Stage, Central Park, NYC. It is set to songs made popular by Billy Holiday, sung by Billy Porter including One for my Baby, Let's Call the Whole Thing Off, Good Morning Heartache, Loverman and My Man.
Goldberg Variation is a solo, choreographed by Dwight Rhoden, performed to the music of J. Sebastian Bach and performed by Desmond Richardson who was hailed by The New York Times as "one of the great modern dancers of his time".
Moon Over Jupiter will have its world premiere in Canberra, danced to music by Sergei Rachmaninov, choreographed by Dwight Rhoden. It is a contemporary full company work which will be danced en pointe. It an abstract work that dives into the realm of fantasy, and sets that fantastical feeling by conjuring an environment that is wondrous and unrestricted by reality. It is a place where love has no limit, and flows in dynamic currents of passion through the extreme movements of the dancers.
Two current repertoire pieces will be performed including Rise, set to music of U2 including Where the Streets Have No Name, Elevation, I Still Haven't Found What I'm Looking For, Vertigo, With or Without You, Desire, Pride, and Beautiful Day. Dwight Rhoden's Moody Booty Blues, is a sassy, up tempo piece, featuring the electric blues music from such artists as Stevie Ray Vaughan and Muddy Waters.
Tue 5 Oct – Saturday 8 Oct
Sydney – Parade Theatre
Bookings: 132 849 www.ticketek.com.au
WIN TICKETS
Win two tickets to COMPLEXIONS this THURSDAY 7th October. Email your name, suburb and mobile number to win@dancelife.com.au. Make sure you are available to attend the performance this Thursday in Sydney.