Pilobus presents SHADOWLAND
International Theatre Sensation to Tour Australia in August – September
An enchanting tale of illusion & dance
Shadowland, the ground-breaking new performance by internationally acclaimed dance troupe Pilobolus, is best described as part shadow act, part dance, part circus and part concert. After more than 100 choreographic works performed in over 64 countries, Shadowland will be touring in Melbourne, Brisbane, Sydney, Canberra and Perth from 2nd August 2016.
Shadowland incorporates multiple moving screens of different sizes and shapes to create an evening-length performance that merges projected images and front-of-screen choreography. Through their unique fusion of shadow, theatre and dance, audiences are mesmerised as human bodies are transformed into faces, cars, buildings and more abstract scenes inside the 'shadowland.'
The story is a surreal experience of a young girl's sensational world as she comes of age. Created in collaboration with lead writer for the popular animated series SpongeBob Square Pants, Steven Banks, Shadowland is a universal and intimately portrayed experience that is both intensely dramatic and comedic.
It is set to a rhythmic original score by the popular American composer David Poe, whose poetic work for Shadowland ranges from ballads to hard-driving rock numbers that lift the audience out of its seats. His much-loved songs illuminate the themes and visuals of this fascinating story and world.
Shadowland was conceived and created by Pilobolus after several years of experimentation of the short shadow form. The result is a mixture of Pilobolus' signature style and innovative new forays into new media. Indeed, from an artistic standpoint, the new work incorporates Pilobolus' legendary approach to modern dance combined with high-energy, fast-paced, multi-media innovation.


Known for its collaborative choreographic process and a unique weight-sharing approach to partnering and sculptural creations, Pilobolus discovered this new medium for playing with lightness and dark when it developed advertisements for Hyundai and then performed at the 79th Annual Academy Awards in 2007, creating iconic images of the films nominated for Best Picture.
"Bodies become imagery; one image merges into another poetically, inexplicable." – THE NEW YORK TIMES
"At various points in a performance of Pilobolus Dance Theatre, you forget what you're looking at; the dancers move so skilfully, so symbiotically, that they cease to resemble people at all." – THE NEW YORKER
"This is an amazing spectacle of inventiveness." – LE PARISIEN
Pilobolus is a modern performance company, founded in 1971, that to this day wears its revolutionary stripes on its sleeves. The company has continued to grow, expanding and refining its unique methods of collective creative production to assemble a repertoire of over 100 choreographic works. In 2007, the creative services team at Pilobolus created and presented six acclaimed performances during the 79th Annual Academy Awards, as well as producing a series of original segments for The Oprah Winfrey Show and Late Night with Conan O'Brien.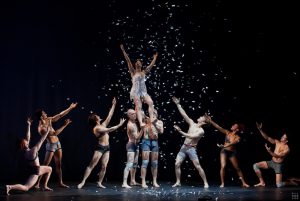 SHADOWLAND  |

PRESENTED BY PILOBULUS
Tickets on Sale From May 16th




PERTH


Regal Theatre from August 1st


MELBOURNE


State Theatre, Arts Centre from August 10th


REGIONAL VICTORIA


Frankston: Frankston Arts Centre from August
Horsham: Horsham Town Hall August 19th
Geelong: Deakin's Costa Hall August 20th
Bendigo: Ulumbarra Theatre August 21st


BRISBANE


Playhouse Theatre QPAC from August 23rd


CANBERRA


Canberra Theatre from August 30th


SYDNEY


State Theatre from September 1st


ADELAIDE


Her Majesty's Theatre from September 6th