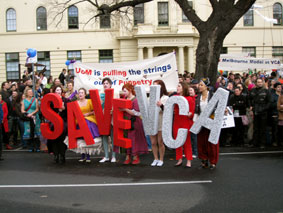 Question:
What do renowned Photographer and Artist Bill Henson, Actor Vince Colosimo, Actor Sibylla Budd, Animator and Oscar winner Adam Elliot, Choreographer and Dancer Jo Lloyd, John Butler Trio members Shannon Burchell and Michael Barker have in common – despite being enviably talented in their respective fields?
Answer: They all trained at the Victorian College of the Arts.
So what happens when the University of Melbourne decides to implement the "Melbourne Model" at the VCA, modifying the courses so that 25% of study must be completed in another faculty? Well, it's simple – as a dancer, singer, musician, artist, film maker, set or costume designer or director, you must decide, among others, between Commerce, Legal Studies, Accounting or Finance. AWESOME!!!
But wait… There's MORE!! Semesters are going to be cut from sixteen weeks to twelve. Along with the 25% in another faculty this is effectively halving the practical time in the course. The Musical Theatre degree is canned in it's inaugural year, so too is Australia's only degree in Puppetry. Sessional staff will be scrapped – so if you plan on meeting any industry Professionals for a workshop during your study, think again!
So as a working artist myself, I was understandably infuriated by this news and felt compelled to attend the "Save the VCA" rally and march to speak out. I was not alone. Actor Geoffrey Rush was also there, so too was Comedienne Julia Zemiro, Acclaimed Writer John Michael Howson, Former Victorian Arts Minister Race Mathews, Liberal MP Heidi Victoria and cast members of the hit Musical "Jersey Boys", along with well over two thousand people singing, chanting and dancing up a storm all the way to the steps of Parliament.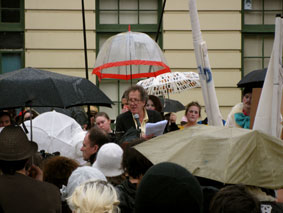 The march kicked off at 11.00am and with friendly police escort wound its way through the heart of Melbourne City which literally stopped for the mass of people all dressed in colorful costumes, waving banners and chanting "VCA Here to Stay!". At Burke Street our very own fifteen piece brass band pumped out "The Final Countdown" as we descended on Parliament. The march concluded with our very own mass rendition of "Fame" – yes, as in "I'm gonna live forever, I'm gonna learn how to fly!"
As I returned to my car I smiled at some of the amazing costumes and passionate antics I had witnessed over the course of that morning. The weather was horrid; gale-force winds, rain and winter chill, but I saw with my own eyes, two gentleman wearing only a makeshift loin cloth with "Save the VCA" painted on their chests jogging along St Kilda Road! People had been camping out on the lawns of the VCA for the past couple of weeks in protest and to raise awareness. People cheered, sang and danced uninhibited in public, wore costumes and painted their faces. This is what Melbourne is set to lose. This is a tragedy. Geoffrey Rush noted in his speech that "an actor must train – not study – train." We are these singers, dancers, actors and directors who specialise – just like any sports star or politician, in what we love to do. It takes years and years and years and hundreds of painful hours to become a great artist. It is a skill that must be achieved through blood, sweat and many, many tears. We are fragile, we laugh, we dance, we dream. We are constantly putting ourselves through auditions and constantly receiving knock-backs in the hope that the right gig is just around the corner. We do it because we love it. We do it because for us, there is simply no alternative. It is part of who we are. This is what is being taken away from us.
The VCA must be allowed to keep granting artists the means to achieve. A dancer MUST not spend 25% of their time sitting in a lecture theatre learning about the Global Financial Crisis and its effect on free markets in the western world. He or she has an age sensitive career – a short time span in which they can perform, and that 25% of university time should have been spent at the Ballet Barre or in the studio rehearsing. With this "Melbourne Model" comes mediocrity. Artistic mediocrity. We, as artists cannot achieve what we need to when without practical training. We need a 'showcase' for Industry professionals and casting directors to see us. We need to be on a dance floor, in a recording studio, at a piano or in an orchestra pit to learn what we need to know – we need to be here every waking hour of every fee-paying day on campus. If we are not, we will not compete. We will be shipping our home grown talent off to more accommodating cities. Change can still occur. Our voices can still be heard and if we chant loud enough, people will listen.
Please visit www.savevca.org for more information and to get involved.
I conclude this article with a quote from Former Arts Minister Race Mathews, who said "The College is a unique and enviable public asset, which any civilised community should be concerned to protect and preserve, and any University fortunate enough to be entrusted with it should cherish." (The Age 28/05/09)
Written By Melbourne's DanceLife Correspondent MATTHEW MCFARLANE