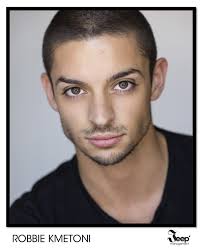 Robbie Kmetoni Interview Part 2 – The Past, The Future and Advice

Robbie Kmetoni has been dancing for the past sixteen years, training in all  genres of dance at one of Sydney's leading Performing Arts Studios.Straight out of high school at the age of 17, Robbie was chose as one of Australia's Top 20 on Channel TEN' hit TV series 'So You Think You Can Dance', 2010. Robbie was fortunate enough to win the entire season choosing a contract to tour the world with the renowned ballroom and dance sensation 'Burn The Floor', mentored by the one and only Jason Gilkison. As a result, he has been traveling the world for 4 years performing to audiences and finishing off 2013 with a successful six month run in West End, London.In this second part of Robbie's Interview we discuss with him his training prior to "So You Think You Can Dance" and aspirations for the future. He also gives advise to dancers thinking of getting into the industry.


So what was your training leading up to "So You Think You Can Dance"?
I originally came from the Sutherland Shire and that's where I first started dance class at a local school called AP Academy of Dance.  I was there for about 7 years, as I hit 11-12 years old I went to Newtown Performing Arts High School and just before that I joined Allegria Ballet Studios, and it did absolute wonders for my technique. I always say that ballet is the foundation of everything, so I am very blessed to have had that training. When I was in year 10 I decided to leave Newtown and I went to Brent Street High School to open up my doors a little more and to get a little more versatility in my dancing. There I started Hip Hop, Jazz, Tap, Singing and Acting. I knew what career I wanted and it wasn't really ballet, even thought that's where a lot of my training was in the past. I needed to expand my horizons!

In regard to your experience on "So You Think You Can Dance", I think your first duo was with Jessica Hasketh and it was an Avatar piece?

Yes that's correct and Jacqui Howard choreographed it. We were really lucky to have her in our first week as we were at her school so it was great to work with someone familiar in our first week!

So how old were you when you were in "So You Think You Can Dance"?
I auditioned when I was 17 whilst I was in Year 12 and doing my HSC. During the Top 100 I was still 17, and just before lock-down I turned 18 – so I just scraped in for that year!

You mentioned earlier about what you would like to do in the future but do you have anything locked in for the near future?

At the moment there's nothing in the wings.  I just have a lot of distant dreams. I guess my next major goal is to get on "Dancing With The Stars"**, I'd like that by the end of this year actually. Until then I'll keep taking Ballroom classes and working in Sydney. I mean, I haven't really had the chance to work in Sydney much because I went straight from school to "So You Think You Can Dance", then pretty much onto "Burn The Floor". So it's nice just working here, getting back into the industry and building up my CV.
** DanceLife would like to note, that since this interview, Robbie has been contracted with the latest season of "Dancing With The Stars" in Australia and will be partnering Olympic gold medalist snowboarder, Torah Bright – Congratulations Robbie!


How are you family with all of your traveling and being away so often?

They are so supportive! They are honestly my biggest fans. I recommend every parent and sibling let their family get out there and do what they need to do – you need to give them that support. A career in dance is an intense career choice, it's not only a difficult industry to crack into but it also has a lot of negatives involved. Don't get me wrong there are also plenty of positives but in those tough times, you really need that support system around you. If you can get through all of that, you will have a successful career and your family can certainly help!


You're right, there are a lot of ups and downs in this industry.

Exactly, I still get a lot of no's when I go to auditions so you need to learn to control those feelings. At the end of the day it sometimes comes down to typecasting and they could be looking for something very specific. For instance, my height is something that always keeps me down but I know people who have missed out due to their hair colour!

What would you say to someone who is struggling with auditions regarding how they look?
Well beyond taking as many classes as you can, I suppose you just need to be aware of the typecasting that can happen. So with height, know it might be a negative one audition but it might be an advantage in another. Always find out what they're looking for and even if you don't meet the brief, still go. It exposes you to the panel and shows them how hungry you are and that's another important part of this industry, letting the people who matter know that you want to be a part of it. And remember, if you aren't getting lucky, there are other ways to be in the industry. Try your hand at choreography and see if you enjoy that more. I've found whilst I've been teaching around Sydney that I'm really loving choreographing.

So from your travels over the last four years, how do you think Australian dancers received around the world?
Everyone knows how much talent is in Australia! Which is incredible! The only thing is that it seems that everyone else knows it but Australia! We need more classes, especially for professionals, there's hardly anything. We all still love to dance but there's not a lot who's doing it. Look at L.A, choreographers are teaching class after class after class after class and all the professionals are continually bettering themselves. We have the dancers who want that but we just need that to happen. Slowly but surely it is happening and I truly believe that "So You Think You Can Dance" helps and I'm so glad it's back!
Is there anything else you'd like to say to aspiring professional dancers?
What I learned through my training was a lot of perseverance. Perseverance was what got me through "So You Think You Can Dance", let alone my years of training. It is a tough industry and I'll admit, I've been through a lot of tough times, but the great times are what make it absolutely worth it and I think all of the competitions and classes you do with your studios are all worth it. You know, getting on stage, in any capacity, is just a stepping-stone to a great career. Learn from your teachers, accept what they have to say and their critiques – it's what makes you better in the long run. When you get older make sure you keep taking classes and take them everywhere. Go to workshops and get inspired! And remember, dream big!