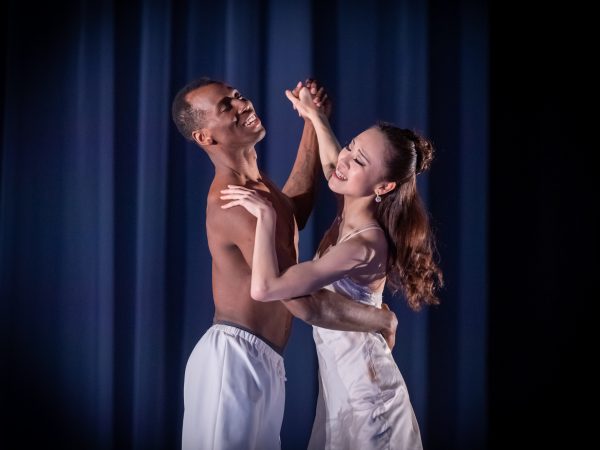 A Poignant and Enigmatic Reflection on the Psychological Odyssey of Romantic Love
9th-24th September 2022 at His Majesty's Theatre, Perth
Reviewed by Courtney Allen
When I embark on a review ordinarily, I reflect on and write about the humans responsible for the costumes, sets and lighting design, and a variety of other contributors to the creative and logistical achievement of executing such a production. An ensemble of creatives are always behind the scenes in various capacities, and I applaud the work of Bruce McKinven, Matthew Marshall and their teams for the exquisite production values in this piece, along with the extraordinarily talented dancers of the West Australian Ballet led by Artistic Director Aurelién Scanella. However, Goldberg Variations does differ from most other WA Ballet productions in a very key way. It is difficult, if not impossible in this case, to overstate the immense contribution of one specific person, the Australian choreographer Natalie Weir.
Natalie Weir's name should be humming on everyone's lips and if it's not already, it will be after you witness her latest offering in Goldberg Variations. Her brand of movement is hard to summarise: as bold as it is gentle, as harmonious as it is disruptive, and as experimental as it is refined. The aesthetics of neoclassical ballet are difficult to pin down in 2022, as they should be, given this style of dance's emphasis on pioneering new movements and new forms of storytelling without extraneous distractions. The complications and frivolities of staging classical ballets (elaborate costuming, wigs, floor-to-ceiling set pieces) are largely dispensed with, paving the way for a greater focus on a music-centred choreography. While the sleek simplicity of the neoclassical tradition is on show here, its historical tendency towards sharp lines and rapid-paced movements is less overt in Goldberg Variations. Instead, Weir's choreography champions soft and fluid lines, romantic duets between the protagonist (danced beautifully by soloist Juan Carlos Osma) and four of his ex lovers (the White Muse, danced by Kiki Saito; the Blue Muse, Dayana Hardy Acuna; the Pink Muse, Polly Hilton; and the Red Muse, Alexa Tuzil) and behind a diaphanous curtain, ensemble work that looks as delicate and enchanting as a Degas.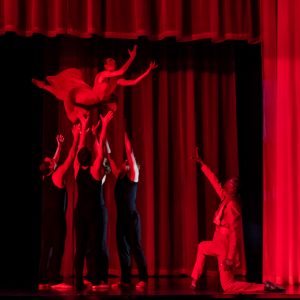 Speaking of music-centered choreography, it would be remiss of me not to mention the composer of Goldberg Variations, the justly exalted Johann Sebastian Bach. Legend has it that the concept of insomnia inspired his score, in turn inspiring Weir to take on a similar narrative arc for hers. Accordingly, Goldberg Variations explores the waking, dreaming and hallucinatory states of a man who cannot sleep and descends, or quite possibly ascends, into mania. Weir's reverence for the piece of music is clear and every detail of the music is accounted for in the movements of her dancers. Every note, every trill, every musical ornament has a corresponding reflection in human form on the stage. From the romantic pairings of the leads; to the chorus of dancers in red symbolising passion and fury; to the four suited butlers who dress and undress the protagonist (perhaps a nod to the impossible standards men hold each other to); to the chaotic and anxiety-riddled tremors of the Pink Muse, there is no part of the choreography that is not steeped in the splendour of Bach's music. The on-stage result of a choreographer who truly listens to, respects, and delights in the music, is absolutely breathtaking.
Artistic Director Aurelién Scanella has spoken frequently of the value of taking risks and it appears to be a vision equally held by his choreographer in Goldberg Variations, to spectacular effect. Is there anything more risky in our present day, than exploring the elusive and perplexing nature of romantic love? There is a risk of appearing too earnest, a risk of over-simplification, a risk of exploring a well traversed topic, and even a risk of coming across as overly didactic. However, one need not fret. Goldberg Variations approaches the subject matter with sophistication, subtlety and grace. Side note: If Natalie Weir ever sees this review, I hope to see a future variant of this piece that explores the narrative from the perspective of the Pink Muse. It strikes me that there is a sumptuous backstory there, of the adversity of trauma and the phoenix-like resilience of the human heart.
It probably goes without saying, but at 1 hour and 15 minutes I was left wanting even more of this exquisite ballet. The perfect feeling to feel at the conclusion of any performance.
Don't miss out on tickets to WA Ballet's 2022 season of Goldberg Variations, a poignant and enigmatic reflection on the psychological odyssey of romantic love.