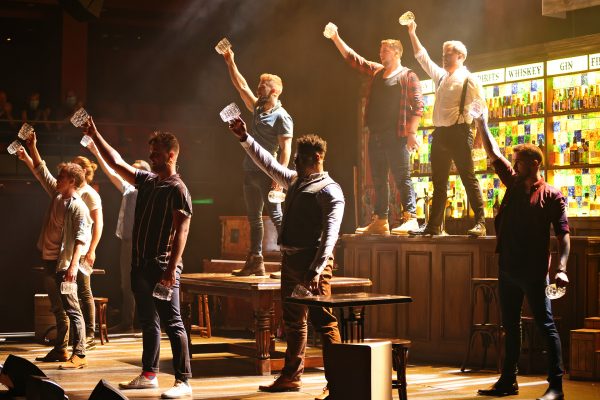 A Pint-Full of Fun and Frothie Frivolity at The Choir of Man
Drama Studio, Sydney Opera House, Wednesday February 24
Reviewed by Sarah Navin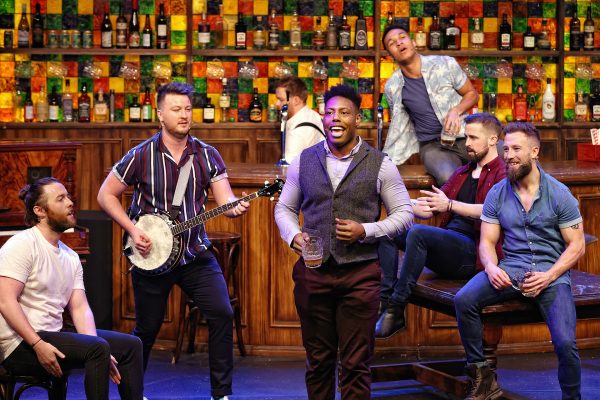 Stepping into The Choir of Man is like meeting an old friend down at the local. They yell across the rowdy venue, beckon you in and offer you a beer – their shout. It's a warm and unorthodox welcome to a musical that – by the end – will have your hands tingling with the sting of overzealous clapping.
As the bubbles fizz in your mouth, they splash out of steins on stage – while 9 men jump atop worn-out pub tables, smash piano keys and launch between rock classics and power ballads in the ultimate 80-minute mood-lifter.
The energy of the performers is contagious as they belt out singalong favourites from Queen, The Proclaimers, Sia, Avicii, Guns N Roses, and John Farnham – and it looks mighty fun to be on stage. There's a cocktail of unique talents performers have up their sleeves… with a flute, banjo, violin or juggling balls appearing sporadically, to give the songs and skits extra pizzazz.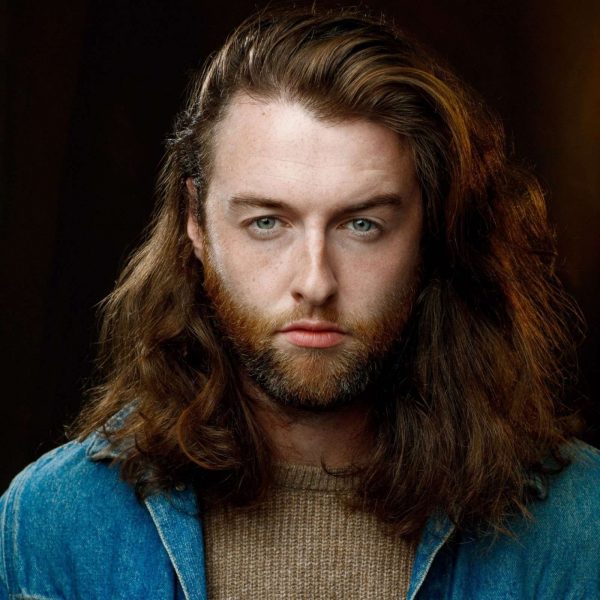 Highlights include the raunchy 'Pina Colada' song which had the audience in a fit of giggles at hip-thrusting manoeuvres; the fiery, foot-stomping rendition of 'Some Nights' and the sweet harmonies in 'Waterloo Sunset'. Velvety deep notes vibrate underneath the vocal brilliance of the three principle singers… It's a delicious aural experience, with your eyes closed.
The Choir of Man is as loud and boisterous as it is tender and heartfelt, bringing to life the expression 'going to church' when you're headed to the pub. It's got all the typical characters leaning on pub stools, with their own quirks and battles in life – colourfully told by lead narrator Denis Grindel. Performer and 'Piano Man' Ali Higgins says the show embraces the come-as-you-are nature of the local watering hole, "For a lot of men in particular, who have traditionally struggled to open up – that experience of going to the pub, sharing how you're feeling and have a cry, sing, or laugh – whether it's through music, storytelling or jokes."
When it comes to dancing prowess, the men have skills. Sure, there might be some sloppy execution – but forgive them, they're drinking. They're scruffy, heavy-footed, jean-wearing pub goers. Their loose limb-throwing is embraced, their energy doesn't waver, and there's not a beat missed.
The show's percussion elements are what makes it come alive. Jordan Crouch wows with his lightning fast tap moves, sliding across the bar. The stamping, stein-slamming, finale piece is an absolute thrill, with intensive choreography building in pace, and no room for error – unless the performers want a beer glass to the face.
Barman Mark Loveday's characterisation is a standout. He is so believable as a slightly grumpy – but cheeky – master of beer pouring, almost like he's convinced he's running a real-world bar on stage and is ready to kick us all out when we've had one pint too many.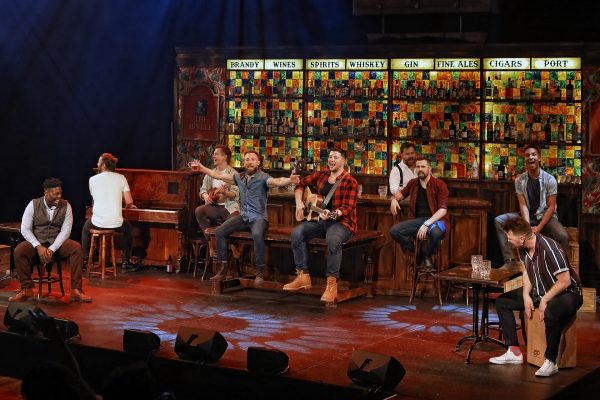 The show is immersive, despite not being able to physically engage audience members on stage as the cast typically would. The Sydney Opera House theatre is intimate, targeted lighting puts audience members on the spot, and the commitment to eye-contact means there's several powerful moments a song is being belted out – directly to you.
There's an organic element to the show, with competitive drinking games and plastic cup tower-building, making you question how much is intricately choreographed, versus improvised. Ali Higgins says there's certainly room for play. "We love it… wherever we go, there's always different reactions. I think that's one of the charms of the show, the audience feels like they're seeing something for the first time."
There's never been a better moment in time for a celebration of pub culture – and a sense of community – than in the midst of a pandemic, when we've arguably missed it the most.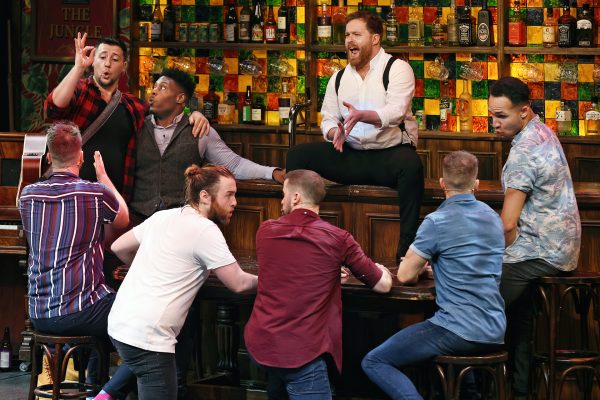 It's the perfect nostalgic show for those who want to be transported to long-lost memories of a British pub, a taste of home for UK expats who've been unable to return, or for this wee Irish lass – an escape to the homeland. Go along and leave the troubles of the day behind, throw back a frothie at the fictional – but very familiar – pub known as 'The Jungle', and sing wildly through your mask.
The only criticism I have is they didn't answer repeated heckles to sing Daryl Braithwaite's 'The Horses', or hand out greasy kebabs on the way out.
THE CHOIR OF MAN
SYDNEY

⏤ 18 February – 4 March 2019
The Studio, Sydney Opera House
Bookings: www.sydneyoperahouse.com
---
Sarah Navin started ballet at age 6, as she couldn't walk in a straight line without skipping and twirling. As well as studying classical dance, she went on to perform in hip-hop ensembles, cheerleading squads, cabaret shows, and musical theatre – starring in shows such as The Boy From Oz, Legally Blonde The Musical and Rock of Ages. She also has a keen eye for costuming, designing tutus as part of her HSC major work. Sarah is a Sydney-based television journalist by day, swapping political reporting for dancing at night. She is a regular at Sydney Dance Company classes and has been reviewing Australian dance performances since 2014, enjoying the chance to combine her two great loves of journalism and the arts.