The Kids Are Alright Judging by School of Rock
Capitol Theatre, Sydney Opening Night, Friday November 15th
reviewed by Chris Duncan
Like this musical's signature theme song, "It begins on a dark stage … and then a beam of light … and you see ME … and my guitar!" Dewey Finn played by Brent Hill on opening night immediately captures the audience with his obnoxiously over-the-top, yet somehow infectious, enthusiasm for ROCK! ⏤ just as convincingly as Jack Black did in the smash 2003 original film of the same name.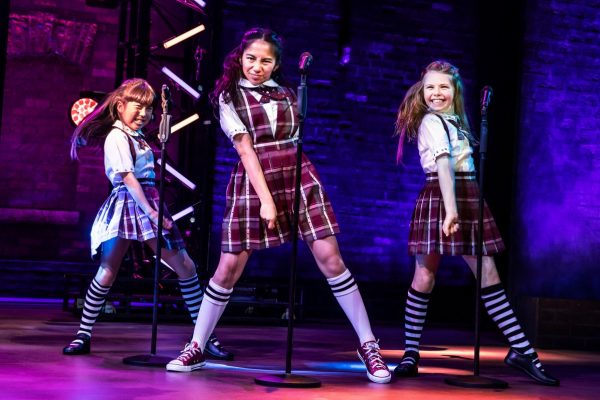 This musical version sticks fairly closely to the film, telling the story of hopeless man-child Dewey, a rock 'n' roll obsessive who desperately wants to win the local 'Battle of the Bands' amateur band competition. Weeks away from the competition, things start to go downhill … and fast. He is dumped from the band he created for constantly upstaging the lead singer, and is told by his best friend Ned Schneebly (who he has been mooching off for years), that he has to start paying rent or move out, as Ned's exasperated girlfriend Patty has had enough.
Dewey asks "How can you kick me out of what is mine?! … " while wondering how he can raise funds to pay the rent. Dewey takes a phone call offering Ned work as a substitute teacher at the prestigious Horace Green Preparatory School, so he decides to front up in Ned's place, an hour late. Somehow, he manages to convince the strict principal Miss Rosalie Mullins (played by Amy Lehpamer) that he can handle the job.
Rock-obsessed Dewey, faking being a teacher in order to earn a buck after being dumped by his band, is elated to learn his class contains some musical talent and he hatches the unlikely plan of competing with them in the Battle of the Bands. The story demands that the junior casts (there are three) all be exceptional actors, singers, dancers AND musicians. I think back to the pre-show recorded announcement that the children in the cast really do play their own instruments – and the talent-o-metre within me is intensely impressed. When we see how incredible they all are, it's easy to understand why some audience members have assumed that they must be pretending. Theyre not, they are actually playing and singing … These kids really are incredible!
Kudos must go to Zane Blumeris (as Zack, the guitarist), who is such a gifted player that the audience awaits his next chance to shine.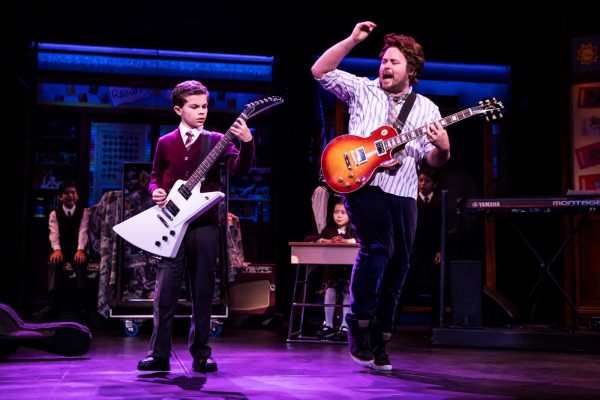 School of Rock is based on the 2003 Richard Linklater film starring Jack Black. Andrew Lloyd Webber saw its potential for the stage and snapped up the rights, writing the score with lyrics by Glenn Slater and book by Julian Fellowes (Downton Abbey).
The energy of the show takes a bit of time to really kick in, but once the kids take to the stage and particularly to their instruments (including kick-ass voices!) it really lifts off. The story is pretty superficial as expected and the parents are sketchily drawn. Their conversion to support their talented offspring at the end isn't terribly convincing, and the unlikely happy outcome for Dewey also feels far-fetched.
The set by Anna Louizos is flexible and quite easily morphs into multiple scenes, while the costuming (also by Louizos) and the flashy rock concert lighting by Natasha Katz are a perfect fit.
Andrew Lloyd Webber's songs may not be rock 'n' roll chart-toppers, but within the context of the show, they more than do the job, with Stick It to the Man, School of Rock, and Where Did the Rock Go? among the highlights. If Only They Would Listen, sung by some of the students, veers very close to sentimentality, but the children carry it off in a poignant moment.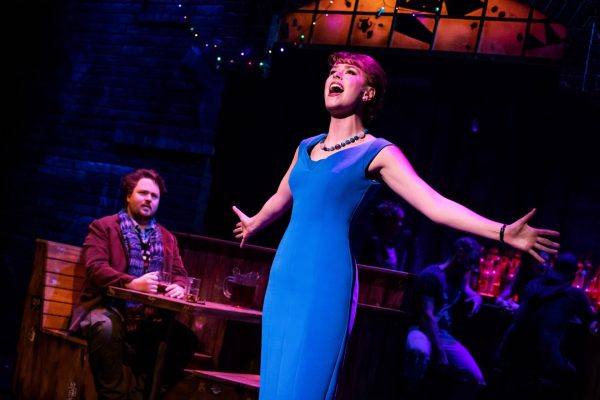 Brent Hill does an excellent job as Dewey (a role so big, dramatically and vocally, that he shares it with Joe Kosky). He does a brilliant job of balancing Dewey's slovenliness and slacker selfishness with his obsessive passion for rock 'n' roll. He is dishevelled, obnoxious and yet still uncannily likeable. Hill delivers an outstanding all-out rock'n'roll performance. He leaps around the stage landing rock star poses, unleashes fierce vocals and his comic timing is priceless.
There are three casts of children. On opening night, Zane Blumeris shredded the complete with power slides, Cherami Mya Remulta had plenty of attitude as bassist Katie, keyboard player Jude Hyland morphed from bullied nerd to cool kid, Cooper Alexis let rip on the drums, Sabina Felias sang beautifully as Tomika, and Deeanna Cheong Foo ruled the roost as the super-organised Summer. But each and every child in the opening night cast was exceptional.
Amy Lehpamer shines as the prim, uptight Miss Mullins, John O'Hara is suitably goofy as Ned, and Nadia Komazec is gratingly annoying as Patty throughout with her high-pitched indignation delivered convincingly as the character.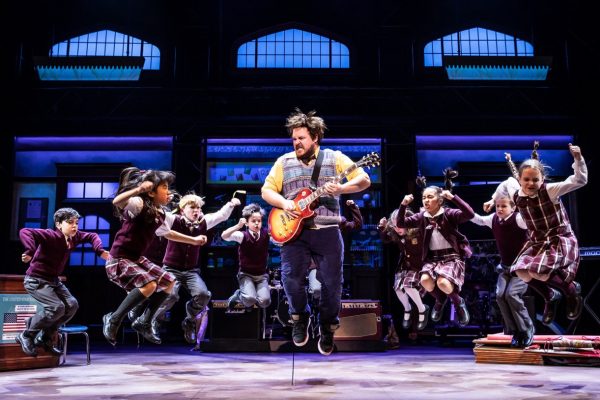 The resounding standing ovation at final curtain definitely described how impressed all audience members were. This is a great family show ⏤ well worth the effort!
SCHOOL OF ROCK