Inaugural Australia Samba Congress
Wrap Up Review & Future Brazilian Events Announced!
Review by Debralee Scarselletta
Over the weekend of April 7 – 8 the first ever Australian Samba Congress took place in Alexandria, Sydney. Along with hundreds of others, I came along to participate in this exciting new event dedicated to a style that I absolutely adore!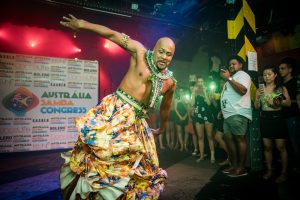 The inaugural Australia Samba Congress was a ground-breaking event for Brazilian Arts Culture in Australia. A weekend filled with dance, fitness, fun, passion, education, connection and cultural immersion.
The ASC events were attended by Brazilian industry leaders in Australia such as SBS Portuguese, Sergio Mendes' musicians and local Brazilian artists. Images and videos of the ASC have been flooding social media pages of the participants, international artists and other congress partners.
The two days of workshops were attended by 170 dance and Brazilian culture enthusiasts from across Australia and also saw participants travel from New Zealand, Singapore and Vietnam to be part of this historic event. Attended by 200 people, the closing party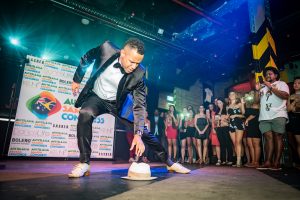 Noite do Samba finished off this monumental weekend on a high with an electric atmosphere reminiscent of a night in Rio de Janeiro itself.
This event has already become one of my personal highlights of 2018. The motto for the weekend was 'Happiness and Energia', and everyone in attendance really lived up to that theme, sharing in the love of the wonderful Brazilian culture and all it has to offer. The energy was infectious, the people were friendly, and it was such a privilege to be immersed in this atmosphere.
My own love of Brazilian Samba began 12 years ago, and I've been an instructor in the style for 9 of those years. So naturally, when I heard about the ASC hosting 10 workshops over 2 days taught by directors of Passistas, Carnival Queens and Multi-award winning Carnival Choreographers and school owners, I jumped at the chance to feel like a student all over again.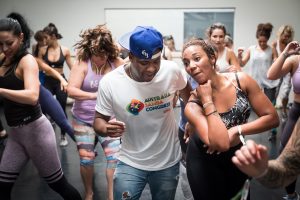 Here are some of the masters we were lucky enough to have learned from:
Carlinhos Salgueiro – Director of Passistas and Choreographer, Salgueiro – Master Samba Teacher
Patrick Carvalho – Congress Director, Gafeira Brasil Producer, Choreographer
Rodrigo Marques – Congress Director, Gafeira Brasil Producer, Choreographer
Gabriel Castro – Director of Passistas, Imperio Serrano and Imperio da Tijuca
Uilliana Adaes – Queen of Rio Carnival 2017
Rosangela Silvestre – Master Teacher "The Sylvester Technique" Afro Brazilian
Luana Bandeira – Musa Unidos Do Viradouro – Samba Queen
Aninha Malandro – Director Samba N Motion and Malandro N Motion
A favourite of mine was Carlinhos Salgueiro, the king of the Samba world! A legend within his field, he's trained most of the highest profile carnival queens and passistas in Brazil. His workshops in his signature style demonstrated not only his skill and passion for the artform, but his ability as a communicator and consummate professional. I learned so much that I also took a one-on-one lesson to absorb even more of his wisdom, and it was well worth it. I've learned so much not only for myself but also for the benefit of my own students.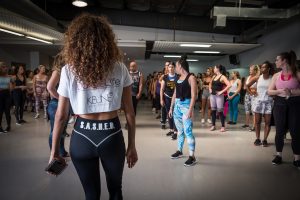 Another highlight was Patrick Carvalho's workshop. This man is what I call the embodiment of energy! It was the last workshop of the day where you might expect energy levels to be a bit low. Despite this, no-one seemed to mind that we were sweating buckets because we had smiles on our faces the entire time. It's easy to see why he is an award winning choreographer, mentor and educator.
Let's not forget the stunning Queens Uilliana and Luana. They were so humble and we were awestruck in their presence. These goddesses were feminine yet fierce, and they taught us so much about their culture. In the process we learned even more respect for this wonderful artform.
Each of these artists is an icon and a master in their own right, and they all imparted a deeper understanding of Samba no pé and its history in their unique voice, with a passion that resonated with all of us fortunate enough to take it in.
The grand finale – the Noite do Samba – was a concert where each artist showcased their individual talents before joining together onstage for the big showstopper. It was a spectacular send-off for an amazing weekend. Big thanks to the organisers, especially Patrick, Rodrigo, Sashya, Nubia and Sky – you all put in so much hard work and dedication, and it shows!
To have played witness to the very first event of its kind here in Australia is something I will never forget.
With the success of this event, the organisers are pleased to announce BRAZIL CARNAVAL TOUR in 2019! Australia Samba Congress is proud to announce that Samba Internacional's Rio Carnaval 2019 tour places are now open!

Parade in the top division of Carnaval, immerse yourself in the culture, learn from Rio's top Samba artists and experience being a part of the local Samba communities – There are 3 Tour Packages available:
Parade On A Float
Parade On Foot
Passista Audition