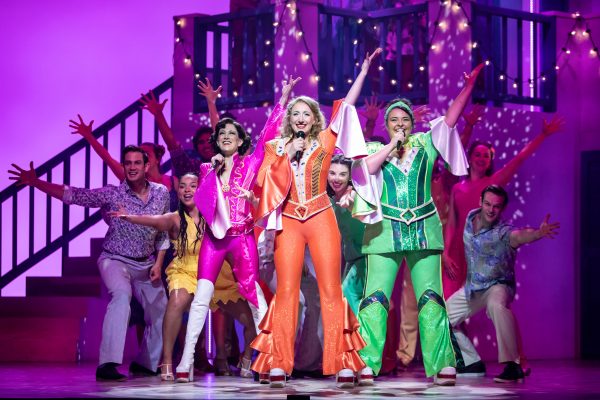 Mamma Mia The Musical
A Bustling Opening Night Fitting for This Sensational Global Phenomenon
Reviewed by Chris Duncan
With glitz, glamour and some of Abba's greatest hits, MAMMA MIA! The Musical has arrived in Sydney with a bustling Opening Night fitting for this sensational global phenomenon. The atmosphere of celebration was simply electric.
Perhaps heightened by my own sentimental attachment as my family prepare for our daughter's wedding celebration in Greece soon, this production delivers serendipitous joy on all levels.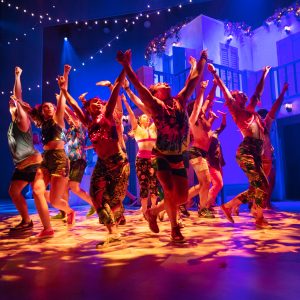 Growing up to ABBA hits as a well-worn soundtrack to my childhood (yes, I collected EVERYTHING ABBA – including socks, t-shirts, vinyl albums, badges, bubble-gum cards and posters!!) this production simply serenaded my inner child AND my worldly 'adult' from start to finish!
From the moment the curtain rose, the first notes by Sarah Krndija (as Donna's daughter and bride-to-be Sophie) captivated the audience and commanded the stage. With an already impressive list of credits, including 9 to 5 The Musical, Cruel Intentions: The 90s Musical and Friends The Musical Parody, Sarah truly helped bring this classic story to life with powerful energy and beautiful vocals.
Starring as mother-of-the-bride Donna Sheridan, Elise McCann gave an exceptional performance, connecting the narrative of a beautiful young bride, searching for her father from three possible candidates. Her years of experience on stage shines through as she brings new life to Donna Sheridan, a character many have grown to love. Elise's impressive theatre career was evident throughout the performance, from her Helpmann Award for the role of Miss Honey in Matilda The Musical to her performance as Ali in the 10th Anniversary production of MAMMA MIA. It's no wonder Elise was chosen for this lead role; she totally owned it!
The joyous atmosphere created by the cast is truly infectious. The audience erupted into thunderous applause at the end of every number! At times poignantly weighted with emotion or jubilation, each performance delivered authentic gifts to the narrative. The cast are excellently-cast triple threats, and the vibrant colours of the set and costumes capture the carefree vibe of the Greek Isles perfectly.
Starring as Donna's vivacious and loyal friend Rosie is Bianca Bruce, most recently seen in Rogers and Hammerstein's Cinderella, as well as appearing as a featured artist in Boublil and Schönberg's Do You Hear The People Sing?
Deone Zanotto rounds out the Dynamo trio in the role of spirited friend Tanya. The seasoned musical theatre performer has starred on stages in the West End and on Broadway in shows including A Chorus Line, Chicago and West Side Story.
When the trio sing in unison, the harmonies are heavenly, and their on-stage 'best friend' chemistry translates superbly.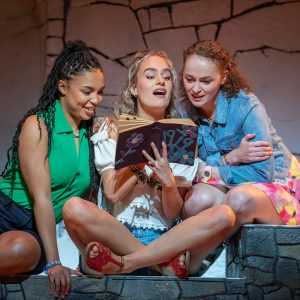 Stage and screen award winning actor Martin Crewes stars as Sam Carmichael, one of Sophie's unsuspecting fathers. Acclaimed theatre actor Drew Livingston plays Harry Bright, another man from Donna's past who could be Sophie's father. Theatre and screen actor Tim Wright plays Bill Austin, the third potential father in this light-hearted story.
The three potential fathers provide much of the comic-relief as side-kicks to the female-driven storyline.
Sophie's adoring fiancé Sky is played by Lewis Francis, having just completed the recent Australian tour of The Phantom of the Opera and previous roles in The Book of Mormon and Jersey Boys.
Newcomers Nina Carmen and Kadesa Honeyhill play the role of Sophie's friends Ali and Lisa respectively. Both are energetic and skilled leaving audiences a little disappointed that their roles were minimal.
Sky's energetic mates are played by Jordan Tomljenovic as Pepper and Etuate Lutui as Eddie. The incredible supporting cast includes (in alphabetical order) Chiara Assetta, Lily Baulderstone, Carlo Boumouglbay, Campbell Braithwaite, Emily Cascarino, Chelsea Dawson, Denise Devlin, Lauren Goetz, Matt Hamilton, Crystal Hegedis, Marie Ikonomou, Josh Mulheran, Bronson Pfeiler, Lewis Shilvock, Tom Struik, Riley Sutton, Carla Venezia and Geoffrey Winter.
Sensational dance acts choreographed by Tom Hodgson compliment the performance of time-honoured ABBA anthems with lyrics expertly edited to the intent of the narrative.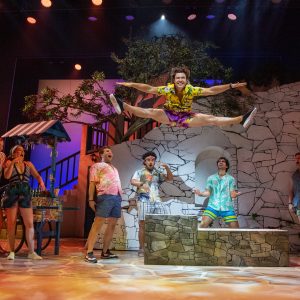 Personal favourite scenes include the act one GIMME GIMME GIMME nightclub pre-wedding celebration featuring standout dance sequences performed at peak levels of passion by all performers. The opening number for Act 2 depicts Sophie's pre-wedding nightmare. This act also excites as a standout visual, choreographic, and vocal feast. Animated portraits of Sophies loved ones vying for her love and attention successfully convey her torment and angst over the burning question that drives the entire narrative, being …. 'Who EXACTLY is her father?'
Featuring 22 of ABBA's greatest hits, including Dancing Queen, Voulez Vous, S.O.S and Take a Chance On Me, the iconic songs you know and love have audiences dancing in the aisles at Sydney Lyric until July 30, then onto QPAC's Lyric Theatre in Brisbane from August 6 and Melbourne's Princess Theatre from October 4.
The audience was alive and bumping to the beats of ABBA's disco-era songs with avid foot tapping and seat dancing until the explosive finale. A ten-minute standing/dancing ovation rounded out what was truly an uplifting joyous experience.
Whether you're a fan of ABBA or not, MAMMA MIA has something for everyone. As the story unfolds, each twist and turn captures your inner-comic bone and heart. The music, romance, and laughter transports you to a world of heart-warmed nostalgia. The greatest challenge is not to sing at the top of your lungs while tapping your feet and seat dancing to time-honoured tunes.
MAMMA MIA! The Musical is sure to be one of Sydney's hottest tickets over the coming months. Whether you're looking for a night of nostalgia, or simply want to experience something new and exciting, MAMMA MIA! The Musical is not one to miss.
Season Details:
Sydney Lyric until July 30
Brisbane QPAC Lyric Theatre from August 6
Melbourne Princess Theatre from October 4
Tickets and information here www.mammamiathemusical.com.au