Confident & Brave Double Bill by Austinmer Dance Theatre
The Actor's Centre, Leichhardt, Sunday September 8th
Reviewed by Heather Clements
This is a double bill of dance that excites the senses whilst challenging everything you know about contemporary dance. Austinmer Dance Theatre presents two extremely different works in their latest production BUT WHY. Act 1 is Pastiching Tetsuo by ex-Sydney Dance Company member Cass Mortimer Eipper, and Act II is Life Interrupted by Austinmer's artistic director Michelle Forte. I saw BUT WHY as part of the 2019 Sydney Fringe Festival.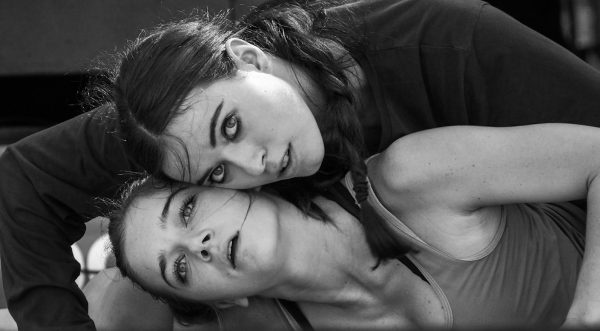 Firstly, let's take a minute to remember that this a 'pre-professional' amateur dance company. Whoah! Over the last eight years Michelle Forte has managed to create an incredible company program that has resulted in this current intake of artists that are extremely articulate on the stage in delivering the substantial stories via their movements, emotions, interactions and voice on par with a professional level.
First up was a unique piece titled Pastiching Tetsuo choreographed and workshopped by Cass Mortimer Eipper. To say this is a complex dance work is an under-statement. Mortimer Eipper manages to pay tribute to Japanese 'anime' and its sub-culture in this exciting collection of moves set against an eclectic digital soundscape that perfectly portrays the Japanese theme. The random digital soundscape actually seems to simulate a channel changing digital platform which moves one dance act to another – like flicking through a channel selector.
Mortimer Eipper magically pulls out some new movements from this cast of 13 in performing Pastiching Tetsuo. The dancers deliver some truly unusual and innovative movements in the 'counter technique' style that I have not seen on stage for a long time. The young company dancers manage to blend these abstract scenes together cleverly through their use of shape, flow, form, transitions, group work and character.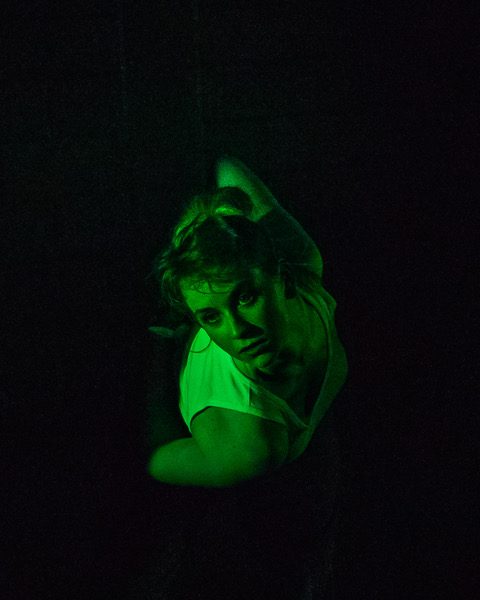 In truth, only very well trained dancers can take on these abstract, non-dance moves and make them work for the story. I had to keep reminding myself that these are young amateur dancers.
Even though this piece was fast moving and eclectic, it was non-aggressive and the overt, kitsch Japanese element was still appreciated. The sound and dancers were like digital fractals coming together to tell the story of each new section through sound. There was a good use of the stage space and the partnering and break-out groups were well utilised.
Although this is an 'anime' inspired work, I felt it could have benefited from having more emotion and facial expression at certain points from the cast to tell the story, especially through the scene changes. By the end of this piece the Japanese theme makes perfect sense.
After 25 minutes we were then introduced to a very different dance work in Life Interrupted, by Michelle Forté. This dance theatre piece incorporates spoken word to explore the Australian Women's prison system and the effects of incarceration on the greater community. Constantly challenging the creativity of herself and her dancers, Forté delves further into the use of text combined with abstract dance to generate a unique theatre experience.
This is a powerful piece about women in prison and beautifully tells the story of how each of the female inmates got to be there; whether because of an accident, road trauma, domestic violence or other circumstances. Forté manages to portray the feelings of struggle and survival of the women perfectly – and her dancers do this exquisitely.  Life Interrupted tells the story of how these women came to be in prison as well as how they come to terms with their crimes and ultimately survive inside. The duo dance items are stunning, and the spoken word element adds to the emotion and story perfectly. They are angry, and rightly so.
Life Interrupted is a real example of contemporary dance theatre. The 10 performers in this piece gave an incredibly strong performance and held their characters throughout. The use of music fitted well and there was a great use of the concepts of religion, personal expression and spoken word. A special mention for the amazing dance fight scenes choreographed in this piece. They were powerful and convincing, and the dancers tackled them with gusto.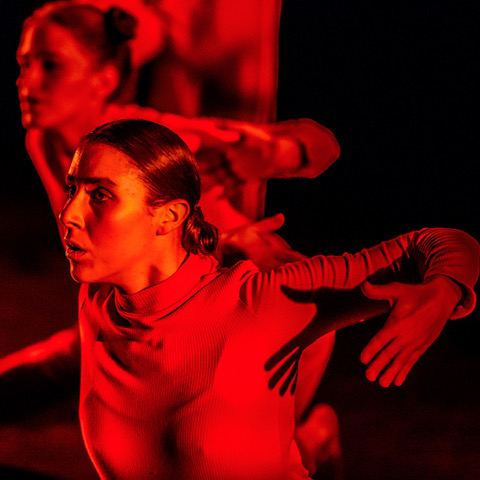 The opening music to this piece was captivating as it built in intensity with the start of the story.  For such a young cast, they managed to pull off the emotion of the story without a hitch. The maturity and commitment by each dancer at such a young age is commendable.
The commitment and bravery displayed by each dancer in their storytelling was phenomenal.
Suitable for all ages, audiences can expect to be taken on a memorable journey which explores the power of dance and theatre, with both pieces bringing their own unique creative stamp. BUT WHY is a must see for dance and art enthusiasts alike.
Pastiching Tetsuo
Choreography: Cass Mortimer Eipper
Music: Cass Mortimer Eipper, 'Kaneda's Theme' from Akira by Geinoh Yamashirogumi, 'Muitinkinyakkin' and 'Nightstalker' by Kenji Kawai
Cast: Maddi Backen, Mihkayla Bartlett, Lauren Brereton, Hannah Brookes, Natalie Cunzolo, Sasha Dubrovsky, Liz Ferguson, Mara Glass, Jessica Hewett, Meg King, Jasmin Luna, Demi Martin, Carien McKerrell.
Life Interrupted
Concept & Direction: Michelle Forte
Music: Nils Frahm
Text: Kerry Tucker
Cast: Maddi Backen, Lauren Brereton, Hannah Brookes, Natalie Cunzolo, Sasha Dubrovsky, Mara Glass, Jessica Hewett, Meg King, Demi Martin, Carien McKerrell.