Shaun Parker's Blue Love
Seymour Centre, Sydney, Aug 23
Reviewed by Alisha Coon
Shaun Parker's Blue Love is a brilliant mix of dance, physical theatre, film, acting and singing. The two onstage performers, Shaun Parker and Lucia Mastrantone were intense, captivating and amazingly multi-talented!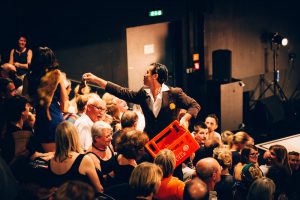 It was truly the funniest performance I have seen in a very long time, scattered with many laugh-out-loud moments.
The characters of Glenn and Rhonda Flune welcomed us into their 'love arena' by meandering through the audience handing out beer and popcorn. The stage was quite an ordinary set of their living room … well, ordinary except for the life-size stuffed K9 dog!
Glenn and Rhonda proceeded to present their 'lessons of love' through hilarious dialogue, opera singing, a mix of dance styles and extremely quirky 'home movies'. The short films reminded me of a Charlie Chaplin pantomime. The erratic and comedic movement was highlighted by creative videography, and left me feeling amused and quite confused – all at the same time.

The highlight of the evening was definitely the medieval singing duet that was performed naked. Yes, naked! Save for a strategically placed bunch of grapes and a faux fox.
I was blown away by how multi-talented both Shaun and Lucia were. Shaun would be speaking in many different languages, then start singing opera and then suddenly bust out in a flawless contemporary movement sequence. With my classical dance training, I was highly amused at the series of clichéd ballet steps that Shaun randomly placed throughout the evening. Pure gold!
Lucia was equally as brilliant. Her character portrayal and comedic timing were spot on. There was a constant stream of laughter from the audience at her witty comments and bizarre antics. Although not a professional dancer, she carried the dance scenes well, emphasising her athleticism and strong comedic character.
The finale had the whole audience in stitches as Glenn and Rhonda Flune communicated through song lyrics that escalated into a full-blown argument. The piece ended with famous lyrics that perfectly summed up the journey we were taken on throughout the evening – Love is a Battlefield. In fact, Blue Love features a pulsing score of popular songs about love and heartbreak that will strike a chord with everyone, including: Stop In The Name of Love, I Will Survive, Don't Call Me Baby, I Want To Know What Love is, Do You Really Want to Hurt Me, You Sexy Thing, Linger and many more.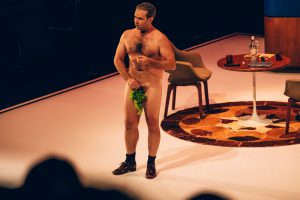 A HUGE congratulations to Shaun Parker & Company for a bravely brilliant and highly entertaining piece of theatre. If you have a chance to see Blue Love (tour dates here), I can assure you, you won't be disappointed!
Read our previous article on Blue Love here