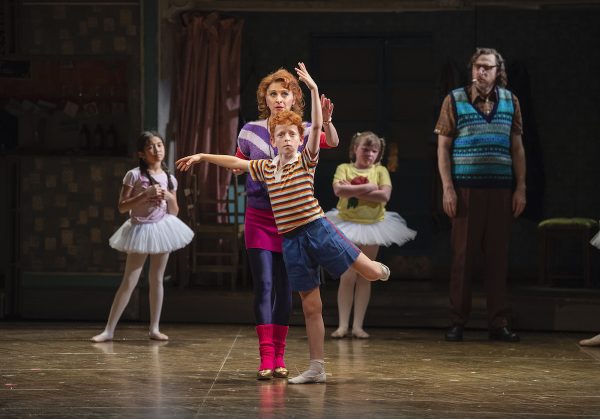 Billy Elliot Still Tugs at the Heartstrings and Has the Crowd Cheering Him On
Lyric Theatre, Sydney, Friday October 18th
reviewed by Heather Clements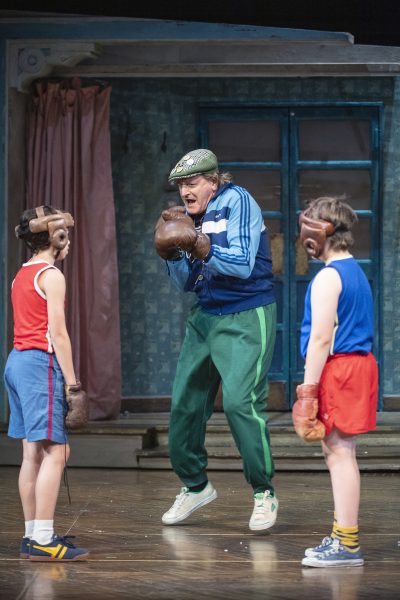 These days the 2000 film Billy Elliot is firmly established as a British classic and everyone is familiar with the storyline of the boy from a poor mining town battling prejudice given the chance to pursue his dance career. Then, in 2005 the stage musical adaptation created by Elton John, Stephen Daldry and Lee Hall debuted in London proceeding to win numerous awards worldwide. This latest production of Billy Elliot The Musical opening at Sydney's Lyric Theatre marks the ten year anniversary since the musical first premiered and toured in Australia.
The fact that a story about a boy being shamed by doing ballet still resonates today is a slightly sad reflection on how little society has progressed with gender stereotypes; however, you have to remember that this story is set in the tumultuous early 1980s in Thatcher's Britain in a struggling, striking Northern mining town where men are beer swilling miners!
The story still works today because Billy Elliot cleverly juxtaposes the grim and gritty backdrop of the miners' strike in dreary Durham with the elite theatrical world of ballet ⏤ and possibly because there is still a stigma attached to boys who dance?  You couldn't get two more different worlds and, yet, our main character Billy is caught between them.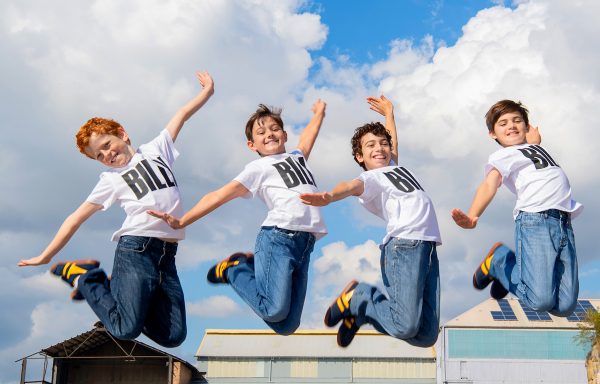 Which brings us to the boys cast to play this now iconic role of Billy ⏤ Omar Abiad, River Mardesic, Wade Neilsen and Jamie Rogers. The opening night performance I attended had Billy being played by Jamie Rogers … and WOW! To say this young man is a talented triple threat is an understatement. Rogers attacked this huge and challenging role, both in terms of the dancing, singing and emotional portrayal, as if he has been playing Billy on stage for years. This is his first professional gig. He showed such vulnerability as Billy struggling to deal with the grief of losing his mother and trying to fit in and find himself when he is expected to be like every other male in his hometown … taking boxing lessons, not dance lessons in secret.
Rogers shines on stage and closes out the first act with a strong tap performance in his 'Angry Dance'. Other highlights for me from Rogers were the 'Expressing Yourself' duet with Michael, his solo in 'Electricity', 'The Letter' with his dead mother and the beautifully choreographed ballet duet with Aaron Smyth representing an the older Billy which was sublime.
Appearing in almost every scene, the role of Billy is substantial for any performer, and Rogers must be applauded for doing justice to the role. This is a massive role. After an exhaustive audition and rehearsal process, I expect the other three boys would be similarly outstanding on stage. They all potentially have huge careers ahead of them.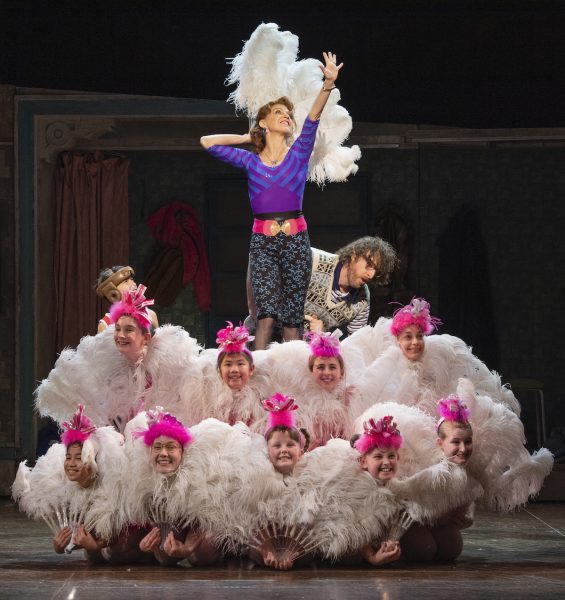 The entire supporting children's ensemble were also a joy to watch on stage, especially the comedic brilliance of James Sonnemann playing Billy's only confidant in cross-dressing Michael. The duet between Michael and Billy is the first big dance number in the show seeing the two boys show off their tapping skills amidst giant dancing frocks on coat hangers! It is a purely delightful scene. Special mention also to Gabrielle Daggar who played Debbie so hilariously … she had great natural comedic talent.
The cast and ensemble overall were incredible, especially in authentically delivering the broad Northern accent and colloquial dialogue, even though it takes a little getting used to hearing the kids swearing so easily and genuinely! One of the special aspects of Billy Elliot The Musical is the fact that many of the cast are playing burly mining men who clearly are not supposed to be dancers, but the clever original choreography by Peter Darling (tweaked here by resident choreographer Danielle Bilios) perfectly allows them to tell their own story parallel to Billy's. There is so much diversity in the dance choreography in this production, encompassing many styles and abilities, which all work together to tell the story.
Drew Livingstone and Justin Smith play Billy's aggressive and judgmental brother and father almost too convincingly, and Vivien Davies plays Billy's dithering and unfiltered grandmother who has one of the best and funniest numbers in the show with 'Grandma's Song'. This cast is almost spilling over with talent, however, to see the amazing Kelley Abbey back on the stage in the role of the chain-smoking, sassy dance teacher Mrs Wilkinson is a total pleasure and rare treat. Abbey is perfect in this role and it is obvious she is enjoying being back in the spotlight as much as the audience enjoyed seeing her singing and dancing and generally having a total hoot in this role! Her goofy sidekick pianist Mr Braithwaite played by Dean Vince is also memorably noteworthy in this show.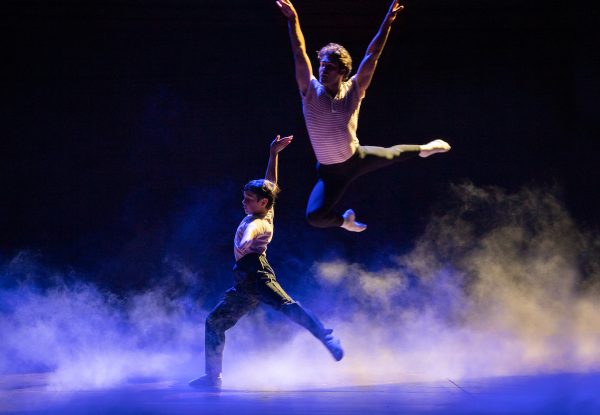 This show moves along at a rollicking pace allowing the audience to remain engaged, anticipating the start of Act II and eagerly cheering on Billy to make it to the Royal Ballet School. The staging is quite complex and detailed, but it works well to contrast the dark and dismal scenes set in the striking mining town with the colourful and hopeful scenes set in Billy's new world of dance – the only place he truly feels safe, free and alive amongst al the the negatives in his family life.
Because the final message of Billy Elliot is one of hope and inspiration, it is forgotten how dark and bleak the story actually is with the backdrop of the poverty and tensions caused from the miner's strike ever-present. It takes you on a roller coaster of emotions from a dark place of sadness, fear and anger to brighter notes of joy and hope. The central element bridging the emotions on stage and parallel storylines is its humour – Billy Elliot is seriously laugh-out-loud funny! The humour cuts in at just the right moments to balance out the swearing and darker themes and eventually leaves the audience inspired and happy.
This incredible production ends on an even greater high with one of the best finale numbers I have ever seen. Performed by the entire cast, it is a celebration of dance and individuality that literally will have the audience on their feet in applause.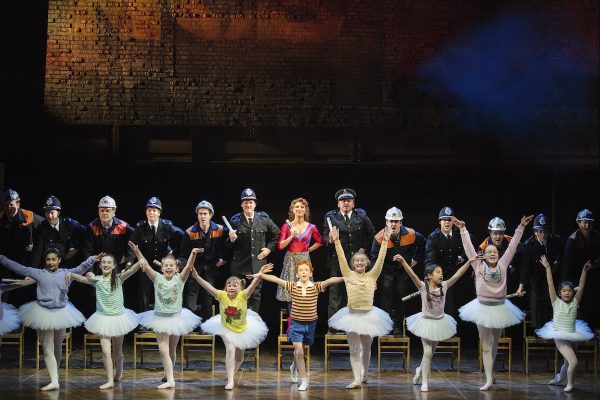 Billy Elliot is one of the best stories ever told and this new stage version will not disappoint either die-hard theatre fans or the wider general public. There is something in it for almost everyone. Be prepared to feel every emotion as you cheer for young Billy and his dream to dance.
While it may not be suitable for very young children due to the language and themes, I recommend that lovers of dance, true talent and good theatre get along to see this limited season new production of Billy Elliot The Musical as it tours Australia.
***
BILLY ELLIOT THE MUSICAL
ADELAIDE – Adelaide Festival Centre
from 29 December 2019
MELBOURNE – Regent Theatre
from 20 February 2020
PERTH – Crown Theatre
from June 2020
BRISBANE – Lyric Theatre, QPAC
from July 2020