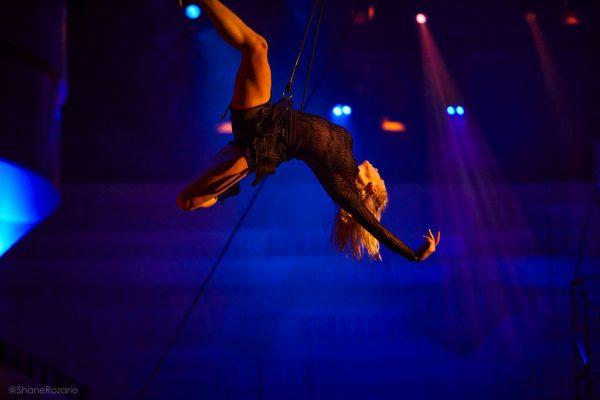 Be Uplifted by the Sweeping Sounds of the Willoughby Symphony Orchestra
Chatswood Concourse
Reviewed by Karina Lawrence
Stepping into the Concert Hall at the Chatswood Concourse, the cultural heart of the North Shore and seeing a full orchestra set up on the stage, certainly created an atmosphere of intrigue and excitement of what was to come…
As the lights dimmed, the captivating sounds from the Willoughby Symphony Orchestra proved to be hypnotic and memorising. Beautifully orchestrated by conductor Sarah Penicka-Smith, the music was breath taking and connected you instantly with your inner being.  Imagination was sparked and ignited as the stunning ambience continued with the added layers from renowned soprano Susannah Lawergren. Her voice truly hypnotic and engaging.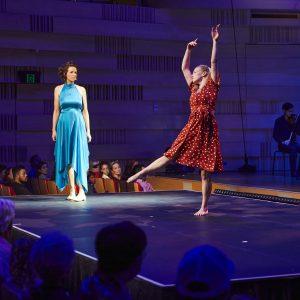 Simplistic costuming and lighting was used throughout, enhancing artists and holding the audiences attention. The creative design was well executed with the use of space being well thought out and appealing to the eye, yet never distracted you from the authentic and unaltered beauty of the venue. Simplistic Elegance in its truest form. A mischievous sense and Peter Pan like magic became apparent as the emerging words of physical theatre, aerial circus and dance began to take shape.
I felt like I was part of a dreamlike wonderland, as I was immersed on a journey featuring multiple elements of the creative arts. Live music at its finest with powerful drums and elegant strings. The emotions engaged and drawn out, as the dancers embodied the music, transporting the audience on a journey of bewilderment and wonder.
The intertwining skills of dance and aerial work from Legs On The Wall bought in another engaging layer of story telling. Contemporary choreography enhanced with aerial artistry, continued to showcased the elegant flow, all the with a roar feel of interactive staging as we witnessed first hand the mechanics with the riggers, live on stage. Beautifully executed and discretely staged by Artistic Director Joshua Thomson.
Interactive lit up costuming, with aerial artists flying from the dress circle added to the anticipation and ambience of this magical performance. Captivating the audience and appealing to all ages, with the youth in the audience wowing over the free flowing skills taking shape before their eyes. The dynamic and haunting music and purity of piercing vocals gave the impression you were at an operatic version of circus meets theatre.
Subtle and cleverly executed moments of interaction with these artists and the musicians within the orchestra, created a warm and entertaining spark that allowed for the ease and flow connecting moments that showcased the stunning music while anticipating what was to follow.
Expanding the layers of traditional classical music with the unique and innovative elements of theatre movement, this show certainly showcases proudly the different and exciting layers of creativity, representing the union of all forms that showcases effortlessly a beautiful evening of appreciating the arts.
We are delightfully taken on a journey that evokes beauty and enhanced layers of ground-based physicality. Enhancing imagination and the creative forces, as we are left to interpret the artistry just as art should be presented. It was both inspiring and invigorating. You were left wanting more of the magic that consumed you with grace and effortless mystery. Theatre etiquette at is best, leaving you fulfilled and expanding the imagination full of possibilities.