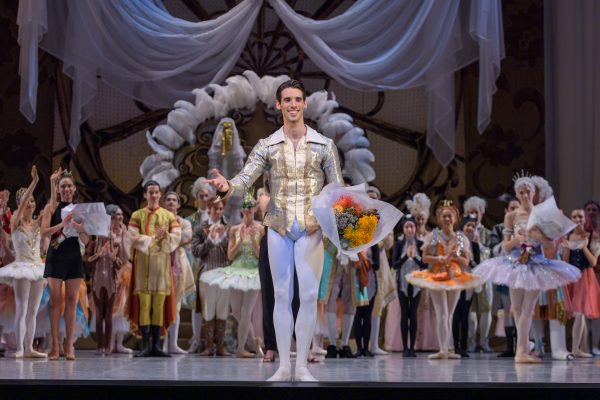 Promotion of Six Dancers at West Australian Ballet
Oscar Valdes to the Rank of Principal
With the curtain falling on the final performance of West Australian Ballet's critically acclaimed season of The Sleeping Beauty, Aurélien Scannella has promoted six dancers, a record in his tenure as Artistic Director, including one dancer to the illustrious rank of Principal. 
 Oscar Valdés will join Matthew Lehmann, Chihiro Nomura and Dayana Hardy Acuña as a Principal of Australia's oldest professional ballet company. While Alexa Tuzil elevates to the Company's second-highest tier of Soloist, and Adam Alzaim, Glenda Garcia Gomez, Kiki Saito and Jack Whiter have all being promoted from the Corps de Ballet to Demi-Soloist. 
 "Oscar's performances are well known and widely loved by our audiences," said Scannella. "His talent is on par with the very best in the world and we're very lucky to have him right here in Western Australia." 
 "A promotion is a special moment in every dancer's career. One that you dream of always," said Scannella, "I congratulate Oscar, Alexa, Adam, Glenda, Kiki and Jack for their hard work and dedication to our company and artform." 
 Well known for his many acclaimed roles, Valdes originally joined the Company 2015 as a Guest Artist, before officially joining in 2016 as a Soloist.  He has starred in roles such as The Nutcracker/The Nutcracker Prince in The Nutcracker, Jonathan Harker in Dracula, Basilio in Don Quixote, Albrecht in Giselle and his award-winning performance as James in La Sylphide, to name a few.
 Valdés recent portrayal of Prince Désiré in The Sleeping Beauty has been a highlight, showcasing incredible skill, technique and stage craft, all while tenderly depicting the lovestruck protagonist.
 Promoted to Soloist, Tuzil has again proven herself a dancer of extraordinary talent, channelling deep emotion in her performances. Hailing from the United States, Tuzil joined West Australian Ballet in 2018 after working extensively in Europe. She was quickly promoted to Demi-Soloist in 2018 and impressed in roles such as Nikiya in La Bayadère, Giselle in Giselle and as Princess Aurora in the recent season of The Sleeping Beauty. 
 Adam Alzaim, Glenda Garcia Gomez, Kiki Saito and Jack Whiter have all being promoted to Demi-Soloist, each impressing over their time at West Australian Ballet, dancing many leading or key supporting roles. 
 Not only are dancers receiving recognition, Assistant Rehearsal Director and former West Australian Ballet Demi-Soloist Reika Sato, will start 2022 with heightened responsibility in her new role of Rehearsal Director. 
 West Australian Ballet celebrate their 70th anniversary in 2022, as the oldest professional ballet company of Australia. With an ambitious annual program of new creations, find out more about West Australian Ballet's Season 2022: waballet.com.au