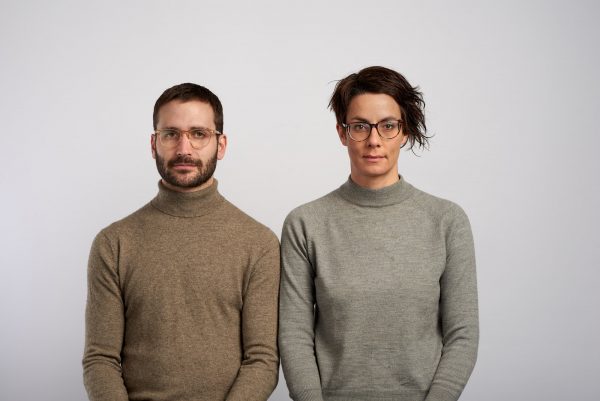 Celebrated Choreographer Obarzanek Explores Movement & Sound
Percussionist and Dancer Double Act presented by FORM Dance 
Three time APRA Art Music Award-winning percussionist Claire Edwardes and Helpmann Award-winning dancer Richard Cilli will unite in the hauntingly hypnotic dance and music work, Recital, at Riverside Theatres from 28th February to 2nd March.
Presented by FORM Dance Projects, a dancer and percussionist come together in this strange, mesmerising double act about how movement sounds and how sound moves.
Set in the orthodox world of a music and dance recital, the ambiguous relationship between the two performers intensifies; the outcomes are impressive, disturbing and wildly ecstatic.
Richard Cilli is a dancer and choreographer who graduated from the Western Australian Academy of Performing Arts as Most Outstanding Student. He joined Sydney Dance Company in 2009 and went on to win the Helpmann Award for Best Male Dancer in 2010 for his performance in Rafael Bonachela's we unfold. Cilli has been a member of Sydney Dance Company, K.Kvarnström & Co (Stockholm), Lucy Guerin Inc. and Chunky Move, and has performed the work of renowned choreographers including Anouk van Dijk, William Forsythe, Alexander Ekman, Jacopo Godani, Emanuel Gat, Alexander Whitley, Gabrielle Nankivell and Kristina Chan. He has also created work for Sydney Dance Company, The Australian Ballet, LINK Dance Company and WAAPA.
Claire Edwardes is an internationally acclaimed percussion soloist, chamber musician and artistic director of Ensemble Offspring. Her award-winning performances combine a theatrical energy with charismatic and original interpretations, bringing to life the varied array of music she performs. After graduating from the Sydney Conservatorium of Music, Edwardes won the coveted Symphony Australia Young Performers Award. She later went on to become the 2005 MCA/Freedman Fellow and is a three-time winner of the APRA Art Music Award for Excellence by an Individual for her contribution to Australian music. In 2014, Edwardes was granted a prestigious Australia Council Music Fellowship.
Recital brings together Edwardes and Cilli's distinct virtuosic talents in this collaboration directed by acclaimed choreographer Gideon Obarzanek, with composition and sound design by Australia's leading electro-pop composer, Paul Mac.
Gideon Obarzanek is a director, choreographer and performing arts curator. He was recently an Artistic Associate with the Melbourne Festival (2015-17), co-curator for the Asian Pacific Triennial of Performing Arts (2015-17), and is currently Chair of the Melbourne Fringe Festival. Obarzanek founded dance company Chunky Move and was CEO and Artistic Director until 2012. His works for Chunky Move were diverse in form and content including stage productions, installations, site-specific works, participatory events and film. These have been performed around the world including at the Edinburgh International, Venice Dance Biennale, Southbank London and all major Australian performing arts festivals.
In 2013 Gideon was a resident artist at the Sydney Theatre Company where he wrote and directed I Want to Dance Better at Parties. He later co-wrote and directed a documentary screen version winning the 2014 Sydney Film Festival Dendy Award. Recent creations include There's Definitely a Prince Involved (Australian Ballet), L'Chaim (Sydney Dance Company) and Stuck in the Middle With You, the first virtual reality film commissioned by the Australian Centre of Moving Image.
Cilli said, "This is a fascinating work where the lines between music and dance are blurred. We have worked on moving in phase and in polyrhythms; it takes a lot of focus and listening to move in such a refined way, but the effect is really powerful, and strangely hypnotic."
Performers Richard Cilli and Claire Edwardes
Director Gideon Obarzanek
Lighting Design Bosco Shaw
Composition and Sound Design Paul Mac and Claire Edwardes
Producer Erin Milne
RECITAL by FORM Dance Projects
Thursday 28th February to Saturday 2nd March
Riverside Theatres – Corner of Church and Market Streets, Parramatta
Duration: 50 minutes
Tickets: Adult $35 and Conc $28 – From the Box Office (02) 8839 3399 or https://www.form.org.au/recital/