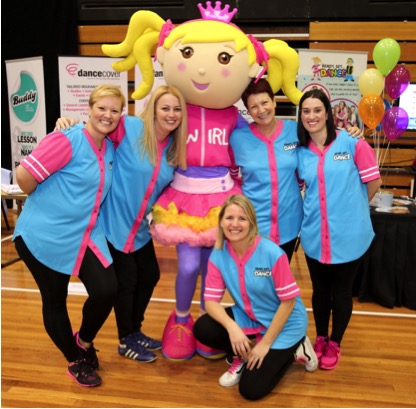 Preschool Dance Program Recognised in National Business Award
Ready Set Dance, a successful dance program specifically designed for young children has been announced as a finalist in the 2017 AusMumpreneur Awards in the category of Customer Service and Business Excellence. The awards will be presented at a gala dinner in Sydney on August 25th.
The AusMumpreneur Awards presented by The AusMumpreneur Network celebrate and recognise Australian Mums in business achieving outstanding success in areas such as business excellence, product development, customer service and digital innovation. The awards are designed to recognise the growing number of women who successfully balance motherhood and business in a way that suits their life and family.
Ready Set Dance began in 2015 when 5 dance studio owners – Natalie Ettingshausen, Jade Barnes, Belinda Agostino, Priscilla Severino and Glenda Yee – (Mumpreneurs themselves!) brought their collective knowledge and skills together to develop a preschool performing arts program. They are thrilled at how quickly the program has been adopted by dance studios and of the positive feedback Ready Set Dance has received.
The program was trialled in their own dance schools for a year before it grew to 20 locations in NSW. Word quickly spread about the success of the program and how it transformed dance studios in enrolments and financial success. In 2017, the program now runs in over 80 locations throughout NSW, QLD, ACT, VIC, SA, WA and NZ.
Spokesperson Natalie Ettingshausens said inspiration came to the business partners in two forms. "Firstly, our passion for the performing arts and the rewards received from seeing the magic of dance passed on to new generations."
"Our other inspiration came from our own children. It wasn't until we sat through preschool classes in our own existing business, that we realised the gap in the market and the need for something new and fresh. Upon research of the powerful mummy market we also felt confident that our idea would be both personally and financially rewarding. A stand out feature of our business is that we engaged the writers of Australian kids television to create original music corresponding to dance specific lessons that attract boys and girls. We credit this business decision with a lot of our success and it came from our mummy inspiration."
"Being selected as a finalist means so much to us because it will help spread the word about Ready Set Dance. The creativity and confidence a program like this can build and the rewards and happiness giving your child the gift of dance can bring!"
Business is not always easy and Ready Set Dance has overcome challenges but has also seen great success. They consider one of their greatest achievements to be the success stories of their licensees. Many studios using the program have seen their business grow rapidly – thus saving their business in some cases. On a customer level they have also received some amazing feedback, citing an email from a mum of a student with cerebral palsy and another with a severe speech delay who had seen the creative program help their children.
Help Ready Set Dance win by in the participating in the People's Choice Online Vote here.
For more information on the AusMumpreneur Awards visit: www.ausmumpreneur.com