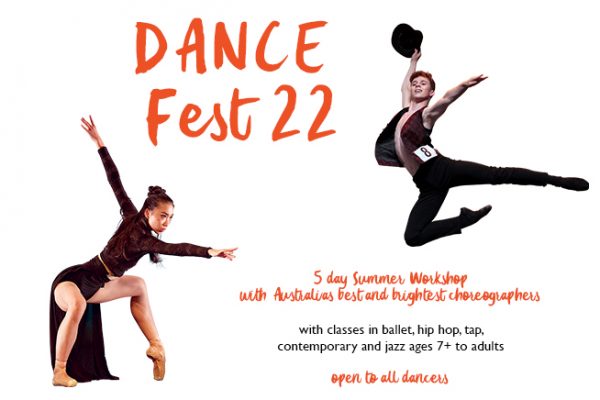 Royal Academy of Dance is Bringing Back Dance in Summer in South Australia
January 10 -14
RAD Australia revamps 'Dance Fest 22' to bring summer back to dancers in SA
Summer workshops an important training tool and 'rite of passage' for Regional dancers in particular
Faculty comprises the best 'home grown' talent from SA
Comprehensive COVID-19 Safety plans and policies in place
In a year when COVID-19 lockdowns and restrictions have continued to prevent dancers from accessing their usual training activities in their own studio, let alone broader programmes outside of it, the Royal Academy of Dance (RAD) Australia is determined to bring summer back for South Australian dancers!
National Director Rebecca Taylor said "Summer programmes are invaluable part of a dancers' training. They enable students to expand their skills and experience by exposing them to new genres of dance and new styles of teaching. The RAD identified a need in SA for such an opportunity and the workshop has grown and grown over the years. For many of our SA Regional students, it might be the one opportunity all year for them to experience something outside of their own studio environment. It has become a rite of passage almost for many young dancers to make the annual pilgrimage to Adelaide to take part in our summer workshop"
Having been forced to take a break in January 2021 after 30 years of continuous summer workshops, the RAD are pulling out all the stops to ensure that the revamped Dance Fest 22 can go ahead. Usually relying on expert faculty from interstate, the RAD are capitalising on the wealth of home grown dancing talent SA has to offer, including those who have returned home during the pandemic. This includes contemporary teacher Daniel Jaber who many will know as a former dancer and choreographer for Australian Dance Theatre (ADT) and LW Dance Hub (now SA Dance Hub), before he jetted off to work in the US choreographing for companies and the well-known Dance Moms TV show.
It also includes ballet teacher Chylie Cooper, also a former ADT dancer who later joined Sydney Dance Company and appeared in the film Mao's Last Dancer and TV show Dance Academy. Chylie is currently teaching dance at ADT.
Also joining the Dance Fest 22 faculty this summer will be Ryan Turner for hip hop and Amelia Sanzo for Jazz. Amelia returns to Adelaide after touring with popular musical West Side Story.
More amazing faculty for the five day festival which is planned for 10-14 January will be announced later this year. Entries are open now for dancers aged 7 years to adult.
Find out more on the RAD website: royalacademyofdance.org