Pro Talent Watch | Shannon Holtzapffel 
Savouring the Success of the Modern Musical Revival in The Greatest Showman
Interview and article by Heather Clements
It's fair to say Shannon Holtzapffel has done it all … and done pretty well for himself!  From dancing with the Johnny Young Talent School in Queensland as a kid to featuring in the modern-day movie musical success story that is The Greatest Showman, Shannon has experienced the kind of success and industry experience that most only aspire to. But it has been more than just good luck. He has worked bloody hard. 
He has worked in music videos, ballet and musical theatre productions, TV commercials & shows, stage shows, corporate jobs and feature films as both a dancer and creative choreographer. It is difficult to choose highlights from his impressive list of credits but I can only try …


DANCER: Happy Feet, Michael Jackson's This Is It, La La Land, Jennifer Lopez, Selena Gomez, Katy Perry, Dancing with The Stars, multiple Awards shows, Britney Spears, Christina Aguilera, Whitney Houston… shall I go on?
CREATIVE:  Masters of Illusion, The Motown Show, Absinthe, The Voice, Dancing With The Stars, NFL Half Time, Pink, Human Nature, SYTYCD Australia, Jessica Mauboy, Coca-Cola, ARIA awards, Australian Idol… shall I go on?
In The Greatest Showman he plays the Tattoo Man – 'The Prince of Constantine' – one of PT Barnum's oddities for public perusal, who is a spectacle for being covered in tattoos from head to toe. Ironically, Shannon has not one tattoo on his body.
Now, Shannon is enjoying the warm embrace that is the worldwide applause for The Greatest Showman and shares with DanceLife his experience working on the movie as both a performer and creative. From working with Hugh Jackman and other Australian talent, he shares his insights into the creative processes he experienced in bringing this epic new musical tale to the big screen as a movement designer and dancer. 
In short, Shannon 'Hotztuff' has every reason to be proud of his achievements and excited for what his future holds. We will be watching with keen interest back home in Australia and hoping he keeps sharing his knowledge with us. Congratulations Shannon!
*****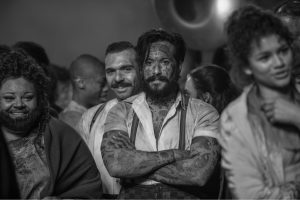 Q: Congratulations on your involvement on The Greatest Showman! Tell me how and when you became involved in this movie project?
Thank you so much. Rewind a few years and, memorably, I was working on a television commercial (TVC) in Los Angeles in which the director was, Michael Gracey (MG). Towards the end of the shoot he received an opportunity to possibly direct another commercial, which would feature Hugh Jackman. He asked Daniel 'Cloud' Campos and myself to quickly help with the pitch whilst on-set. We did a broken-down somewhat rhythmic, mixed freestyle all the while MG narrated treatment capabilities on the fly.
A few months later, we were in Rio De Janeiro working with Hugh on an advert for Lipton's Iced Tea, and I guess I can confidently say, we left a positive impact. Ashley Wallen (another Aussie choreographer) was also onboard, choreographing this TVC in Brazil. Hugh later approached MG to have a look at his 'passion project' that 20th Century Fox were considering… and six years later, we were all together again making The Greatest Showman with MG directing his debut film!
Q:  So how did you get to where you are today? How did you start as a young dancer and what were some of your early career breaks?
I started with a solid step clap and a split jump as my main trick! I was little, trying to emulate superstars moves like moonwalks, backspins, flips, and the running man. I went to Johnny Young Talent School in Brisbane where I began disciplines in jazz, ballet, tap and singing. I auditioned and landed my first professional musical The King and I with Hayley Mills at 6 years old, igniting a spark that lead to television commercials and playing young roles in The Lyric Opera, Queensland Ballet and The Australian Ballet. I'm appreciative to have had those possibilities and experiences early on. I received a scholarship to the Edge Performing Arts Center in L.A. at seventeen, which fanned the flames of my ambition. Every part of the journey… the teachers, choreographers, fellow dancers and achievements has lead me to where I am. Plus, my vivid daydreaming had me envisage all that was attainable.
I can't forget my mother's support and belief of me… surrendering sleep for late night dance classes. I always aspired to be beside the music stars in the US, and involved in film and television… I wanted to make it to Hollywood one day!
My first professional break, in America, was successfully auditioning for Britney Spears' ('Womanizer', 'For The Record' MTV documentary, 'Circus' promo). Then it escalated to me being in Michael Jackson's 'This Is It'.

Q:  You have one of the main ensemble roles in the cast of outcasts in The Greatest Showman, being the Tattooed Man – what was it like playing this role and how did it fit in with the overall cast?
With not one tattoo on my actual body I think it fit me perfectly?! Haha!! Originally, I was being considered to play The Strongman before the actors were locked in. The director had asked me on my thoughts, due to preparation time for the role, and also being a part of the creative team in helping mould the ensemble characters and development with the musical sequences. Through my historical research of Barnum, I believed I could embody the real-life 'Prince Constantine – The Tattoo Man'. His backstory, and incredible visual aesthetic was a fascinating truth to welcome in The Greatest Showman oddity cast. He wasn't in the original script.
Q:  How did makeup and SFX create your tattoos every day for filming?
My entire body was cast in a latex and plaster mould. The makeup team then obtained what was the replica of myself and brought it to life by designing and drawing the intricate tattoos that you would then see in the film. Once the imagery was decided, based on the authentic, historical Tattoo Man, they sent the mannequin to London, where the next step was to create the mesh skin suits, sewn exactly to the measurements on the figure, dyed to my skin tone, and artwork inked. My hands and neck were Juniper-dyed, hand drawn, semi-permanent tattoos that lasted for approximately 2 weeks, and had to be refreshed or re-done fortnightly for the entire 4 month shoot schedule. I grew my beard for the entire 7 month rehearsal and production period.
Q:   Tell me a little about the choreography process with Ashley Wallen… And How exactly were you involved in developing the choreography?
The process is called 'previs' or previsualisation where I did development, choreography and creatives on the routines of A Million Dreams, Come Alive, This Is Me, From Now On, The Greatest Show and also worked on The Other Side physically with Hugh and Zac Efron. It began with myself and the previs supervisor, Cameron Sonerson (another Aussie Oi Oi Oi!!!), starting on the musical numbers in Los Angeles long before pre-production commenced in New York.
Breaking it down… Cam and I would have script, concept art and music, and he'd design the environment, and the movement, action, and shots. I'd receive some chunks of steps from Ashley via video recordings, and my position was to figure out or amend it to work for the song and direction of the scene, and in the space. I would choreograph everything else.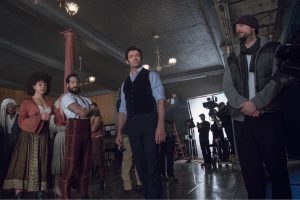 Actually, you could literally watch a version of The Greatest Showman that Cam and I conceived through the 'video previs' where I play every character. On computer Cam would then translate my motion capture version to what became a detailed animated storyboard, which genuinely helped the film get 'green-lit' (approved for production), and all would follow our benchmark to shoot. That's Previs!
We were able to set a standard before rehearsals and production kicked off. The advantage is it allowed us to design the choreography, staging, camera, lighting, editing, to mimic what would be fully produced. It's rewarding to see your productive ideas and creation on the big screen in the final product.
Daniel Campos choreographed The Other Side duet between Hugh and Zac, in which I completed the last section that lead from the bar into the circus. Ashley Wallen had the final say on most elements whether it was to be imitated from my undertaking, re-imagined or his own. It was collaborative in that we all got to have a voice, but in doing our own individual work.
Q:  So how are Australian dancers received in the US industry? How hard is it for Australian to make a career in the US?
We are known as hard workers, good people and for getting the job done. There are plenty of international dancers chasing the dream in the US of A, but splendid talent is definitely being created in our country, which we can all be proud of… We are top of the line. The hardest part for most is the first step – getting a Work Visa. My advice? It's beneficial to have some professional performances under your belt. I also recommend spending some time training in America and getting your feet wet here. You can arrange meeting dance agents, and landing one in the States will then be your representation and sponsor, which is a requirement for Visa approval.
Q:  The movie has been a phenomenal success – why do you think it has been received so enthusiastically?
We are all so thankful for the dedicated fans who are repeat offenders and have gone to the cinema multiple times! There's an audience that have connected and spread the word, and they've played a major part in its success. The music in the film has struck a chord… its doing well on the charts around the globe, is radio friendly, and the lyrics have meant a lot to the public. Not to mention, The Is Me has received a nomination for best original song at this year's Academy Awards. Its also provided escapism for people… we've so many compliments from those who feel 'unwanted' or 'different' who have connected to the movie positively.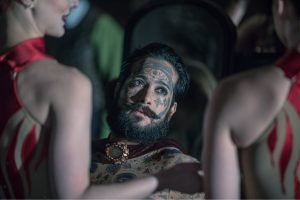 Q:  What was the absolute highlight of your work on The Greatest Showman?
Introducing some special new friends in to my life. And hopefully garnering some fresh, new musical fans out there in the process, leading to more original movies of this genre being made in the future. Furthermore, it's a film that carries a terrific message… that has made it all that more amazing and worthwhile.
Q:  Do you get to return to Australia often? And do you keep abreast of the industry and talent being developed here?
Unfortunately, I don't get to return often enough. That's been the sacrifice of my work. The last time I was home was a year and a half ago. But I certainly do keep tabs on our dance artists and I hire Aussie talent and audition our choreographers… I pass on work back home as the opportunities do still come across the table while I'm abroad. I stay aware. I feel like it's a responsibility.
Q:  What can people see next from you?
I currently have three shows residing on the Las Vegas strip that I have choreographed, so if you're in the 'City of Lights' check out Absinthe at Caesars Palace, Jukebox at The Venetian, and Masters of Illusion at Bally's in the Jubilee Theater. Also I worked on Pink's 'Beautiful Trauma' music video with Channing Tatum, helping them dance their blues away! And I recently shot a short in Sydney, and I'm next working on a motion picture for Skydance – which you won't see in cinemas for a while yet though.
Q: Finally, what advice would you give someone in Australia/NZ wanting to translate their dance and arts training into a career?
Take chances. Endure. Know a career can take time. There will be more than one avenue. And ask yourself – 'What would you do if you weren't afraid?'