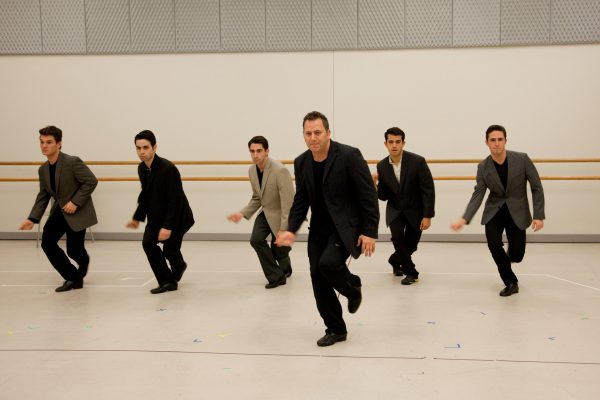 Pro Talent Watch | Danny Austin
Industry Gem Proudly Revives Hit Musical Jersey Boys for New Australian Production
Interview and article by Heather Clements 
It seems Danny Austin and Jersey Boys go hand-in-hand. He has become synonymous with the success of the global phenomenon that is the musical Jersey Boys. Since it debuted on Broadway in 2005, Danny has been involved in telling the larger-than-life true story of the 50s doo-wop group Frankie Valli and the Four Seasons to record-braking audiences all around the world. As long-standing associate choreographer, Danny admits he simply loves it! He loves the music and always finds it exciting to interpret a new show with fresh performers. One could almost say he is addicted to Jersey Boys … and he would proudly agree.
He has worked with some of the biggest names in showbiz (Hello Celine Dion? Rhianna?), but you won't find him name-dropping. He is simply too classy (read *old school*) for that and has too much respect for the talent he has worked with – both famous and unknown. He has such a gift in unearthing peoples natural movements he has even earned the reputation as a 'talent psychologist' in getting the best out of performers.
Originally from Canada, Danny has grown strong ties to Australia over the years because of Jersey Boys and has relished his recent time here again auditioning and rehearsing the new show. On the eve of its opening in Sydney, Danny Austin spoke to DanceLife about this latest production of the now-classic musical Jersey Boys, how he manages to keep the musical phenomena fresh with each new cast, and why he likes Australian dancers.
***
Q:  Jersey Boys is such a phenomenon, tell me about your involvement.
I've been involved pretty much from the beginning; since the show opened on Broadway in 2005 and it became such a success they knew they wanted to expand it. The original choreography is by Sergio Trujillo. We knew each other, had danced together, and I had already done several companies of Hairspray … so I was asked to come on board and reset the first national tour of Jersey Boys as Associate Choreographer. Of course I said yes, but I had no idea then that it was going to become this global phenomenon and I'd still be working on it today! (Laughter)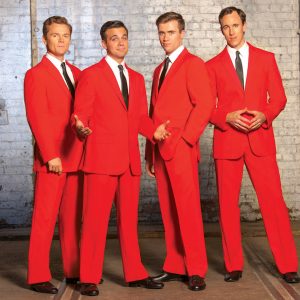 But I fell in love with the show, and the craft of the creatives right away … it was like this perfect collaboration of artistry and storytelling with choreography that fits every person in the show. The choreography reflects from the time the group are young, inspired guys from New Jersey and it changes as they gain more perspective in how their bodies move … every thing in the show tells a story. Sergio's original choreography is still in place today.
Q:  For those who don't know about Franki Valli and the Four Seasons, tell me about the storyline? Does the passage of time get reflected in the choreography?
We cover the period from the end of the 50s, into the 60s and the 70s. But, there's a section at the very beginning of the show, which takes place in the 2000s with a modern version of one of their songs. It's a really great device at the beginning of the show, opening with a French rap version of 'Oh, What a Night' which throws the audience off as they are expecting to see and hear the 50s. And then, just as they all turn upstage, you see these three guys with their suits on, and they do one of those old 50s stroll … da duh da duh … and they stroll down. And you just see the entire audience go "Ahhhh".
I actually remember my parents doing 'the stroll' at parties where the guys would line up on one side and the women on the other side. And they'd go up and then the couples would meet, and they'd go down together. It's actually great to have that reference point. I'm 55 and was born in 1963, the year 'Oh, What a Night' became a hit.
I've had to teach our beautiful young talented performers these reference points. For example I've had to teach them how to do 'The Twist' and 'Go Go' and we do lost of impro work. And then, we reapply it to the original choreography and see where the truth lands in their movement.
Q:  So do you change any of the chore at all depending on the talent that you've got to work with? Or do you stay true to the original?
No, we do adjust to the talent that we have. There's the basic shape of the choreography but we've adjusted it to the space that we're in. We have a framework but within that our 'Frankies' are all different, our 'Tommies' are all different. I spend a lot of time working and creating with them based on Sergio's vocabulary. We might do nuances or have little solo sections where I work with them individually. I'm like, 'Let's play with this, what would you do here? How do you feel about this?' And I watch them, check in to see how they move really well and then apply. Because I think it's a lot sexier when somebody moves in his or her own skin. I don't want them to look like me or Sergio, but how they move to get their full potential.
Q:  You were involved in casting last year, but how are rehearsals now going?
Unbelievable! We're always lucky that this show brings in a rare kind of talent, actors that can sing and move and all these musicians as well that can play. But there's something different about coming to Australia. Firstly, everyone loves the show and we have the opportunity to get the best talent because everyone's auditioning for it. We're getting first-rate actors. We found a beautiful cast. There's a hunger I think innately about Aussies. Aussie performers… they get it. Like people from New Jersey, Aussies are tough, family oriented and hard workers. Australian talent has great work ethic and have the ability to process information and perform.
I've been so excited, every day I come to work… and I'm not just saying this… I can't wait, because they're hungry! With great talent there are many more opportunities to work with them and create on them.
Q:  What are the lead cast like?
We have a few repeat performers in Bernie and Glaston. Bernard Angel who was Joe Pesci in the original production in Melbourne plays Frankie Valli. He was actually too young to play Frankie at the time. So, it was like we really liked him, but he was such a baby. But there is a wonderful vulnerability about Bernard, that when he went on, the audience responded completely differently than they had responded to even Bobby Fox, who's just stellar. But they wanted him to win, they were like on his side. So, by the time they got to sing 'Can't Take' there were like standing ovations, which we hadn't seen.
But I've got to say Glaston Toft this time around is a completely different Nick Massi than he was in the previous Australian production. He has just turned on the juice and he is just rocking us out and sexy. It's funny, because I go back to him and say "We didn't do that before… You're rocking out like a rock star!" And he says "Yeah, I'm really feeling it."
Q:  Why do you think this story is so enduring? How is this production of Jersey Boys going to be different?
Well, it's a story of our own humanity. These people came from nothing and fought to get where they needed to be… it's a global story. It's about 'blue collar' people who have hope, dig deep and work hard. They're a success. But life happens too which is told in the story. Also, every band is different and this band is sexy, more edgy, with a really different groove. And that's really what we want to do… keep moving forward. We want to keep the show fresh, it's completely fresh. For me, every day it feels like it's a new show.
Q:  In terms of the ensemble, is there someone that we should keep an eye out for that you think is just a superstar?
Oh my gosh! Mackenzie Dunn. She auditioned with her whole college one day and I just didn't expect it … she just popped! I said "Wait. What is going on here? She has got it." She plays Francine and she is going to be a star!
Q:  How did dance find you?
Oh my poor mother! I came out the womb singing and dancing. There was always music around our family. I was just non-stop, so Mum put me into tap dancing when I was about five. Being from northern Canada I couldn't just focus on one thing, so I danced, did gymnastics, sang, and was in theatre. I ended up at our national theatre company in Canada, called Stratford Festival where I spent many years training as an actor. We did everything from Shakespeare to dance theatre.
Q:  How did you go from theatre to being a choreographer?
Well, I actually danced first. I danced and trained with several with companies in Toronto and Montreal, and I was on scholarships in New York and LA to a ballet company. Eventually I was drawn more to the theatrical side, to the storytelling, than just to dance. But a dancer never stops training… I've always trained and taught. But going from dancing all over the world to coming back to Canada and working in a Shakespearian theatre company was something. I was hooked. I never expected it to happen. When I got a chance to choreograph and direct it really changed my life.
I've been called 'a talent psychologist'. I work with a lot of celebrities to prepare them for shows. I spend time with them, each of them, and I figure out who they are, and how they move, or what their hook is that you get in, and then, tell the story through it.  So, any celebrity or actor that doesn't have a background in dance … they'll bring me in. It's a psychology of movement, certainly with actors and dancers. There's nothing I love more than watching somebody get it.
Q: What advice would you give to young people coming through as a dancer?
The one thing that's guaranteed is that it's the work ethic and training that's constant, no matter what you're doing. You need a solid background of training. So, whether you're going to go into jazz or contemporary, you need a really solid foundation of ballet and contemporary training to do anything else. Otherwise your body just doesn't develop in the way that you have access to it.
Just one thing… Work ethic for me is the most important thing. Establishing a work ethic so that your reputation eventually precedes you. If your work ethic is strong you will have access to many opportunities. I've seen so many talented people be passed over because they are know to be difficult to work with or don't out in the effort. And it makes my heart crumble.
Your reputation is everything. If you're a great person to work with, you will get work. Another new talent we have is Ryan Gonzalez… I've never met anybody like him, in terms of his ability to diversify. He's a brilliant actor, he's an incredible singer, he's my dance captain, because he just processes everything really fast. He's got great style. It's rare to come across somebody that has talent at all those levels, and it's because he has that discipline, determination, desire and work ethic.
Q: What is next for you after Jersey Boys opens in Sydney?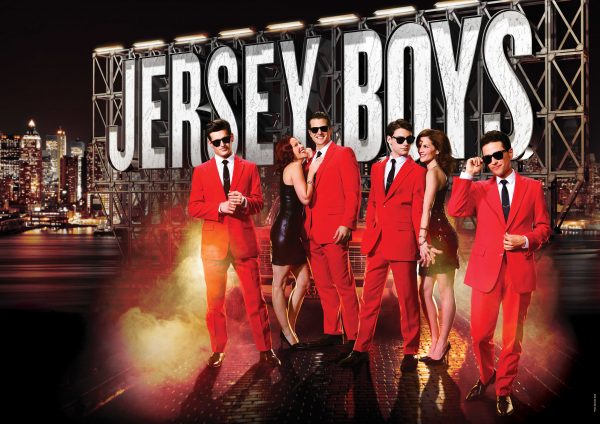 I am heading to Canada to put on a new production of Jersey Boys aboard a brand new Norwegian Cruise Line ship with a 1000 seat theatre. (Laughter) It's insane and it's beautiful! I am there from day one on the ship and, for the first time, people are actually buying cruises because of the entertainment. The CEO of Norwegian is a Broadway fan and he's very determined to have first class entertainment on these ships.
Q: What is on your bucket list? If you could do one show before you go, what's it going to be?
(Laughs) One show? You know, I'd love to do Sweet Charity, I love that show and would love to choreograph it. Also, I really want to work with our First Nations in Canada in indigenous dance and cultures by collaborating.
JERSEY BOYS
Sydney, Capitol Theatre
From August 29
Brisbane, QPAC
Opens January 2019
Melbourne, Regent Theatre
Opens February 2019
BIO | Danny Austin
Credits include: Jersey Boys (associate choreographer – Broadway, first national tour, Chicago, Las Vegas, London's West End and Australia); Hairspray (associate choreographer – London's West End, UK tour and NETworks international tour); Hairspray (resident director/choreographer – Canadian Company); Charlottetown Festival Young Company (artistic director) and the Stratford Festival (Acting Company for seven seasons – three Tyrone Guthrie Awards).