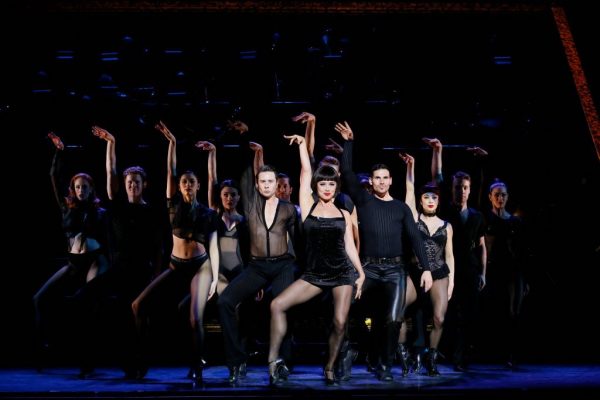 Pro Talent Watch  |  Zachary Webster & Romina Villafranca
Two Talented Ensemble Members from Hit Musical CHICAGO
Interviews and article by Heather Clements
After two critically acclaimed successful seasons in Sydney and Brisbane, CHICAGO The Musical is now playing its final season leg in Melbourne as the city's summer musical. It opened at the Arts Centre's State Theatre this week. Aside from the leading ladies Natalie Bassingthwaite, Alinta Chidzey and Casey Donovan, the entire cast is a tight-knit ensemble of talented dancers that magically bring the classic story of CHICAGO to full-blown Fosse level class nigh after night. DanceLife spoke to two of the show's ensemble members – Zachary Webster and Romina Villafranca – about the show's progression since it began and what being in such an iconic musical means to them.
At different stages of their performing careers, both Zachary, 24, and Romina, 29, are graduates of Brent Street. Originally from the Central Coast of NSW, Zach was inspired by Gene Kelly to start dancing as a child and has always had his sights and heart set on a career in musical theatre. CHICAGO is his biggest production so far. Romina grew up in Wollongong and has trained in dance from a very young age. She worked professionally as a child in Oliver and Swan Lake and was cast in her first big musical at the age of 16 in Wicked. Pint-sized Romina has had a very succesful and healthy career with a steady stream of work, and is forever grateful every day she gets to do what she loves for her job.
Read our review of CHICAGO from Sydney here.
***
Q: How has the show progressed since premiering in Sydney in August?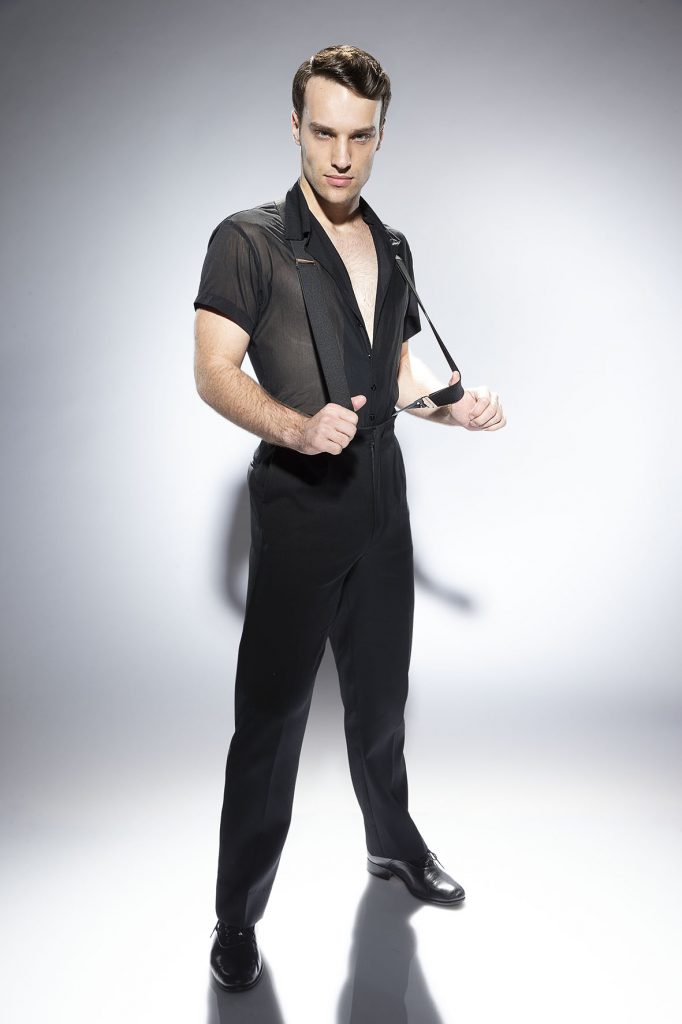 ZACH: Our wonderful resident creatives and dance captains really encourage us to keep playing with it and not keep it the same … to take new risks … as obviously the ensemble play a lot of different characters and do a lot on stage, so as long as we maintain the integrity of the show and don't offend the material we can play with it on stage. We've developed in a way that we've become quite grounded but also keep it interesting for each other. For example, Natalie Bassingthwaite's 'Roxy' monologue is so different every night for us to watch … all of her mannerisms change while the character stays the same, which is interesting for us in the cast.
ROMINA: I guess it's progressed in that I understand it more 'in my body'. When you first learn a show you just want to get it right, and that's my own undoing, because I want to be perfect. Now I understand why my body has to be in a certain position or why I'm saying or doing something … most things sit in my body now a little better than it did at the start. It's so tight! We are really lucky to have an incredible cast that want to take care of the show and our dance captains really keep a handle on it all. But I feel like I can really be myself in the piece even though I play different roles throughout … I play Mona, one of the 'murderesses' in gaol for killing her partner 'Lipschitz' after she found out he was cheating on her with other women. She put him out of his misery.
Q: What was your relationship with CHICAGO before you joined this production?
ZACH: Obviously I knew the songs and I knew the film version really well, and while training at Brent Street we were taught some of the choreography, but I was always a fan of Bob Fosse's work … with Sweet Charity being my favourite musical. His style of dance is so signature to Fosse and no one else used that subtly of movement, so I always loved doing his style of dance and movement. I hadn't really seen the musical on stage but I knew it was his and wanted to do it because of that.
I think getting this job was kind of like fate … it's such a tough industry, we audition for a million things … and then this came around and I auditioned but thought I was too young for show and its characters' stories, but the creative cast us on our maturity as a performer and person and not on our age.
ROMINA: I had never played in it before, but for me CHICAGO has been one of those shows that I've grown up with during dance school and admired and looked up to the seniors doing routines like 'Cell Block Tango' … and then watching the likes of Caroline O'Conner and Sharon Millerchip in the role of Velma … they were my idols growing up! They're both pocket-rockets like me (I'm 5'1"), not the tallest of girls, and I looked up to them. CHICAGO is just one of those dream shows for a dancer. It's iconic. It looks so easy, but in fact it's the opposite and incredibly difficult to keep the 'boiling effect' throughout because it is as much internal as it is external. You need technique and discipline, and for me, CHICAGO is the be-all-and-end-all of all musicals to do.
Q: Tell me about the choreography in the show by Ann Reinking.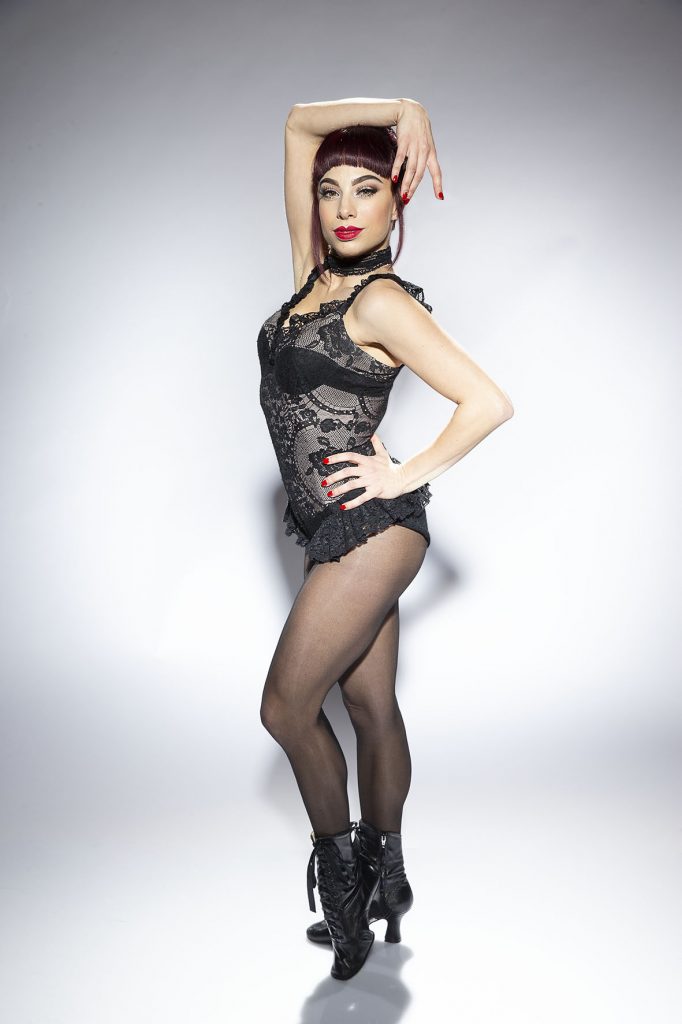 ROMINA: We are doing the 'revival' version of CHICAGO as choreographed by Ann Reinking. Our dance captains Amy Berrisford and Mitchell Woodcock are incredible! They keep us in line and it's been incredible to work with them.
ZACH: The choreography is so specific. Learning it, we all were encouraged to be ourselves as dancers and not to try to be 'cool' or 'sexy', but to just be ourselves and then we will be 'classy' and 'cool'! It's so much more natural to sit like ourselves and do as little as possible with the intention of doing it, and that kind of gives the show the quality they're after. We obviously have to meet certain spots and do the steps, but it's integrally 'you' just with the exact steps. The dance captains make sure we point our feet, straighten our legs and do our head rolls to the right sides, all while bringing our personality to the roles.
Q: What have you found to be the most challenging and fun aspects of CHICAGO?
ZACH: The material is timeless and I don't think I could ever get over doing it every night!… but the most challenging part is having to sit on the stage and witness it every night while staying engaged. (Unlike other shows, the ensemble of CHICAGO is constantly on stage.) But we are encouraged to keep it interesting for each other by making new and exciting choices each show.
ROMINA: I suppose the most challenging is to always feel like it's not just a show … every day needs to be a new show and it's hard to get your mind right for that. My brain is always quite busy, always thinking 6 scenes ahead, but for me it's just trying to stay focussed on one scene at a time is the hardest for me. And the most enjoyable thing for me is being on stage with all these incredible 'creatures' … from the tech crew to the band and the cast … there has never been fights or toxic situations, we have actually been a really strong cast, which doesn't happen very often. We all really love the 'peace'.
We are on stage throughout the entire show, and it's actually amazing because you get to see the trajectory of a cast member's plot, with all the different changes right in front of you … it's old school vaudevillian in nature, especially with the story plot of CHICAGO … that's why it's a story that is still current today … with celebrities being in the news today for sensational reasons and getting away with crazy things.
Q: What are your favourite numbers in CHICAGO?
ZACH:  I love the overture into 'All That Jazz' … it's the opening number where we come out onto the stage and welcome everyone into the show and then we do that swirling whirlwind into the centre towards Velma (Alinta Chidzey) as she comes up through the staircase … I love that when we all come together and take that big breath as one and become a unit.
ROMINA: It would have to be 'Cell Block Tango'. It is such an empowering moment on stage in this story, and being on stage with those 6 women. But then again, I love the entire show … I love watching the ensemble boys and Natalie Bassingthwaite doing 'Roxy' and Alinta Chidzey doing 'When Velma Takes The Stand' and her other big numbers, and Casey Donovan singing 'When You're Good To Mamma' … I feel my jaw drop to the floor every single show! We're on stage the entire time and I'm incredibly lucky to get to watch it every night.
Q: What do you do to relax, recover and rest?
ZACH:  I think when doing a long running show that is taxing on the body, it is really important to have a really positive attitude and be a kind and loving person in the company. Because you are together ALL the time, the best relationship you can have with your company really helps. We are so lucky to have an unusually kind company that all stand together. Plus I like to DIY!! I like to make clothes, re-upholster furniture and do crafts and wood working!
ROMINA: I try to get outdoors as much as I can because you are usually in a theatre most of the time. I see friends, and having normality is the key. You have your good days and bad days, because everyone is human. I love to cook also, and going to the gym and physio because we are only human. Sometimes feeding your soul is more important than feeding your bank account.
***
CHICAGO THE MUSICAL
MELBOURNE

 – Arts Centre
From 14 December 2019 – 23 March 2020
***
BIO – ZACHARY WEBSTER
Zachary is one of the most exciting, young emerging talents in the entertainment industry. Zachary was most recently seen in the smash hit musical Mamma Mia! for Michael Coppel and LWAA, then going on to perform in PIGALLE for Sydney Festival in 2019. Before this, he appeared in the Hayes Theatre productions of Mack & Mabel, and Big Fish the Musical as the Frustrated Fisherman.
Zachary has been featured as a dancer on television favourites Young Talent Time, The X-Factor, So You Think You Can Dance Australia and Dance Academy, as well as on stage for the AACTA Awards, Sydney Theatre Awards and the Premiers Gala Concert. He was also part of the cast of Sydney Dance Company's Public Arts Project 13 Rooms, choreographed by Rafael Bonachela. On screen, he has appeared in numerous television campaigns for brands such as McDonald's, Nickelodeon and Telstra, and was part of Christine Anu's film clip Beat Of My Heart and Thundamental's music video Sally. Zachary has enjoyed the opportunity of performing internationally in shows such as Barney Live!, and The Little Big Club – Happy Together.
Zachary is a 2014 graduate from Brent Street's Certificate IV In Performing Arts course and has since been able to expand his training under the vocal guidance of Peter Bodnar.
BIO – ROMINA VILLAFRANCA
Romina is one of Australia's most accomplished and sought-after performers. Her credits include West Side Story on Sydney Harbour, In The Heights, Singin' in the Rain, Strictly Ballroom (Liz Holt and Vanessa Cronin covers), Cats Korea, Brigadoon, the world premieres of King Kong Live on Stage, Moonshadow and Self, the Australian premiere of Wicked, GFO's Into the Woods concert, Oliver, Les Miserables and Swan Lake with the Australian Ballet. On screen Romina can be seen in George Miller's Happy Feet 2 and Baz Luhrmann's The Great Gatsby. Romina is thrilled to be a part of Chicago and would like to thank her family, friends and T&E Management for their endless support.