Help Support Prying Eye!
Fundraising Campaign to Create Important Dance Theatre work about Mental Health & Anxiety
Independent dance company, Prying Eye, have launched a fundraising campaign for a new dance/comedy show that tackles the stigmas surrounding anxiety.
Creative powerhouse, Lizzie and Zaimon Vilmanis, who are Prying Eye present a new, original dance theatre work in the making, The Inquisition of the Big Bad Wolf (WOLF). According to SANE Australia, nearly half of the population in Australia will battle a mental health issue at some stage in their lives.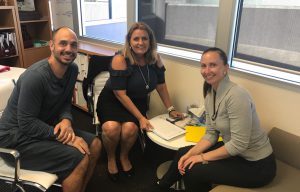 To increase the impact of this important project, Prying Eye are running a fundraising campaign until the beginning of September 2017.  Funds raised will help extend awareness further through performance seasons at two of the world's biggest Fringe Festivals (Adelaide and Edinburgh) as well as Mental Health Week in 2018.
Co-directors and performers Zaimon and Lizzie Vilmanis describe the new production as "a fun and quirky dance theatre production, that unleashes the untamed inner wolf that hides within us all."
"We take children's fables, a bare rehearsal space, a microphone, crazy costumes, and a wild creative vision and turn them into a rollicking adventure that moves, amuses and agitates in turn. We break down the 'fourth wall' and the audience come to realise they are participants on a roller-coaster of opposing tensions. WOLF flips 'normal' upside down, and swats at the relentlessly buzzing mosquito that is anxiety."


This work is a collaboration with performers Charles Ball & Alinta McGrady, and Dramaturg/Script Writer Veronica Neave, Script Advisor/Mentor Jon Haynes, and Sound Designer Guy Webster. The work synthesises dance, theatre, comedy and sound.
A bold new creative approach, this new production is being made with support from the Queensland Alliance for Mental Health (the states peak body for mental health) who will provide expert advice on the content of WOLF as well as some financial sponsorship. The new partnership assists Prying Eye to create a distinctive, original work that upholds the integrity of such important subject matter, while promoting conversation and help to dispel the stigma surrounding anxiety.
WOLF is set to premiere in February 2018 at Supercell – Brisbane's hottest new contemporary dance festival. Prying Eye is also gearing up to share WOLF next year at two of the largest Fringe Festivals in the world – Adelaide in March, and Edinburgh in August as well as for Mental Health week in October.
Recognised as outstanding artists, Prying Eye defy classification. They assemble diverse and exciting voices, approaches, and experiences.  Zaimon and Lizzie Vilmanis create unique performance works, that cross from tangible reality to traverse the landscape of imagination. Their powerful and entrancing works linger long after the performance is over.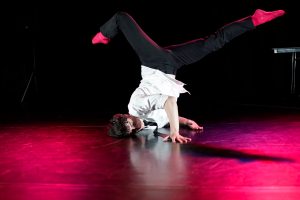 "This is contemporary dance, but not as you know it. Interdisciplinary works are all the rage at the moment, and this talented company have nailed the brief, fusing dance, theatre and performance art into a great big hilarious wonderland." – Nadia Jade, 'Nothing Ever Happens in Brisbane'
How to Contribute? Tax deductible contributions can be made by visiting australianculturalfund.org.au  (receipts issued instantaneously).
For further information about this project, or about Prying Eye, and to keep informed of future performance dates and times you can subscribe to their newsletter at: www.pryingeye.org/subscribe