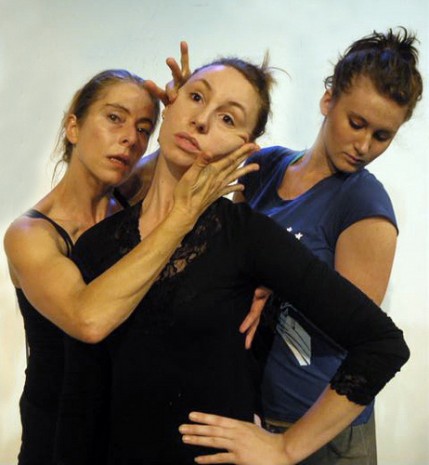 Poignant, affecting and darkly satirical, Fiona Malone's bold new dance theatre work follows a woman's quest for physical perfection.
A stellar cast combines with powerful dance and arresting visuals to portray the body image-obsessed journey of a woman that may leave you asking: How far would YOU go?
Picture Perfect tells the voyeuristic story of one girl's unhealthy obsession with body image. We follow her on her quest for her ideal 'physical perfection' which leads her to an addiction to plastic surgery. Her close friend, keen to steer her away from her ongoing struggles and pain, witnesses her friend's addition build as she relentlessly submits herself to the surgeon's knife. Delirious with anaesthetic, the girl experiences a wild and vividly kooky dream in which a sadistic, over-the-top doctor entices her further to achieve her 'ideal body'- the `perfection' she has been striving for. The comic and tragic results of her overdone synthetic enhancements are revealed as her dream turns to a nightmare! As the delusion ends… so too does the obsession to obtain artificial beauty.
Featuring Trish Wood, Kathy Cogill and Vittoria Lasorella with Alysha Firbank, Olivia Fyfe, Kate Herron and Rebecca Frasca.
The company also presents a 'Learn the Repertoire. See the Show' education program. Details below and over….
Picture Perfect
Wednesday-Saturday 16-19 February 8pm
Friday 18 February matinee 12:30pm
Tickets $28 / $25 conc
Bookings 8839 3399 or www.riversideparramatta.com.au
Background Information
Award winning choreographer and performer Fiona Malone has created this powerfully provoking new dance work with a stellar cast of performers and artists. The talents, passions and expertise of the artistic team combine to address both the comic and tragic nature of addiction to plastic surgery.
The obsession with plastic surgery is of growing concern in contemporary society and Picture Perfect has been developed to entertain audiences with its powerful dance, storytelling, visuals and music while acting as a springboard for further conversation about this addictive condition.
Fiona has worked closely with her sister Dr Julie Malone, a psychologist specialising in the field of Body Dysmorphic Disorder (a condition under which addiction to plastic surgery falls). Together they are passionate about raising awareness of the condition and hope to begin this process through `Picture Perfect'. Additional to Picture Perfect's presentation in theatres, they plan to take the show into schools to create discussion and inform youth about the importance of healthy body image through the experience of a powerful, meaningful performance.
Having had a long career as a professional dancer, Fiona has witnessed first hand the affects the pressures to attain physical perfection in the dance world can have on young people. Now in a position to utilise her artistic voice, Fiona is passionate about creating this work with a purpose, to make a difference, inform and most of all entertain audiences with a captivating dance performance.
Produced and presented by Western Sydney Dance Action, with the assistance of Arts NSW, The Actors College of Theatre and Television, Self Essentials, and Jayday with previous developments supported by Campbelltown Arts centre, Arts NSW , The Australia Council for Arts, NIDA and the Performance Space, there is much excitement about this production of importance.