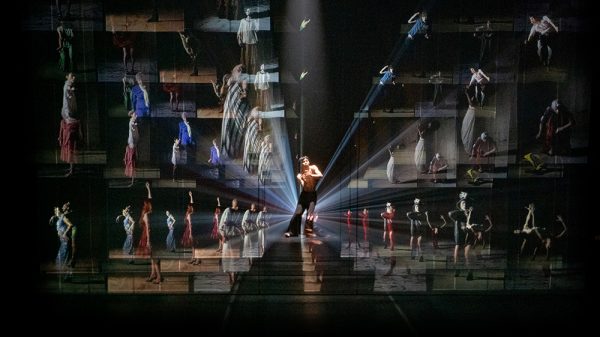 Liveworks Festival of Experimental Art 2021
October 20-24, 2021
Sydney, Australia: Performance Space has announced the full program for its seventh year of the Liveworks Festival of Experimental Art running from 20-24 October 2021, with its second release of tickets on sale now.
In 2021, the Liveworks Festival of Experimental Art will be presented in the form of an all-digital program seeking to create surprising, meaningful and transformative encounters between artists including dancers and audiences. Far from the formulaic, the Liveworks 2021 program explores new possibilities for liveness and expands our sense of what live performance can mean in the digital realm.
In collaboration with its artists and curators, Performance Space announces that in lieu of in-person events, it will utilise its expansive home at Carriageworks as a filming and broadcast studio for Liveworks 2021.
Jeff Khan, Artistic Director and CEO, Performance Space said: "We're thrilled to announce this exceptional group of artists and projects, that complete the Liveworks 2021 program and bring an extraordinary range of experiences directly to our audience's homes … we have made the leap into presenting our first fully-digital Liveworks Festival. This is another milestone for Performance Space, ensuring that everybody has access to brilliant artistic experiences wherever they are, and whatever our experience of the pandemic. It's time for the Liveworks artists to inspire us to imagine new futures and explore new possibilities."
Blair French, CEO, Carriageworks said: "Carriageworks is delighted to be a presenting partner for Liveworks again this year … we are impressed with the ways in which the Performance Space team have adapted this year's festival into a digital format in order to continue bringing cultural experiences to wide audiences across Sydney. We look forward to another Liveworks full of experimentation, joy, provocation, energy and new art."
 Liveworks 2021 will present three program streams with 31 extraordinary events featuring over 72 Australian and international artists. This ambitious program will enliven screens and connect audiences and communities across Sydney and the world:
LIVE NOW, the presentation of captivating, bold new experimental art from the Asia-Pacific, expanding our perspective on what's possible
LIVE DREAMS, a dynamic platform for works-in-progress, exploring the art of tomorrow
LIVE FUTURES, a new series of artist-led conversations about the future
LIVE NOW centres new performative experimental work with the second release of Liveworks 2021 events led by renowned Australian artists Sue Healey, Amrita Hepi, Cherine Fahd, Ivey Wawn, Julie-Anne Long, Field Theory and the return of the acclaimed Day for Night; these projects join previously announced artists SJ Norman (Australia) & Joseph M. Pierce (USA), Natasha Tontey (Indonesia), Luke George (Australia) and Daniel Kok (Singapore).
In a unique digital broadcast from Carriageworks, shot by aerial drone and moving cameras, Sue Healey's On View: Panoramic Suite weaves live performances amongst a 7 screen video installation to create a visionary augmented cinematic experience. On View: Panoramic Suite was created over 8 years across 3 countries: a sweeping panoramic vision of dance across cultures, landscapes and individuals.
Building on the extraordinary Live Action Relay (Liveworks 2020), viewers can experience On View: Panoramic Suite as a captivating digital broadcast crafted by Healey and cinematographer Ken Butti, revealing Carriageworks' spaces and the remarkable cast of performers in ways not seen before. The broadcast features celebrated dance artists Nalina Wait and Martin del Amo alongside live percussionist Laurence Pike, intricate thread portraits by Jane Theau and music by Darrin Verhagen. Healey's work offers breathtaking encounters with these extraordinary artists, in a moving study of the nuances of the dancing body and its cultural landscape.
How do you Cope With Constant Beginnings? A conversation between dance artist Amrita Hepi and experimental performance-maker Mish Grigor, will discuss Hepi's new work RINSE which expands her fascination with hybridity under empire and contemporary dance's fixation with the "neutral" body. Hepi will unpack the electric new development of her performance which questions whether being on the brink of extinction—a series of endings of various kinds—has intensified the seduction of the past?
Following a prototype of RINSE winning the People's Choice Award at the 2020 Keir Choreographic Award, Performance Space has commissioned the full-length premiere of this brilliant new dance performance and will premiere the full-length work in 2022.
Artist Ivey Wawn presents the world premiere screening of her new dance and video work In Perpetuity and will be in conversation to discuss its themes. In Perpetuity features three dancers, using dressage choreography to highlight the pressures of a life subjected to wage labour.
Created by Sydney's much-loved, maverick dance artist Julie-Anne Long, unentitled brings together a collection of captivating moments performed by Invisiblists Queenie and Bev. The Invisiblists are women of a certain age whose invisibility in the eyes of society-at-large is both a curse and a superpower. Over the course of the festival you can attend as Queenie gives a digital address, discover a guerrilla online exhibition documenting The Invisiblists' exploits around Sydney and catch Bev Beasley — lollypop lady — officer on duty at the Carriageworks Farmers Market.
The acclaimed Day for Night returns for 2021. Tune in from anywhere across Sydney or the world! Dress up, bring your A-game, turn your webcams on and dance together across space and time with queer family, via the Liveworks superqueer digital channel. Reconnect with your body through a special club mix of Betty Grumble's iconic Grumble Boogie; learn how to limb sync with Weird Nest; and marvel at Sidney McMahon's stunning Day for Night installation…a little piece of it might even show up at your home. Special performances by Jamaica Moana and Demon Derriere will light up your house, Garden Reflexx will bring some cinematic wonder to your living room, and Stereogamous will get you on your feet, with an all-night DJ set…and there's more to be announced.
LIVE DREAMS sees an incredibly rich and diverse artist line-up, hailing from across the globe. Their work spans dance, experimental theatre, music, digital media, drag and more, often combining disparate artforms in surprising new ways.
Liveworks Festival of Experimental Art 2021 will offer audiences the opportunity to experience art that affirms our capacity for renewal, wonder and transformation.
Explore the Liveworks 2021 program and book tickets online at the Performance Space website with prices ranging from Free – $80: performancespace.com.au