Australian Tap Dance Festival
Masterclasses and Residencies
In only 5 sleeps, the festival returns to Melbourne in its full form with an inspiring faculty line up conducting masterclasses, choreography residencies and special events to witness Tap dance back on stage!
Masterclasses. & Residencies: Sep 24 – 30
Jason Coleman's Ministry of Dance, North Melbourne
Future of Tap presented by Capezio: Sun 25 Sep, 6:15pm
&
Jam night with Live music: Fri 30 Sep, 6:15pm
Theatre at Jason Coleman's Ministry of Dance, North Melbourne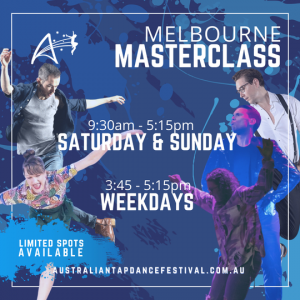 The Masterclasses
Sep 24 – 30, indulge in a range of masterclass offering a unique chance to work with artists, performers and teachers from across the country on their approach to the dance.
Each 90 minute class offers new warmups, exercises, technique and a small combination to take home and further your own dance practice. Adult Beginner, Under 14s, Intermediate & Advanced available. Classes are filling fast!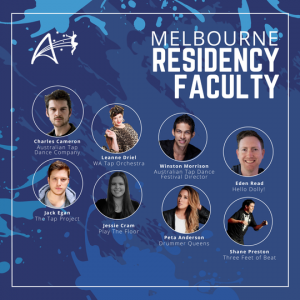 The Residencies
From Sept 26 – 30, choose your level for a series of 5 classes where you'll learn and develop a piece to perform at the festival's Gala Show, Sounds Inspired, in front of a live audience on stage at one of Melbourne's leading arts venues, Chapel Off Chapel.
New Adult Beginner residency available.
Limited spots remaining in Int & Adv, check the schedule for sold out before booking.