Cast of Oklahoma Announced | Opens May 26
Oh, What a Beautiful Mornin'!
Don't miss The Production Company's version of Rodgers & Hammerstein's all-time favourite classic musical Oklahoma! opening at Melbourne's State Theatre on May 26th.
When Oklahoma! opened on Broadway, New York, 75 years ago, it revolutionised the American Musical, won a Pulitzer Prize and set the standard for modern musical theatre.
Celebrating The Production Company's 20th Anniversary, mega-musical Oklahoma! will play for 11 shows only between May 26 and June 3.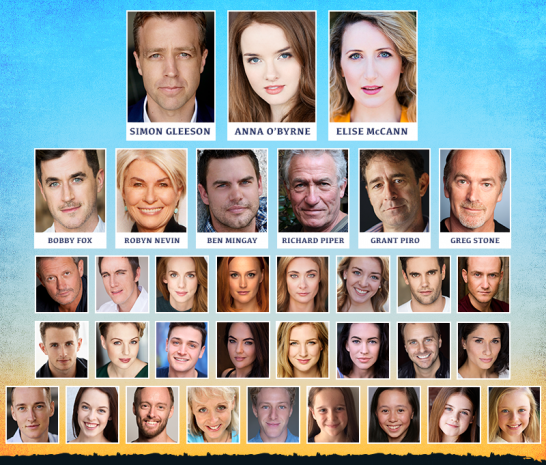 Oklahoma! features an award winning line-up of stars. Simon Gleeson's recent successes include Jean Valjean in Les Miserablés and for The Production Company: Chess and Curtains. Anna O'Byrne (2017 Helpmann Award winner for Eliza Doolittle in My Fair Lady) returns from London where she's currently starring in The Woman in White. They are joined by the award winning stars: Elise McCann, Bobby Fox, Robyn Nevin, Ben Mingay, Richard Piper, Grant Piro and Greg Stone.
The ensemble consists of: GLEN HOGSTROM, GLASTON TOFT, GRETA SHERRIFF,
ANNIE AITKEN, AMY BERRISFORD, EMBLA BISHOP, JARED BRYAN,
ZACK ANTHONY CURRAN, ALEX GIVEN, COURTNEY GLASS,
LUKE HABERECHT, MELANIE HAWKINS, GEORGINA HOPSON,
STEFANIE JONES, ANDREW KROENERT, ELYSHA MANIK, JOE MELDRUM,
IMOGEN MOORE, DANIEL ROBERTS, SUE-ELLEN SHOOK, JORDAN TURNER
The Young Girls are played by: CHIARA ALLEVA, RACHEL KIPNIS, ALANNAH PARFETT, LUCIA SCHWERDT
Oklahoma! is brimming with show-stopping hits: Oh, What a Beautiful Mornin', The Surrey With The Fringe On Top, People Will Say We're in Love, I Cain't Say No and the title song Oklahoma!
Oklahoma! will be directed by Chris Parker, with musical direction by our founding Musical Director, Guy Simpson, and Amy Campbell making her TPC debut as Choreographer.
The story outline: It's a beautiful morning whenever Curly sees Laurey, but Laurey's not so sure about Curly and wonders if she really loves Jud. And Will loves Ado Annie, but Annie loves… well, everybody. She's just a girl who cain't say no! Meanwhile, in the Oklahoma Territory of 1906 where they all live, farmers and ranchers lock horns in a battle over water rights and fences.
OKLAHOMA! | The Production Company
State Theatre, Arts Centre Melbourne
26 May – 3 June
Bookings: www.artscentremelbourne.com.au