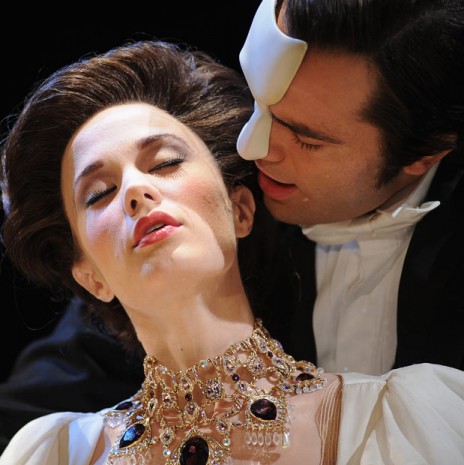 Andrew Lloyd Webber will unmask a new production of his Phantom of the Opera sequel Love Never Dies at Melbourne's Regent Theatre in May 2011. A new creative team will take a fresh look at the musical that is currently playing London's Adelphi Theatre.
Exciting news for dancers and the Australian dance industry that Graeme Murphy will choroegraph the show with Associate Choreographer Janet Vernon. It will be great to see what the pair come up with.
Lloyd Webber has enlisted Priscilla Queen of the Desert director Simon Phillips to helm the Australian premiere, which will also feature a new production design by Gabriela Tylesova. Bob Crowley (Mary Poppins) rendered set and costume designs for the current London production.
Tim McFarlane will produce the Melbourne staging. Tickets for Love Never Dies will go on sale Oct. 25.
"I'm delighted that Andrew Lloyd Webber has chosen an Australian team to work on his inspired new structural changes, which promise to further intensify the thrills and spills of the story as told in London," Phillips said in a statement. "I've already begun developing a design with Gabriela Tylesova, hoping to do with the razzamatazz of Coney Island what Maria Bjornson's iconic Phantom designs did with the opulence of the Paris Opera, and I can't wait to start the search for the formidable talents required to do justice to the score!"
Australia has always been part of the international plan for Love Never Dies, which premiered in London this past March. However, critics were cool on the lushly scored musical that follows the Phantom and Christine to Coney Island ten years after the original production ends its tale.
The musical was to premiere on Broadway in November but has since delayed its arrival. Tony-winning director Jack O'Brien and Jerry Mitchell, who staged the original London production, are reported to have withdrawn from the project. They will begin work on their new Broadway musical Catch Me If You Can in early 2011.
Love Never Dies has a score by Lloyd Webber and lyrics by Glenn Slater (Sister Act, The Little Mermaid). The book is by Lloyd Webber, Ben Elton and Slater, with director O'Brien also making contributions.
Lloyd Webber's plan to stage an altered version of Love Never Dies while the original is still running is not unheard of for the award-winning composer. When the London production of Sunset Boulevard opened in 1993, he followed with an altered staging in Los Angeles in 1994. The L.A. production (and its star) famously arrived on Broadway the following year, while the London production shuttered to undergo an overhaul and subsequently opened with a new cast.
Casting for the Australian premiere of Love Never Dies will begin in the next two weeks.