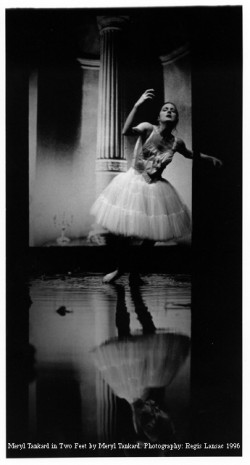 Meryl Tankard is one of Australias most influential and important dance theatre directors.
Originally from Darwin, her many talents have taken her worldwide. From training and performing with the Australian Ballet, to being one of Pina Bausch's leading performers. Tankard has had her own company, and was Artisic Director at Australian Dance Theatre. She's starred in television productions, and documentarys.
Meryl has been commisioned as a choreographer by many great dance companies including The Australian Ballet, Lyon Opera Ballet, Nederlands Dance Theatre, Berlin Ballet and also has an impressive choreographic history in commercial events, musicals, feature films, operas and youth productions.
The list of her achievements, experiences, awards and recognitions goes on and on and on – get the picture? She's notoriously outstanding. So, I interviewed her for you all this month. Enjoy, and don't miss out her website:
www.meryltankard.com
Cheers,
Paul White.
Meryl, you've been creating work in theatres and on film across the world for many years now. What has you continually inspired to create work? What do you say is the biggest driving force for you to continue?
I can't really say any one thing. I just keep getting ideas, sometimes the inspiration comes from a person, sometimes from just observing nature, music ,an incident, a feeling. I sometimes feel because I never had children I am making up for that by creating shows. I also like to encourage the people I work with to discover new skills, talents they never knew they had, develop their own creativity. This is a great joy for me when I see them expanding as artists. I believe the world would be a happier place if people were able to create more and use their imagination. Once you have 'tapped' into that life is somehow more fulfilling.
When creating a show, what do you mainly have your attention on? Are you thinking of what people want to see? Are you trying to please your audiences, challenge them, entertain them? Or are you expressing something for you?
I guess I create shows for people to be touched/moved, inspired in some way. I really try to give them something they haven' t seen or experienced before and I try never to repeat what I have done before. I know I could make it easier for myself sometimes and give people easy happy lyrical works but that seems boring to me so I 'try' to create something both original and challenging for myself also.
Is there a difference you hope to make in the world with your work? What do you want people left with?
That's a tough question. Its a big world and I feel very tiny in it but I guess if you can touch/inspire a few people sometimes , make them think or see things in a new/ different way then that's what I hope to achieve. It's a little like a sort of drug I guess, i.e. giving people a 'hit' somehow.
You've worked with so many brilliant artists. You briefly lived and work with Sylvie Guillem. What was your experience of that?
I spent two weeks in Sylvie's home in France working everyday with her. She is amazing, so down to earth, so focused and very funny also. She is really in control of her life. She works about 7 hours everyday 6 days a week. She is keen to learn new things .
Is there one thing you are most proud of about your history in the arts? Any career highlights?
Many of the performances with Pina Bausch I will never forget. It was just the time when the world was discovering Pina's work and I felt very proud to be a part of a company that was changing the perception of dance and theatre and breaking down all the rules . The time in Rome when Frederico Fellini came back stage and complimented me was pretty unforgettable! The first shows in New York with Pina when the water we were dancing in was cold and we (and the audience!) waited 1.5 hrs for it to be heated. Andy Warhol was there, David Bowie, Robert de Niro, Bianca Jagger etc. It was very exciting and also when I returned to the same theatre (Brooklyn Academy of Music ) with my own company 12 yrs later and the great reception we received. We were the first Australian company to be invited there.
What do you think of reality TV dance shows, and how they've impacted the arts ?
"Reality" ?? dance TV shows can be very entertaining but sometimes I feel it is at the expense of the young vulnerable dancers involved. It can be great exposure but sometimes I feel it can undermine the integrity of dance, i.e. asking someone to learn a new dance technique in just a few hours and present that live on national TV. That is really scary and doesn't do any service to professional dancers who spend so much time perfecting their art. As long as the dancers know what they are in for and are paid well and looked after during the process then it's fine. This is one area of dance which is based on competition and continues the tradition of the eisteddfod and talent quests and it is fun and entertaining. I don't really think it has much influence on the other forms of dance practised by individual artists around the world. The 'reality' is we are watching a 2-3 mins choreography (which the dancers have struggled to learn in few hours) through the 'eyes' of several cameras editing the action. Creating and dancing in a full length work is something completely different . I find watching a dancer 'live' on the stage for an hour or more a much more 'real' experience than the so called 'reality' show.
What qualities and strengths do you look for in dancers? How do you think students should be focusing their energy and training?
I look for a great openness of mind and body. Generosity and the ability to have a sense of humour is so important. A certain vulnerability which means an ability to forget the ego while working. I still think yoga is a great training to compliment one's own dance technique. For me what's important is WHY we move, so I like dancers who are involved emotionally, i.e. have a 'commitment' to each move they make. I'm not really interested in a whole lot of great technical moves if it doesn't touch you somehow emotionally. So I guess it is about being honest and true to yourself.
If people wish to expand their knowledge of contemporary theatre, what shows or companies would you recommend seeing/researching?
Pina Bausch has really been the biggest influence on dance and theater in the last 30 years. There is still no one like her. Its worth researching the company, watching docos of her work. William Forsythe in Germany (classical), Ce de La B are interesting too. Subscribing to the European Magazine Tanz-Aktuel is really worth it as it has all dance companies and schools in Europe, their seasons , auditions, articles, and reviews. You may be able to get this online as it takes a while to post to Australia. I recommend you save your money and visit Europe. There is so much happening in Holland, Belgium and Germany and so many dancers from all over the world. Go to auditions there even just for the experience and just check out the scene. Ticket prices are much cheaper than here !
Paul White's Blog Is Proudly Sponsored By IKIN DANCE




Ikin Dance is a well established organisation owned and directed by SYTYCD star Anthony Ikin. It provides dance and fitness programs for young people, industry professionals, and for those who just love to dance and get fit for life.