Hello, Dolly!
The Production Company | May 27 – June 11
Australia's leading lady of musical theatre, Marina Prior, will star as the irrepressible matchmaker, Dolly Levi in the classic musical Hello, Dolly!
One of the most enduring musicals of all time, Hello, Dolly! bursts with humour, romance and high energy dancing. Dolly Levi, the irrepressible matchmaker from Yonkers, New York, has an idea for the perfect match – the tight-fisted, local merchant Horace Vandergelder and herself!
Dolly Levi has been played by a bevy of stars from Carol Channing to Bette Midler. Now Marina Prior takes on the title role, with her real-life husband, Grant Piro, to play Horace Vandergelder!
Verity Hunt-Ballard (Guys & Dolls, Mary Poppins) stars as Irene Molloy with Glenn Hill (Show Boat) as Cornelius Hackl and Baylie Carson as Ermengarde.  This production Also features Nigel Huckle, Imogen Moore  and Jack Van Staveren.
The ensemble cast are: Mike Snell, Alana Tranter, Ella Burns, Matthew Jensen, Sam Marks, Rubin Matters, Thalia Smith, Suzanne Steele, Rachael Ward and Brenton Wilson (Dance Captain).
The superb score by Jerry Herman includes the smash hits Hello, Dolly!, Put On Your Sunday Clothes and It Only Takes a Moment. Helpmann Award winning director Gary Young (Georgy Girl, Singin' in the Rain) returns to The Production Company with a superb creative team to recreate this great Broadway classic.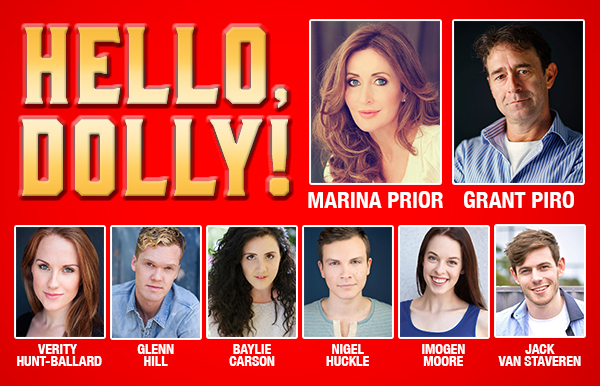 HELLO DOLLY | The Production Company
The Playhouse, Melbourne
May 27 – June 11