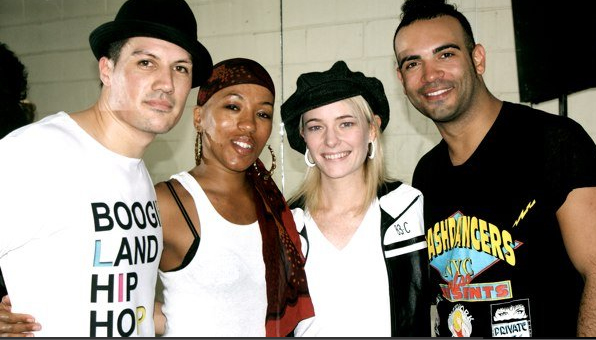 By: Cimone Grayson www.graysonmanagement.com
With the announcement of So You Think You Can Dance top ten edging closer and closer one of the dancers Phillipe Witana has tremendous support from an unlikely source, a chartered accountant. Annie Murdoch just loves dance and is passionate about all aspects of it, she's not just some crazed fan or a member of Phillipe's family though she is an accountant with purpose. In 2009 she created 'The Foundary' with one broad goal: to support dancers all across the globe and help them to further their careers.
Witnessing financial struggle in young dancers to support themselves with casual work while establishing careers as 'professional performers' seemed like a contradiction. Their problem was money and the lack of it so Annie created a business dedicated to sponsoring individual dancers, 'The Foundary' was born. The Foundary is a dance foundation that aligns itself with sponsorship and grants for funding, in turn this money becomes dance events, dance classes and education for individuals. For Annie it's about helping dancers in very specific ways, "we host dance events and bring international choreographers to Australia to expose local dancers to more than their regular dance classes. We specialize in managing individual dancers in needs such as health, travel, business, representation and mindset. Our underlying core value is to make a difference to the lives of dancers committed to their craft and their future. Nothing like this exists currently and we aim to do something different that every dance business can benefit from." Annie explained that a dancer's body is their livelihood so she provides them with top grade nutrition to keep their bodies in best health. "Once that fails, so does their future, so I'm dedicated to educating dancers on feeding the body exactly what it needs." Also recognizing the importance of a strong mind The Foundary offers self development courses to educate dancers in making it through the tough times and provides promotional management in profiling the dancers through her website and industries aside from entertainment.
When asked what the most rewarding story of success has been Annie reflects on the first sponsorship she ever made "this not only impacted the life of amazing hip-hop dancer Anti Fischer (17yrs) but it impacted my life too. I cried the moment I told her I would be sending her to America to perform in a showcase in front of an audience of high profile choreographers and dancers at major Chicago hip-hop convention 'Urbanite'. This was when I knew I wanted to do this everyday – being able to say yes to young dancers and taking away some of the biggest hurdles they face in developing their careers." The defining moment for Annie in creating The Foundary will be "when I can say yes to any dancer with any need from any part of the world."
"I discovered the dance industry in early 2006 largely due to one person, Meg Cooper, she allowed me to express my great skills in business through her own dance enterprise 'Mad Dance House'. People impact my life and she definitely impacted mine. I now want to give to others what was given to me: love, support and commitment to having more in life. Dance is not just a word, it's an expression and an interpretation of an individual's heart, mind and soul. How I see, feel and live dance is different from a dancer on stage, to the dancer in a classroom. We are all unique and bring something special to this industry and that's the beauty of dance – it is never the same from the moment you wake up to the moment you fall asleep. You can never just exist in dance, you get to live every second fully and with heart. So let's live it together!"
To learn more about The Foundary visit the website www.thefoundary.com.au
Current workshop with Lady Gaga Dancers, Mike Silas & Asiel Hardison:
http://www.youtube.com/watch?v=rZt4d7dJ6JA
Black Eyes Peas International Dance Workshop 2009
http://www.youtube.com/watch?v=ctUbFAKKZAQ