Tell us a bit about your SYTYCD journey – how did it start and what did you learn along the way?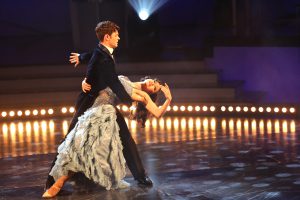 Renelle: My journey really started with my husband encouraging me to 'go for it' and I was reluctant because I was just studying at Uni and I wasn't a professional dancer or anything! I though 'there's no way I'm going to get through' but he said 'no Renelle, just go for it'. I was surprised when I got to Top 100 and I was even more surprised when I got to Top 20 and every single week I thought I was going. I never thought I would stay. The whole experience was amazing – it completely changed my life.The reason I was in Uni for dance was because I didn't think I was good enough to dance professionally so I mean just being able to meet the choreographers and dance with the people I have, it's been a massive opportunity to dance upon that stage for Australia and I am just so grateful! The ride has been unbelievable!
Jay: I entered the SYTYCD competition with not a lot of expectation at all really I was just interested to see just how it would go. I managed to get into the Top 100 and I was happy about that but in that week I had a pretty tough experience getting cut twice in the competition. I think having that happening to me just made me more determined to work hard in the competition and have to prove myself. But when I got into the Top 20 it was so amazing. It really has been the best experience ever! Working with so many choreographers one-on-one has just been the best!
Lauren: I auditioned in Season 3 and got down to the Green Mile and there was one more spot in the Top 20 so I came back not even thinking that So You Think would even come back to our TV screens so when it did I was so excited. I came into the audition thinking 'What have I got to lose?'. And now to have gotten into the Top 2 and I've learned so much and experienced way more than I thought I ever would – working with all of the choreographers, working with all of the partners was the good part of the competition. It's just been incredible!
What was your training background?
Renelle: I studied at Glenda Yee when I was younger. She is absolutely fabulous and I can't speak more highly of her. She really set the foundation for me performing! When I was 12 I moved to Bundaberg QLD and I studied and Dianne McLelland's dance academy which was a small school but she is a passionate teacher and she taught me a lot about performance and connection to the audience. When I was 17 I quit dancing for about 4 years and I worked in Insurance and Retail. I think I was a bit scared of it but then two years ago I decided to go back to Dance and that's when I went to Wesley to do a Bachelor of Dance.
Jay: I danced at Dance Avenue at Penrith and then went to ED5 for Full-Time in Sydney!





Lauren:I trained at All Starz Performing Arts Studio and went to Newtown High School of Performing Arts and then trained at Brent St full time.

What were the highlights throughout SYTYCD for you?
Renelle: So many highlights! There's just something about performing but particularly doing the 'dance for your life' performances – I had to do three – being in the bottom six and then I got to do another solo in Top 6 it was just really cool to do your own thing – that would have to be my highlight!
Jay: For me the highlights were to have worked with Jason Gilkison, my routine with Ashleigh with Debbie Ellis, dancing with Patric, dancing with Lauren in the old person's hip hop routine!

Lauren: One of the highlights I will never ever forget was the hip hop with Jay- the old lady and old man – mostly because the reaction we got. It was such an incredible feeling to hear laughter coming from the audience and knowing that they feel that joy was lots and lots of fun!
Throughout the course of SYTYCD who has inspired you the most?
Renelle: I honestly think Lauren – I came into the competition not really knowing anyone but Lauren and I hit it off really fast. I mean I started the journey with her and then to finish with her … along the way I've just realised how amazing she is and what a strong woman she is. I adore her! Also I think choreographer-wise, there are just too many to mention!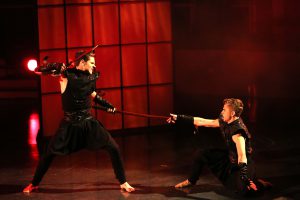 Jay: I think Aaron Cash was the best inspiration for me throughout the show just because of his advice. I was just really inspired by him and everything that he had to say!
Lauren: Honestly it would have to be the choreographers that we got to work with. Everyone had something different to give and the way that they worked was all different and unique but they all inspired me in such different ways. I actually really liked working with Travis Wall – I was so excited when I got to work with him. Also, Belinda (Agostino) my teacher means so much to me! She's not just my teacher, she's my friend and mentor.
What do you hope will happen now that you have such a massive profile?
Renelle: I'd really love to work! I have kind of found my feet more as a performer throughout this competition having been forced to do so many different styles and I think I'm really interested in Musical Theatre because I love the acting, singing and dancing. I really love Television too so anything in that area would be amazing!
Jay: Hopefully some things will happen for me now – I'd love to pursue a career in Musical Theatre and acting and dancing. I just really want to do as much performing as I possibly can!
Lauren: Honestly, whatever comes my way I will do! I don't have anything waiting or ready. I just want to go with the flow and hopefully my name gets out there and things come my way!

What would you like to say to the fans that have supported you throughout this journey?
Renelle: Just that I am SO utterly overwhelmed by the support and love that they have given me but overall, from the bottom of my heart, just THANK YOU for making my dream come true!
Jay: Everyone who has supported me – I just want to say a massive massive THANK YOU! I am so grateful
Lauren: There's so much I would like to say! I'd like to say THANK YOU! But then I'd like to say that Dance is something that brings so much emotion to the table … it brings joy, sadness, everything you need to express so USE IT, and ENJOY IT!