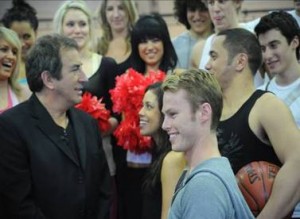 The Director of the three worldwide smash hit High School Musical movies, Kenny Ortega, visited rehearsals for HIGH SCHOOL MUSICAL LIVE ON STAGE! last week. In town for the premiere of the latest movie instalment, Kenny Ortega was full of praise for the Australian cast.
"This cast is a joy to watch," he said. "They are all young and fresh, and bring enormous energy to the show. This is the sixth cast of HIGH SCHOOL MUSICAL Live On Stage! around the world, and I think it could be the best, because these kids are so energetic and talented."
Ortega saved special praise for the two lead actors. "I worked with Rebecca (Tapia, who plays Gabriella) before in the arena production of The Boy From Oz with Hugh Jackman, and she was fantastic. I honestly think she has one of the most beautiful voices in the world…. And Chris (Durling), well he is just perfect for Troy. He is young, athletic and very good looking. There's great chemistry between Rebecca and Chris that will make this show so special!"
Ortega spent a couple of hours with the cast, watching their rehearsals, giving pointers about some of the characters and insights into the origins of the show, as well as answering questions from the cast.
"I hope to get back and see their work at some stage during the run (of HIGH SCHOOL MUSICAL Live On Stage!)," he said.
Sydney preview performances for Disney's HIGH SCHOOL MUSICAL – Live On Stage!
Tickets are on sale with A – reserve tickets from only $39.90. Previews commence on Saturday 13 December ahead of the Gala Opening on Thursday 18 December. Because the show opens just as the school holidays begin, extra mid-week matinee performances have also been added to the schedule each week for the Sydney season. Also, A reserve family tickets are available for mid week performances saving families almost $70 off the regular A Reserve prices.
Visit www.hsmliveonstage.com.au for all ticketing information.