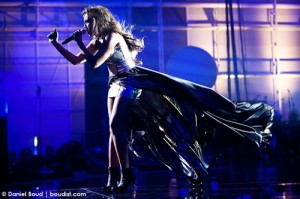 The Aria Awards on next Thursday night in the round at Acer Arena and what a night it's sure to be!!
Jessica Mauboy is the favourite to take home a few gongs on the night but better than that she is performing with an amazing group of dancers! Choreographer: Greg Chapkis (From USA) Directed by: Simon Lind. Dancers: Timomatic, Jordan Pollard, Marko Panzic, Phillipe, Kate Wormald, Talia Fowler, Michelle Hopper, Dani Cook, Jess Stokes and Anjula. Will be an explosive dance performance.
The 2009 ARIA Awards will be the telecast on the Nine Network from 8.30 on the evening of Thursday, 26 November, followed by an encore screening on MTV on Friday, 27 November at 5.30pm. General public tickets to attend the 2009 ARIA Awards are still available via Ticketek or phone 132 849.