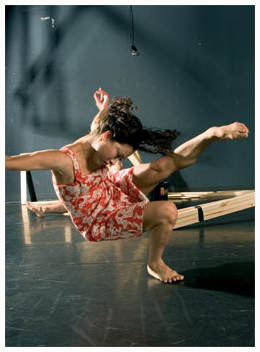 Construct is a sharp, rigorous and curious look at the concept of 'building'. It starts with an empty theatre full of possibility – a space in which to construct. Effortlessly shifting between the physical act of building and the emotional construction of lives, Liedtke explores with wicked humour the curious connections between building a home, a life, a relationship, and a future.
construct was choreographer Tanja Liedtke's final work, It was commissioned by London's Southbank Centre and premiered there to critical acclaim in May 2007 followed by a U. K. tour; and sell out performances at the 2008 Sydney Festival.
The work won two Helpmann Awards in 2008: Best Choreography (Tanja Liedtke) and Best Male Dancer (Paul White).
In August 2007, at the age of 29, Liedtke was accidentally killed in a road accident. She had been about to take up the prestigious position of Artistic Director of Sydney Dance Company.
Artistic Team: Conceived and Directed: Tanja Liedtke | Choreographer: Tanja Liedtke in collaboration with Kristina Chan & Paul White | Creative Co-ordinator & Remount Direction: Solon Ulbrich | Set and Lighting Design: Ben and Geoff Cobham, Bluebottle | Sound Design: DJ TR!P | Dramaturgy Consultant: Joshua Tyler
Performers: Kristina Chan | Lisa Griffiths | Paul White
Toured by Performing Line
TOUR DATES
Caloundra | The Events Centre 1 July 07 5491 4240 or www.theeventscentre.com.au
Toowoomba | Empire Theatre 4 July 07 4698 9900 or www.empiretheatre.com.au
Brisbane | Brisbane Powerhouse 9 – 11 July 07 3358 8600 or www.brisbanepowerhouse.org
Hobart | Peacock Theatre 15 – 18 July 03 6234 8414 or www.salarts.org.au
Adelaide | Adelaide Festival Centre 22 – 25 July 08 8216 8600 or www.adelaidefestivalcentre.com.au
WIN TICKETS!
To win a double pass to Contruct in your home town email win@dancelife.com.au with your Name, Age and Postcode.