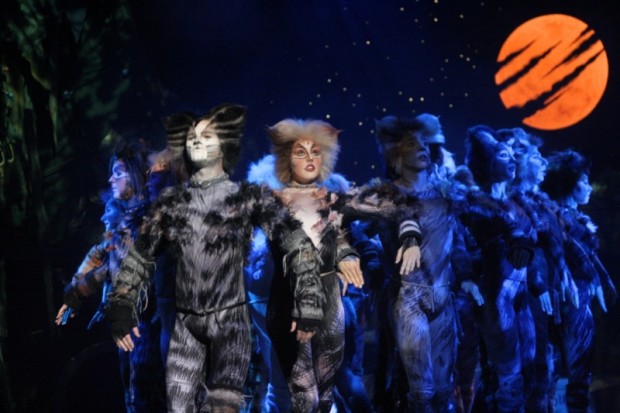 Here is our first interview with one of the stars of CATS, Shaun Rennie who plays Munkustrap in the musical.
1. You have played the role of Munkustrap both in Asia and now in Australia. How do the audiences compare? Do you notice a difference?
Absolutely. Many of the cities we have visited in Asia have never seen a western style musical before, especially in China, so therefore there is a real sense of wonderment from the audience. There is also a tendency for Asian audiences to be very enthusiastic… to the point of frenzied fans screaming for the sake of screaming, whereas in Australia, I have found the audiences to be much more honest in their response. When we have a great show, we are rewarded justly. I always feel that in Australia, the audience is "with us" much more.
2. What was the audition process like? How heavily did you have to rely on your skills as a triple threat performer to snag the role?
The audition was very intense, especially as someone who considers themselves a singer/dancer. I remember walking into the room, being surrounded by all these incredible dancers and feeling very intimidated. It most definitely pushed me to my limits both vocally and physically. Thats the great thing about CATS tho, it really does require you to use all of your skills and training. The other great thing about the show is, that there are so many different roles in the show, and each one requires a different set of skills. So yes, everyone needs to be able to sing and dance, but certain roles require different actors to be have different strengths. I could see this for early on in the audition process, and that helped ease my nerves a little.
3. You have completed some extensive training throughout your years as a performer. What would be your number one tip when looking for somewhere to train and gain more skills?
Oh that always relies on the individual and what is going to suit them best. For some people it's going to WAPPA or NIDA, for some it's doing private singing lessons and attending dance classes. I did the NIDA musical theatre course, and I do believe that it gave me a very strong set of skills and techniques that I still use today, however I understand that a full time course such as NIDA or WAPPA does not suit everybody, so I suggest to get out and do as many drop in classes as possible.
4. Light The Night is an Annual Benefit Concert you produce for Leukemia research. Can you tell us how you started this venture?
Light the Night is inspired by my younger brother Matthew. Matt was diagnosed with leukaemia back in 2004 when he was 21 years old. Having to watch my brother fight this disease, and not being able to do much for him ourselves was very frustrating. Light the Night was our way of helping. The original idea was to put on a small concert and raise Matt's cancer ward a few thousand dollars, however the idea grew and grew and its now been five years, and we have raised over $250,000 for leukaemia research. Sadly, Matt passed away in 2007, but Light the Night continues as his legacy and is continuing to grow and help others fighting this horrible disease.
5. When you're not on the road with Cats what are you doing?
Resting!!! Life on tour is pretty crazy at times, so generally when I am home in Sydney I just like to hang out with my mates and my family. I did just go on a holiday to London in our last break, which was amazing.
6. Where do you see yourself in 5 years time?
Still working in this amazing industry. I am truly happy to have been able to make a living out of doing what I love, as long as I am able to continue doing that, I'll be happy.
Cats is playing in Melbourne, Perth and Sydney. Go to www.showbiz.com.au for all ticket information.