First Ever Samba Congress for Australia Celebrates Brazilian Arts & Culture
7 & 8 April | Sydney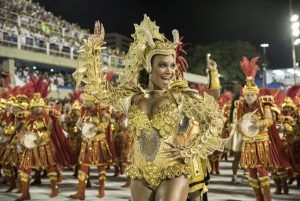 The Australia Samba Congress (ASC) will be a groundbreaking event for Brazilian arts and culture, and will be held for the first time in Sydney over 2 days. It will culminate in a huge closing party on Sunday night – "Noite do Samba" – at Oxford Art Factory.
There will also be a special "Meet & Greet" event on the Saturday night.
This new event on the Australian dance calendar is presented by the producers of the International Samba Congress in Los Angeles, Brasil Samba Congress in Rio, Gafieira Brasil and Samba Internacional.
The Australia Samba Congress aims to:
To promote the essence of Samba,
To foster the integrity of Brazilian performing arts culture in Australia, and
To educate through exposure to authentic Brazilian culture and artists.

The timetable for the weekend is as follows: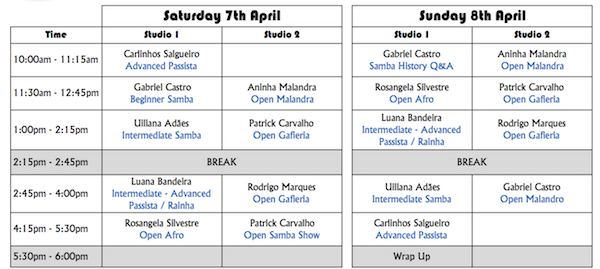 The ASC features eight of Brasil's leading artists and instructors presenting Brazilian dance workshops, cultural education and the most inspirational performances outside of Brasil across two jam-packed days in Sydney, Australia!
Renowned artists coming to Sydney for the event include:
Carlinhos Salgueiro – Creative Director of Passistas at Salgueiro, "King of Samba" and Rio's most internationally recognised choreographer.
Rosangela Silvestre – Master Teacher and Creator of the "Silvestre Technique, one of the most sought-after Brazilian artists in the world.
Luana Bandeira – Award-winning Queen of the Bateria of Estácio de Sá & Musa for Unidos do Viradouro.
Gabriel Castro – Choreographer & Director of Passistas at Imperio Serrano and Imperio da Tijuca.
Patrick Carvalho – Rio Carnaval Choreographer, Gafieira Brasil legend, resident pro on the hit Globo TV Show "Strictly Come Dancing"
Uillana Adaes – Queen of Rio Carnaval 2017, Princesa, Fitness Model.
Rodrigo Marques – Award-winning Carnaval Choreographer and Artistic Director for the legendary Cia de Dança Carlinhos de Jesus.
Aninha Malandra – 30 years experience parading in Rio's top Samba schools, Ana spearheaded the 2017 International Samba Congress.
Australia Samba Congress 2018
Opening Party

 – 7 April 2018 – Empire Hotel, 103 Parramatta Road, Annandale
Workshops

 – 7 & 8 April 2018 – Village Performing Arts Centre, 85 O'Riordan Street, Alexandria
Afterparty "Noite do Samba"

 – 8 April 2018 – Oxford Art Factory, 38-46 Oxford Street, Darlinghurst