The Mean Girls are Coming to Sydney

Teen angst gets a body count when Westerburg High's hottest mean girls return in Heathers: The Musical this June (8–26) at the Sydney Opera House.
Based on the 1988 cult comedy, Heathers: The Musical is directed by musical theatre and cabaret darling Trevor Ashley (Les Misérables, Fat Swan).
This is a deliciously dark tale of brainy, beautiful Veronica Sawyer, who hustles her way into the cruelest clique in school, 'The Heathers'. Heathers: The Musical comes to life on stage with a rocking, energetic musical score, and all the shoulder-padded, scrunchie-sporting bitchiness and quotable catchphrases you can handle.
Debut director Trevor Ashley says: "I've always loved the movie Heathers. The stage production is quite true to the film, so all that black comedy and satirical fun is in there – just with a whole lot of terrific music! After our previous seasons in Sydney and Brisbane, I could not be more proud of this show and its vibrant cast."
With a pop-to-rock soundtrack and a subversive, snappy script that employs all the satire of the film. Sydney's stellar cast includes Sydney Theatre Awards nominee Hilary Cole (Dogfight, Miracle City) as Veronica Sawyer, and Helpmann Award nominee Lucy Maunder (Grease, Doctor Zhivago) in the role of Queen B herself, Heather Chandler.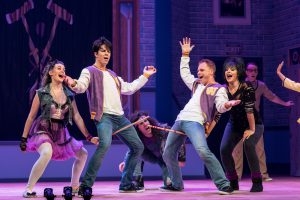 Co-presented by the Sydney Opera House and Showwork Productions, the brand-new theatre company headed by Ashley and show promoter and artist manager, Wendy Richards, Heathers: The Musical had its Australian debut at the Hayes Theatre Co. in 2015. Playing to sold-out audiences and critical acclaim, the production now returns for a repeat Sydney season at the Opera House.
Dark, funny, romantic, crude, lewd and moving, Heathers: The Musical is one hilarious, heart-felt and homicidal tale for anyone who's ever been in love, in trouble, or in high school.
If you're a fan of the movie or just bit of a Heather yourself, come along, dress up in your best '80s gear, and revel in the joys and anguish of high school. Come on, it'll be "very"!
Heathers: The Musical is a rock musical with music and lyrics by Laurence O'Keefe (Legally Blonde) and Kevin Murphy (Desperate Housewives) and is based on the 1988 cult film Heathers. After a sold-out Los Angeles tryout, the show had a production Off-Broadway in 2014. In 2015, new Australian Theatre Company, Showwork Productions headed by Trevor Ashley and Wendy Richards, introduced the stage musical to Australian audiences in a limited season to sellout audiences.
Heathers: The Musical


Wednesday 8th – Sunday 26th June 2016
Playhouse Theatre, Sydney Opera House
Tickets: Premium $89.90, A Reserve $74.90, B Reserve $64.90, Concessions $59.90
One Sale Now at www.sydneyoperahouse.com or Ph: 02 9250 7777