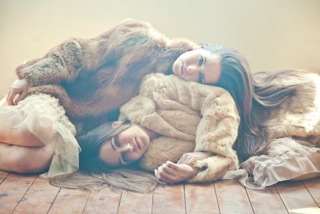 Kahlia and Karinna Greksa are identical dancing twins! Best known for their knockout role in Baz Luhrmann's 'The Great Gatsby', Kahlia and Karinna began dancing as toddlers at Brent Street Studios and completed their training years later with an identical set of Certificate IV's in performing arts!
These gorgeous sisters have spent the past few years captivating audiences with their unique talent and passion for dance. Following the success of The Great Gatsby, the girls were cast as lead dancers for the Sydney Premiere choreographed by New York's Caitlin Gray. In 2013 the girls were flown to India to film another blockbuster movie "Dhoom 3" as tap dancers choreographed by acclaimed Australian choreographer Dein Perry.  Working with Caitlin Gray again, the twins were last year cast as dancers in the "Veronicas" Sony music video "You Ruin me". Kahlia and Karinna now have hopes to pursue their careers in the USA.
Kahlia is a successful and incredibly talented dancer in the professional Australian dance industry. Her extraordinary ability and passion to dance has helped her reach high levels of success in her career. She has achieved acclamation of the greatest kind, which is shown through her career highlights and achievements as a lead dancer.
We had a chance to chat to the girls about their aspirations, what it's like to dance as twins and their insatiable love of dance!






What has it been like working as a 'duo' on most of your professional engagements? Do you prefer to work as a team or individually?
Kahlia: Working with my sister has been an absolute pleasure, we've have been dancing together since the age of 3 so to be professionally working with her only seems natural, its amazing to be able to share success and also failure, you never feel alone in an industry that can be very confronting.
Karinna: Working as a duo makes myself feel more comfortable as a dancer, this is because I feel we are able to engage an audience more as a package instead of solo artists. I have worked as a solo artist previously, although I do prefer to work with my twin Kahlia as we both work great as a team.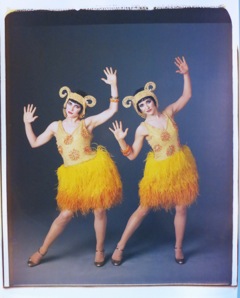 What have been the greatest learning experiences in your professional world so far?
Kahlia: My greatest learning experience would have to be when I was filming "The Great Gatsby" being on set for 12 hours can be very tiring, you can spend the whole day sitting down doing nothing and then within seconds you are asked by Baz Lurhmann to perform your dance scene full out. You learn to always be ready and rehearsed for every job no matter how diverse they may be, you never know when you are needed, you need to stay in character and never drop your focus.
Karinna: Whilst working on "The Great Gatsby", I was fortunate enough to work one-on-one with the great Baz Lurhmann … this allowed me to engage myself in a different aspect that I had not previously performed in as a dancer. Having that direction by Baz allowed me to understand a completely different view on how to perform in front of a camera and production crew, which would eventually be released worldwide.
What advice can you give to young aspiring dancers on how to 'make it' into the professional world?
Kahlia: My advice to aspiring young dancers would be to work hard! Never rest on your laurels and always show respect to your dance teachers, you never know when they will be on an audition panel.





Karinna: It took me a lot of hard work and motivation to get where I am today and my advice is to stick to what you are doing even through your 'ups and downs'. Pick a goal that you are passionate about and work to the best, understand you must put in the hard yards to reach your ultimate dream because nothing comes without hard work.
What are your aspirations for the future?
Kahlia: My future aspirations are to be a successful working dancer in the United States.
Karinna: My aspiration for the future is to be traveling with a Cirque Du Soleil! This has been a childhood dream of mine … this would allow me to travel the world whilst doing what I love!
Karinna's talents have transcended into the professional dance industry. Karinna is an outstanding dancer and has extraordinary talent, her cutting edge work ensures that she will continue to be a key figure in the dance industry, not only in Australia but all around the world for years to come.
We wish Karinna and Kahlia all the best with their future and international endeavours!