Reshaping Development Program INCITE Revive for November
Youth Company Auditions July 26 & Aug 2
Despite the COVID-19 shutdown across the industry, Sydney-based independent dance theatre company Force Majeure has re-imagined its programs for 2020 to deliver adjusted versions of  both its INCITE intensive and Youth Company.
INCITE REVIVE
Since 2017, Force Majeure has been delivering INCITE ⏤ a 2-week intensive professional dance theatre development program for mid-career and established artists. Physical distancing requirements have restricted opportunities for artists to maintain their practice and hone their creation process as dance theatre makers. Now, in response to the COVID-19 pandemic and the devastating effect it has had on artists in Australia, Force Majeure have re-imagined their annual INCITE Intensive to provide INCITE Revive. This is a special edition intensive led by Force Majeure Artistic Director Danielle Micich and will be offered to a limited number of selected participants from across Australia through an Expression of Interest and be co-facilitated by Liesel Zink and longstanding Company Artist Ghenoa Gela.
Force Majeure is offering artists from around Australia the opportunity to participate in the company's industry-leading professional development program INCITE Revive completely free of charge and supported by a fee and travel subsidy. Each successful artist will be paid $500 for participation. In addition, regional NSW and interstate artists will have the cost of transport covered and and will have access to accommodation support.
It is open to artists and creatives working across all disciplines and roles including dancers, actors, theatre-makers, designers and directors, INCITE shares Force Majeure's devising methodology to explore the use of movement and text in performance. As they anticipate a high volume of responses for INCITE Revive, there are a limited number of places available and applicants are encouraged to consider the eligibility requirements before submitting an Expression of Interest.
This one-week, 6-day edition will run in November 2020. It will provide a chance for artists to take paid time to focus on their practice and skills development without financial pressure or the requirement of an outcome.
 "An important aspect of being an artist is finding your network, making connections and using this to empower your work. This opportunity is here for those who may not have had the capacity to take part in much needed professional development. I am very thankful to those who are supporting this initiative so that we can stay connected as we emerge back into studios and theatres,"  Danielle Micich says.
"INCITE allowed me as a maker and performer to realise I have more potential. It awakened my impulses for creativity and inspiration, and presented new and expectant pathways. Which was proper exciting, I highly recommend any artist to do INCITE," says Ghenoa Gela.
Expressions of Interest are open to mid-career and established Australian-based artists working in all artistic disciplines who have an interest in exploring the use of movement and text. It is open to all who haven't participated in our INCITE Intensive program before – past Masterclass participants are welcome to apply. INCITE Revive will only be offered this year, made possible by the support of the City of Sydney, Create NSW and Carriageworks.
For more information: www.forcemajeure.com.au/whats-on/incite-revive
INCITE Revive


November 2 – 7  (full days)
Sydney, NSW
Expressions of Interest close Thursday 16 July, 1pm
Successful Applicants will be notified Thursday 30 July
Apply here: www.forcemajeure.com.au/incite-revive
---
YOUTH COMPANY AUDITIONS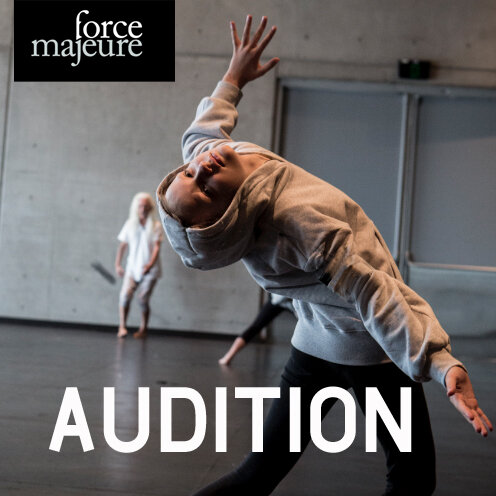 Continuing with their young dancer development program, Force Majeure are also moving forward with auditions for their Youth Company this year. They are seeking fearless, open-minded, creative and committed young performers aged 9 to 14 years to form a Youth Company.
The Youth Company will be nurtured within a company structure and have the extraordinary experience of training with one of Australia's leading dance theatre companies led by Artistic Director, Danielle Micich.
This experience will extend their individual talents as young artists and provide them with the opportunity to perform in a major new work by Force Majeure premiering in 2021. This is a unique chance for young performers interested in pursuing a career as a professional performing artist.
To Audition you must be:
An all-rounder who is confident with movement, comfortable using your voice and open to acting
Aged 9 – 14 years old and based in or near Sydney
Committed to all training and rehearsal dates
Dates for Youth Company training consist of a two week intensive during the school holidays:
Week 1: Sep 28 – Oct 2
Week 2: Oct 5 – Oct 9 (full days)
And full days of training on:  18, 25 October & 1, 8, 15 November
Rehearsal Period dates:
5, 12, 17, 18, 19, 21, 22, 23, 24, 28, 29, 30, 31 December.
Further rehearsal in the lead up to the production in January TBC.
Training and rehearsal dates take place during school term and holidays. Successful Youth Company members will be required to pay a membership fee of $100 which includes the cost of all training. Auditions will include a warm-up, group improvisations, voice work, creative tasks and learning a sequence of movement. No preparation needed. Spots in each group are limited and no video or late auditions will be accepted.
FORCE MAJEURE  – YOUTH COMPANY AUDITIONS
Sunday 26th July  & Sunday 2nd August
Redfern, NSW
Group Auditions will be held between 10am – 3pm. You will be required for up to 2 hours during that time.
Apply here: www.forcemajeure.com.au/whats-on/audition-youth-company-9-14-years