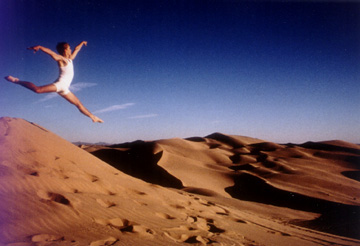 Planet Earth may be drowning but dancers are going through a worldwide drought. They're hitting the dance studios hard, but there's not enough drinking going on.
If you've noticed your students experience:
Difficulty picking up choreography
Muscle weakness or Joint pain
Being talkative or unfocussed
Under-eye darkness
Mood swings or Depression
Poor spotting in turns
Overeating
Fatigue
… they may be dehydrated.
Recently I surveyed dozens of my weekly students. I was astounded to learn they are going hours and sometimes all day with little more than a few sips of water, or worse still, sugary drinks to sustain them.
I asked hydration expert and master practitioner Angela Meyers for her advice on the dancer drought. Angela reports, "If you're not drinking enough water the thirst signal switches off. The body becomes dehydrated and starts to recycle water out of the bowel to operate your body."
Weight loss experts have known for years that many people mistake thirst for hunger and just a fraction of a percentage drop in the body's water supply can result in critical performance decreases.
"Water is needed for all functions in the body including the elimination of body waste including acids and fats, and dehydration will dramatically limit dynamic dance power." reports Meyers, owner of Sydney's Well and Truly, a wellness spa that cares for athletes, dancers, celebrities, and people from all walks of life.
Angela recommends dancers drink 30ml of water per kilo of body weight daily, plus 1 litre per hour during dance workouts. So get your scales and your calculator out folks!
Here are 3 Steps to ending your Dancer Drought … drum roll please …
Buy a BIG aluminium drink bottle & fill it with water before you leave home each day.
Take the bottle with you into the studio, and refill when empty.
Drink, drink, drink!
Be a global industry leader by creating a hydration policy for your studio that includes guidelines such as:
All students, and teachers to bring a full bottle of water to class.
Students be allowed to drink during class as frequent intervals.
Students be allowed to refill water bottles during an appropriate momentary break in class.
Get more career exploding distinctions at auditionguru.com, or let's catch up facebook.com/auditionguru.
Cheers!
Tia
More about drinking to health and success …
Dr Hiromi Shinya MD is an authority on the benefits of water and has this to say in his book THE ENZYME FACTOR "Good water is the best medicine. The idea that one can get healthy or look younger just by drinking water may seem too simple to be true."
Shinya points out, "Water … the biggest function is to improve blood flow and promote metabolism… Dioxins, pollutants, food additives and carcinogen are all flushed out of the body by good water. Water moistens areas of the body where bacteria and viruses can invade most easily … the immune system is activated making those areas difficult to invade."
Want powerful health? Here are some local contacts:

Sydney:
Angela Meyers at Well and Truly. www.wellandtruly.com.au
Melbourne:
Natalie Bondine at Purity Mind Body Soul. www.naturaltherapypages.com.au/therapist/purity_body_mind_soul
Perth:
Georgia Sheehan at Perth Colon Health. www.perthcolonhealth.com
Gold Coast:
Greg Danswan at Beyond Living Health. www.naturaltherapypages.com.au/therapist/beyondlivinghealth