Ballet Revolución is an explosive fusion of Ballet, Contemporary Dance and modern Hip-Hop from the undisputed home of dance, Cuba. It will be a raw, fresh, dynamic Cuban Cocktail of unbridled passion, pure energy and athletic skill.
DanceLife caught up with one of the choreographers Aussie Aaron Cash about the show and what Australian audiences can expect when it comes here in July and August.
1. You're grew up in Brisbane and were one of the original Tap Dogs. What did this experience teach you about the world of entertainment?
I was eight years old when I started dancing with Clarissa Hill in Brisbane, and had been dancing many years prior to Tap Dogs.But as a kid quite often I wouldn't have a lift to class and I would have to ride my BMX bike one and a half hours to class (actually it was more but that just sounds like one of those bad I've traveled 3 hours one way to school in the snow with bare feet) and an hour and a half back home after dancing all day. Bottom line HARD WORK always pays off. Don't be scared to put in the extra hours, the world of "Entertainment" is no different to any other work. It's always about the work.
2. You were picked up quite early in your career by Kenny Ortega who cast you in Cher's Love Hurts Tour. How do you think this opportunity and dancing with her for 10 years shaped your career?
It gave me a very good profile in the Dance World. People soon became aware of my work. Which really helped with getting future work as people already had a glimpse of my dancing. And there was a lot of respect from my peers as a result of this and they too would recommend me for projects.
3. Twyla Tharp hand-picked you to become her personal Pas de Deux partner in the early 90?s. What qualities as a dancer do you believe you acquired over your early training that assisted with the work you secured?
Versatility. The only thing I don't do is flip, and that's because it wasn't offered at our school as a kid. But Miss Hill made us do all forms of dance. She wasn't interested in us just being proficient she wanted us to excel. She would bring one of the best Tap teachers in Australia, Shirly Tully, up from Melbourne once a month so we had the best training. I was still rubbish though. But what Twyla like about me was not just that I had technique, but that I could sing, I could Tap, she created a faux fosse piece, which featured me heavily. Being versatile is always going to give you more chances to work.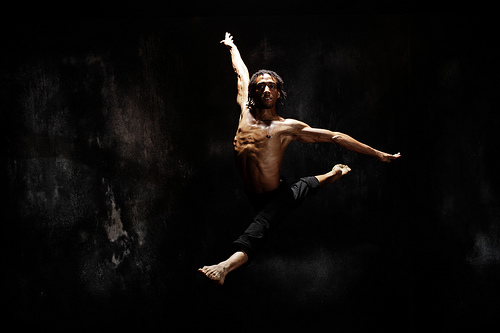 4. You're bringing Ballet Revolución to Australia this month. How did you come up with the concept and what made you decide to work with Roclan Gonzalez Chavez on this project?
Mark Brady and Jon Lee are the ones responsible for the concept. And they have produced several salsa/cabaret shows out of Cuba and Rochlan is primarily a Salsa/Cabaret choreographer that they have worked with. So it was their idea to bring him in and do some of the more traditional Cuba
styles.
5. Ballet Revolución is a fusion of Ballet, Contemporary Dance and modern Hip-Hop. What challenges did you face when creating this show?
The biggest challenge was actually being away from my family for so long. The show its self has come together quite in well mixing the diverse nature of Dance styles and techniques. Of course the audience might think differently, but I hope not.
6. When casting your dancers for this show what were you looking for?
Strong Classical and Contemporary techniques and an ability to apply thattechnique with versatility.
7. What can Australian audiences expect to see from Ballet Revolución?
A dynamic, fun filled show full of passionate explosive dancing, that will have the audience thrilled from go to woe.
For ticket information go here http://www.balletrevolucion.com.au/australia/home