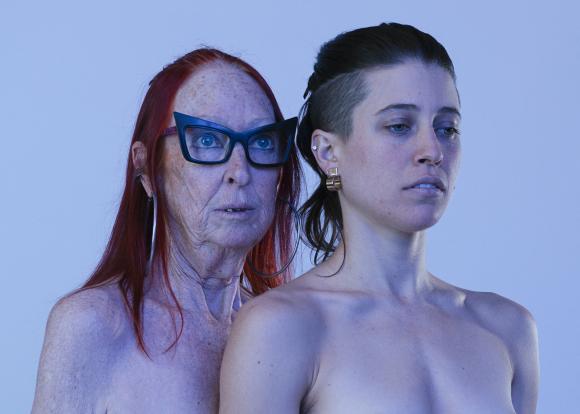 (re)PURPOSE: the MVMNT
The Dying Swan Re-Imagined 
Dancehouse is delighted to present the world premiere of (re)PURPOSE: the MVMNT, a new Housemate artist-in-residence production by Melbourne-based choreographer, Natalie Abbott.
In (re)PURPOSE: the MVMNT, Abbott appropriates the influential ballet solo, The Dying Swan (1905), to examine our expectations of dance performances, female characters and the limits of the body. She takes a lateral, multi-directional approach that both resists and caters to these expectations.
Abbott's work regularly explores the dynamics of disparate bodies in space through experiences of vulnerability—finding comfort in discomfort as a communal experience. (re)PURPOSE: the MVMNT is a duet performed by two bodies that are representative of stages in a lifecycle—navigating linear ideas of birth, life, middle/void and death. Using borrowed and re-contexualised signifiers from dance, the horror genre and pop music, Abbott creates a lo-fi, dramatised spectacle that begins with familiarity before unraveling to reveal the un-groundedness of image-consumerism in the Internet Age.
(re)PURPOSE: the MVMNT
5-9 JULY
Sylvia Staehli Theatre, Dancehouse
$25 F | $20 C | $15 DH Members
NATALIE ABBOTT is an Australian artist, performance maker and choreographer. She is preoccupied with the fissures between the real and the un-real, using familiar theatrical tropes to create absurd performance experiences for audiences.
She has self-produced and toured her work throughout Australia and the world including; YuNG + OPN (YOuNG + OPEN) 2015 Taipei Arts Festival + Arts House; MAXIMUM, Next Wave 2014, Performance Space, Avignon OFF, Dancehouse Dance Massive 2015, PICA, La Boite; PHYSICAL FRACTALS, NW 2012, PACT, AH Dance Massive 2013.
In 2015, Natalie was an artist in residence at the Marina Abramovic Residency and has performed at the Venice Biennale with Young Boys Dancing Group and in Zurich as part of Body and Freedom. Natalie also performed with French choreographer Xavier Le Roy and Scarlet Yu in Temporary Title.  In 2016 She was participant coordinator (vibe girl) and performer in Nic Green's in Trilogy at Arts House and is currently undertaking research and development projects through residencies in Europe, Asia and Australia. She is constantly seeking alternative modes of presentation for her work and works both solo and as part of the collective, Deep Soulful Sweats, when creating work. She regularly collaborates with non-dancers such as bodybuilders, sports stars and her father to generate alternate physicalities that work to form extra-contemporary, visceral and moving performance experiences.