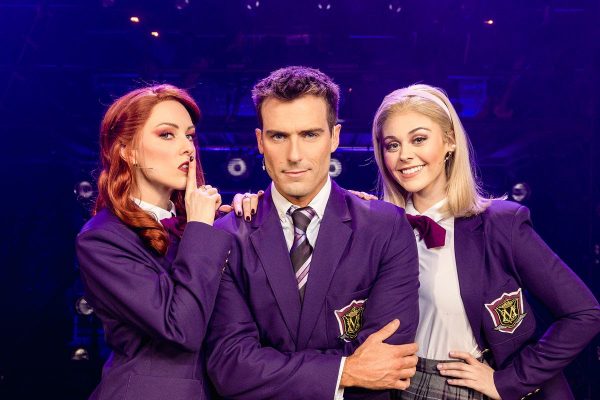 Cruel Intentions: The '90s Musical
David Venn Enterprises
Following standing ovations across the country and incredible demand, David Venn Enterprises (The Wedding Singer, Bring It On: The Musical) is excited to announce the new cast members joining the acclaimed cast of Cruel Intentions: the '90s Musical as it extends its Australian tour.
Cruel Intentions: the '90s Musical got the new year party started making its Gold Coast premiere at HOTA, Home of the Arts from 20-28 January. The ultimate throwback experience is returning to Sydney in collaboration with Riverside Theatres, Parramatta from 2-12 February, before making its triumphant return to Melbourne's Athenaeum Theatre from 16 February.
Audiences will be able to sing-along to the killer line up of back-to-back hits including Bittersweet Symphony (The Verve), Every You and Every Me (Placebo), Bye Bye Bye (*NSYNC), Sometimes (Britney Spears), Just A Girl (No Doubt), Foolish Games (Jewel), Genie In A Bottle (Christina Aguilera), Candy (Mandy Moore), Breakfast At Tiffany's (Deep Blue Something), Kiss Me (Sixpence None the Richer), Iris (The Goo Goo Dolls), I'll Make Love To You (Boyz II Men), and more.
Slip into your favourite crop-top and cargo pants combo and get tickets now via www.cruelintentions.com.au. Playing for strictly limited seasons, missing this nostalgia fuelled experience might ruin your reputation!
Musical theatre superstar Kirby Burgess (10th Anniversary Tour of Dirty Dancing, The Wedding Singer, Bring It On: The Musical) makes her return as the scheming seductress Kathryn, the role made famous by Sarah Michelle Gellar, alongside hallmark heartthrob Drew Weston (Grease, MTC's Hay Fever, Dream Lover, Mary Poppins) who is very much the brooding ab-fest as Sebastian, originally played by Ryan Phillippe. Kelsey Halge also returns to her breakout role as the virtuous Annette Hargrove, the subject of Sebastian's desires, played by Reese Witherspoon in the movie.
Joining the acclaimed trio of principal roles is Sarah Krndija (Class of '07, Baz Luhrmann's Elvis) who is stepping into the shoes of the naive Cecile, made famous by Selma Blair, who becomes entangled in Sebastian and Kathryn's plot of revenge, and participates in 'that' iconic kiss with Kathryn. In addition to her exciting on screen credits, Sarah also appeared as Rachel in the Australian tour of Friends! The Musical Parody, as well as Maragaret in the Australian tour of 9 to 5 The Musical.
"I was stoked to get the call to fill the chunky heels of Cecile Caldwell. From the powerhouse energy in the rehearsal room already, I can say Australian audiences should strap in for a naughty, irreverent and nostalgic night out," says Sarah.
WAAPA graduate Ross Chisari (West Side Story, Disney Theatrical's Aladdin) will also be joining the party in the role of Blaine, Sebastian's friend. Ross has recently returned to Australia following his performance as Eddie/Dr. Scott in the number 1 UK Tour of The Rocky Horror Picture Show and has just wrapped up a sell-out season as Frankie Valli in The Very Popular Theater Company's production of Jersey Boys.
"I am so excited to be playing the role of Blaine, who is an archetype we all know and love. He's witty and manipulative but in a genuine way – he fights for what he wants, charms the pants off anything and anyone and really the foundation of why he does what he does is love, a theme that's very apparent in our queer culture today," says Ross.
Talented up comer and QUT graduate Rishab Kern will be reprising his role as Ronald, alongside Joseph Spanti (Friends! The Musical Parody, Netflix's Dive Club) as Greg, and Green Room Award nominee Fem Belling (Hairspray, Fame, Footloose, Cats, The Boy From Oz) as Mrs. Caldwell.
Hot off the Australian tour of 9 to 5 The Musical as Kathy, Mia Dabkowski-Chandler (Disney Theatrical's Aladdin, Thoroughly Modern Millie, Jersey Boys), Tom New (The King & I, 9 to 5 The Musical, West Side Story) and Lily Baulderstone (Charlie and the Chocolate Factory, Into The Woods) will be joining the dynamite, energetic ensemble with Etuate Lutui, Daniel Erbacher (Legally Blonde, It's Only Life, Grease), and Morgan Heynes.
Based on the acclaimed Hollywood film which was re-released to cinemas in 2019 and currently has a new TV series in development, this hit '90s musical sets a scandalous tone for romance and seduction, with hilariously fun scenes and exhilarating performances that will have you singing and dancing in the aisles. Are you ready to make your wager? 
Producer David Venn is thrilled the show will continue after receiving such resounding, audience acclaim during the initial national tour.
"We have loved  the incredible response Australian audiences have had to Cruel Intentions. We can't wait to keep the party going and welcome some incredible new talent to the company," says David.
Penned by the writer and director of the film Roger Kumble, along with Jordan Ross and Lindsey Rosin, Cruel Intentions: The '90s Musical received rave reviews from Hollywood royalty and original film cast members during its USA and UK tours.
Leading the creative team is multi-Green Room Award nominated Alister Smith, who achieved widespread critical acclaim for the national tour of The Wedding Singer, and sellout seasons of Bring It On: The Musical. The talented Daniel Puckey (Muriel's Wedding The Musical, The Book of Mormon) is Musical Director, with dynamic choreographer Freya List (Chess, Next To Normal, RENT) bringing fresh '90s energy to the 21 iconic songs which range from powerhouse ballads to rock anthems.
Accomplished Lighting Designer Declan O'Neill (The Wedding Singer, Bring It On: The Musical) brings the moody world of Manhattan's seductive elite to life while Craig Wilkinson and the team at Optikal Bloc transform the set with video design.
Multi Green Room Award nominee Costume Designer Isaac Lummis (Hello Dolly, A Gentlemans Guide to Love & Murder) unleashes the best of '90s fashion. He says audiences should get excited because "Cruel Intentions gives them all the best fashion moments of the 90's, plus all the hits from their year 10 formal!"
Prolific international Set Designer James Browne (Ghost the Musical, Velvet, Cabaret) has created a contemporary set design with moving pieces to reveal everything from elegant artwork to a rock concert, while paying homage to the original source material with a sense of Renaissance level opulence.
You'll be living your '90s dream quicker than the speed of dial up internet. Don't miss out.
Cruel Intentions: The '90s Musical
Gold Coast

  – HOTA
From Thursday 19 – Sunday 29 January
Parramatta

– Riverside Theatre
From Thursday 2  – Sunday 12 February
Melbourne

– Athenaeum Theatre
From Thursday 16 February