The Rocky Horror Show Musical rolled into Sydney-town last week to thunderous applause and an avalanche of wicked sniggers and laughter. Craig McLachlan leads a sensational cast through time-honoured ditties that leave audience members dancing in their seats and gagging for more!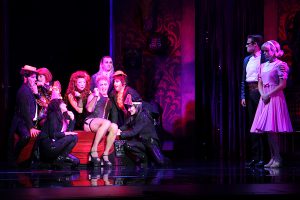 It's hard to imagine that a show this popular could just keep getting better, but after loving it for many years I have to say that this season, this cast, and Sydney as its original Australian hometown is definitely in for a treat! Craig McLachlan is simply flawless and completely commanding as the deranged Dr Frank N Furter. With an impeccably well-oiled cast who are equally talented and passionate performers, the show leaves you singing the hits and doing the Time Warp well out the door and for several days after reliving the fantastic high that only a sensational show like that can bring.

Of course we all know that Rocky Horror is not a show for the faint-hearted or for grandma to take the grandkids to see … it is naughty … VERY NAUGHTY … but hysterically funny and brilliantly entertaining. For this theatre buff, the only weak point in casting is Bert Newton as the Narrator but his audience-appeal is legendary and for this reason is forgivable.
By a stroke of precioius luck, I had the great pleasure of interviewing Craig McLachlan who incidentally shares my own Central Coast heritage. I fondly remember seeing Craig for the first time on stage in his Year 10 Musical entitled 'S'cool' in which he of course played the lead and generated a swoon of female fans! Today Craig's appeal is universal having built a career that spans almost 30 years. He is a Gold Logie winner and one of Australia's most versatile talents. Craig's list of TV credits includes The Young Doctors, Neighbours, Home and Away, Heroes, McLeod's Daughters, NCIS: Los Angeles, Packed to the Rafters, House Husbands, The Doctor Blake Mysteries and much more. On stage Craig has enjoyed leading roles, both in Australia and the UK. His theatre credits include Grease, Happy Days the Arena Spectacular, Chitty Chitty Bang Bang, Chicago and White Christmas.

However it all started with Frank N Furter in The Rocky Horror Show in 1992 … and in 2014, with Frank's help, he won the Helpmann Award for Best Male Actor in a Musical. It's been 23 years since Craig last invited anyone 'up to the lab, to see what's on the slab', but his fishnets have never been far away. He is delighted to be applying the lippy for the continuing 40th anniversary production!
This is what Craig had to say …
What is it like to reprise your role as Frank n Furter after 23 years?
Im actually enjoying it more all these years down the track. If you'd asked me 23 years ago – last time we did it – if I could imagine stepping back into the heels in my late 40's and having even more fun, I would have said you were crazy. But I am really getting so much more out of it! The tour kicked off in January of last year, but honestly night after night I didn't want the tour to end!
You seem to just embody this role!
Maybe a little too well … some people would argue (wicked grin!). It comes a little toooo naturally to me!
You grew up on the Central Coast of NSW, how did that shape you?
Growing up around Shelley Beach and Long Jetty, going to The Entrance Primary and The Entrance High School, my first big production was a musical we did in Year 10 called 'S'cool' which I had the lead role in. I think it was a local journalist Joyce Harper who said 'if that boy go on to have a career in show business then I don't know what I'm talking about!' Really growing up on the Coast, for those of us that are Coasties through and through … back in the late 60's, the 70's, even the 80's, the Coast was a very sleepy, quiet place. It wasn't anything like it is today. Sydney seemed to be miles away … there was a big freeway to get there. All I knew as a kid was that I wanted to perform, but on the Coast there were no drama schools. I didn't even know that WAAPA or NIDA existed!! How I managed to at least satisfy the urge to do something artistically creative was that my parents – thankfully – sent me of to guitar lessons at a very young age! So by the time I was in my teens I was lying about my age to get jobs in various pub bands. So really thatwas my introduction to ultimately what I was going to pursue … I was playing everywhere from Woy Woy to Cessnock to Umina.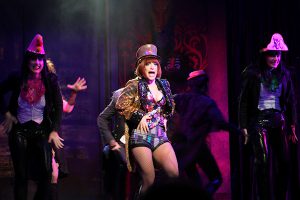 Did you have any formal training in acting or singing or did it come naturally to you?
My family just told me that I was born showing off! My only formal training really came from the music lessons. This says a lot about growing up on the Coast in a very loving family environment … I just believed I could do it!  I can remember catching the train to Sydney when I was about 16 … I got off the train at Wynyard … I only knew two streets in Sydney being George Street and Pitt Street … and i went to a phone box and looked in the yellow pages to find 'Theatrical Agents and/or Managers' and there happened to be one on George Street. So I just walked in and said 'Hi, I want to be a star!' The receptionist just looked at me and went 'take a number and stand in the queue kid …'  I was just so naive! Inherently I just used to think 'well, this is what I want to do …' so I just went for it. I guess we all have that youthful confidence!

Are the audiences responding to you in a different way all these years later?
It's lovely … there's a lot of love in the room! But also, audiences are different. Twenty-something years ago there was no internet and no social media, no 'selfies', no Instagram … so audiences I have to say that it's worth seeing the show twice … first time to see what's happening on the stage, and the second time to see what the hell is happening in the audience! On a Thursday, Friday and Saturday night, it is HILARIOUS! I could just stop the show for a few minutes and just take it all in … I LOVE IT!
BUY TICKETS NOW!
SYDNEY



VENUE: Sydney Lyric Theatre, The Star
SEASON: From 11th April

PERFORMANCE TIMES:Tues 7pm, Wed – Sat 8pm, Sat matinee 2pm, Sunday 1pm & 5.30pm

PRICE: From $69.90*

BOOKINGS: ticketmaster.com.au or 1300 795267

MELBOURNE
VENUE: Comedy Theatre, Melbourne

SEASON: From 12 June 2015

PERFORMANCE TIMES: Tues 7pm, Wed-Sat 8pm, Sat matinee 2pm, Sunday 1pm & 5.30pm
PRICE: From $69.90*

BOOKINGS:  ticketmaster.com.au or phone 1300 111011