Connect 2018 | Boys Only Dance Event
Sydney June 24 + Melbourne & Adelaide!
Now in its third year, CONNECT has grown so successful as a celebration of males in the dance world that it will now extend events to Melbourne and Adelaide this year!
The Sydney CONNECT is on Sunday June 24th at Shore School, North Sydney. The dates and venues for events in Melbourne and Adelaide are still to be announced for this year.
CONNECT is a unique event designed to bring together male dance students, families, male dancers, dance teachers, studio owners and potential male dance students. CONNECT was started by Tanya Carne as a way to support boys with communities, mentors, inspiration, fun and to celebrate the male dance community and normalise boys' dance.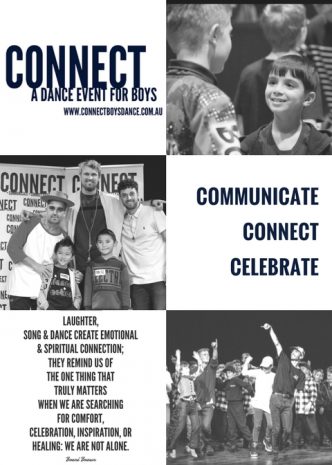 CONNECT 2018 in Sydney will see guests artists Dayton Tavares, BJ Rorke and Jordan Grant run workshops, freestyle sessions, and conduct Q&A activities and share stories among the boys attending. Previous facilitators at CONNECT have been Stephen Tannos and James Barry who are keen supporters of the Tanya's work.
This year's event will also see young male dancers as mentors: Joe Duffy, William Richardson, James Gardner, Ben Hurworth and Ned Nowland.
The day consists of 2 parts:
CONNECT will run from 1:00pm – 3:30pm and includes workshops, fun activities and discussions. Boys from 5yrs and at any skill level can attend this session and should wear comfortable dance gear. Parents/carers wishing to supervise their child can purchase an observer ticket. Anyone wishing to observe this session and watch the showcase can purchase an Observer Package in ticketing for a cheaper rate.
CELEBRATE will run from 4:30pm – 6:30pm and is a showcase of male dance performances. All audience members need a ticket for this session, except for performers.
For full information visit www.connectboysdance.com.au

You can help support CONNECT by donating at the Go Fund Me page: www.gofundme.com/connect-a-dance-event-for-boys
CONNECT 2018 | Sunday June 24th


Shore School, Berry St, North Sydney
1pm: Workshops and Discussion
4:30pm: Showcase
Tickets: www.trybooking.com