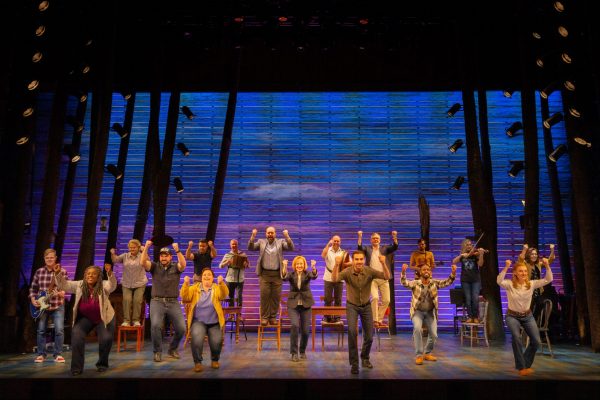 Come From Away
Theatre Royal Sydney
Sydney, this is your last chance to experience the Tony and Olivier Award winning hit musical that has welcomed the world, so wherever you're from, the doors open – come on in to the Theatre Royal Sydney.  COME FROM AWAY must close Sunday 29 January.
COME FROM AWAY shares the incredible real-life story of the 7,000 air passengers from all over the world who were grounded in Canada during the wake of 9/11, and the small Newfoundland community that invited these 'come from aways' into their lives.
COME FROM AWAY garnered rave reviews when it opened in Sydney and continuous to receive rapturous standing ovations at every performance for its triumphant final Sydney season.
Awarded the Tony® for Best Direction of a Musical, Christopher Ashley's production guides audiences through a colourful and spirited cast of characters, brought to life by the Olivier Award-winning writing team Irene Sankoff and David Hein.
The outstanding hand-picked ensemble includes Kyle Brown, Zoe Gertz, Manon Gunderson-Briggs, Douglas Hansell, Kat Harrison, Joe Kosky, Phillip Lowe, Joseph Naim, Sarah Nairne, Natalie O'Donnell, Emma Powell, David Silvestri, together with Kaya Byrne, Jeremy Carver-James, Noni McCallum, Michael Lee Porter, Alana Tranter and Jasmine Vaughns.
"Inspired… What the music does do is brilliantly underscore the action, and it does this while drawing on Newfoundland's proud Celtic heritage … It's a show that not only makes one feel good, it rather inspires one to do good."
– John Shand, Sydney Morning Herald
"Come From Away is not just an Important Musical for Our Times, it's also a whole lot of rollicking good fun." – Time Out
"A captivating 100 minutes of music, smart lyrics and heartfelt characters.   DO NOT MISS THIS!" – Broadway World
Come From Away
Sydney

– Theatre Royal
Must Close 29 January