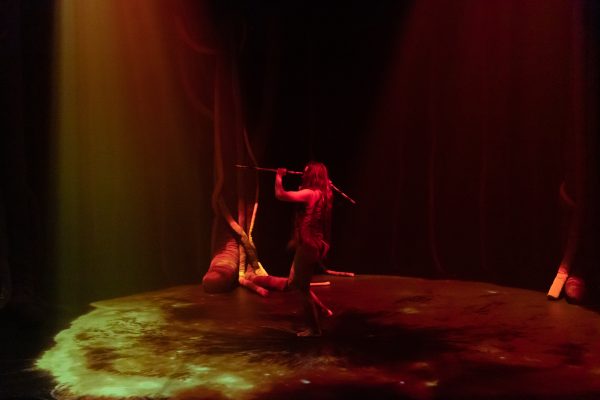 Burrbgaja Yalirra 2
Marrugeku, 21 – 29 April
– A trilogy of new short works, Burrbgaja Yalirra 2 highlights trans-Indigenous and intercultural collaboration in contemporary dance – 
Carriageworks, one of Australia's most significant contemporary multi-arts organisations, presents the world premiere of new dance work Burrbgaja Yalirra 2, opening tonight 21 April and showing until 29 April by resident company and Australia's leading Indigenous intercultural dance company Marrugeku. Following the company's critically acclaimed, international season of Jurrungu Ngan-ga in 2022, Burrbgaja Yalirra 2 features a trilogy of short works which evoke shadow worlds reflecting histories of relocation, cultural adaption and survival. Together they reconnect cultural lineages and embody longing, renewal, rage and resilience to share new ways to belong in a changing world.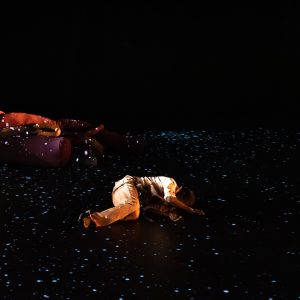 Curated by Marrugeku's Co-artistic directors Dalisa Pigram and Rachael Swain, the dance works conceived for Burrbgaja Yalirra 2 are the result of a multi-year program of intensive dance laboratories, which aims to build capacity in the next generation of leading change makers in community and culturally informed contemporary dance.
Marrugeku Co-artistic Director Dalisa Pigram said: Marrugeku's Burrbgaja Yalirra program gives the lead artists the opportunity to take time working to explore and expand something important for them now. Working in Fitzroy Crossing, Broome, Cebu, Nouméa and Sydney the artists have uncovered unique stories of their connections to their ancestors through who they are today. Exploring old and new dance they embody places and rhythms that are never forgotten."
Marrugeku Co-artistic Director Rachael Swain said: "We are thrilled to be sharing each unique intercultural collaboration that make up Burrbgaja Yalirra 2. The works reflect the power and possibilities of dance to share new ways to belong in a changing world. In dialogue with their communities and investigations between memories, movements and images the dancers have woven stories of relocation, cultural adaption and survival."
The commissioned works for Burrbgaja Yalirra 2 include:
 No New Gods
Filipinx performance artist Bhenji Ra's mesmerising solo, set in the moments before, during and after a lunar eclipse, is co-choreographed with Javanese-Australian choreographer Melanie Lane. Ra takes power, dominance and resistance as starting points to channel colonial histories, epic narratives, and flora and fauna of the Philippine archipelago. Working through Filipino stick fighting, the sensory systems of animals and Ra's own unique gestural hyper-expressivity, she invokes the transformation of the body of the mother as land and sea. In uncanny constellations of the mythic and the mundane she summons the Bakunawa who swallowed the moon, a serpent-like dragon believed to be the cause of eclipses, earthquakes, rains, and wind. Ra's voice echoes through time in a dystopian truth telling that warns of catastrophe invoked by failing to hear the wisdom of aunties, the agitation of tiny animals and messages contained within ancient stories. 
Bloodlines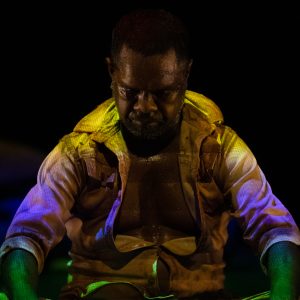 Bloodlines channels the maritime histories of the Melanesian diaspora in a breathtaking duo by Broome based Aboriginal (Kunjen) and Torres Strait Islander (Erub/Meriam) dancer Ses Bero and Nouméa based Kanak/Ni Vanuatuan/Papua New Guinean dancer Stan Nalo. The work is co-created with Torres Strait Islander director Ghenoa Gela (of the Aubaith Clan of Wagadagam Tribe; Mualgal of Poid; Aragan Tribe to the West and Samsep Clan; Peidu Clan; and descendant of the Rebes Line and Tribe to the East) in collaboration with Anglo settler associate choreographer Miranda Wheen. Bloodlines acknowledges the brutal histories of slavery and forced transportation of South Sea Islanders by the British to eastern Australia from the 1860s. At the same time Torres Strait Islander families also moved between the islands and the mainland, meeting Kanak and Ni Vanuatuan workers and their families in the sugar cane plantations in Queensland. Together they navigated their linked but culturally distinct customs, dance, music and language. As descendants of these histories and in a celebration of the soft power of young warriors today, Ses and Stanley have drawn on the power of ancestral presence to explore how cultural memories rupture daily routines to remember places and peoples carried in spirit and in rhythm that are never forgotten. This collaboration was born of Marrugeku's long term partnership with Centre Culturel Tjibaou, New Caledonia.

Nyuju 
Fitzroy Crossing based Bunuba/Gooniyandi/Walmajarri/Wangkatjunka dancer and actor Emmanuel James Brown (EJB) reflects on the extraordinary life of his great grandmother, senior Wangkatjungka artist Nyuju Stumpy Brown, who was amongst the last nomads to walk out of the great Sandy Desert. Nyuju's paintings capture her tactile, gestural yearning for home. Her longing for her birthplace Ngaparwarla is evoked in mesmerising animations by Sohan Ariel Hayes, third generation English settler media artist with extensive experience working with Senior Martu Law Men and Women. Responding to Nyuju's paintings and conversations with her family, EJB's captivating movement language and character work, co-devised with Yawuru/ Bardi choreographer Dalisa Pigram and Malay associate choreographer Zunnur Zhafirah, embodies generations of connection between dance, art and Country in the central Kimberley. Together they channel the survival skills of EJB's ancestors as well as his community in Fitzroy Crossing today. Nyuju furthers Marrugeku's ongoing investigations into new visual and dance languages that reflect and share Indigenous ways of knowing Country. 
 The trilogy is designed by Kanak French installation artist Nicolas Molé with music by Filipina Australian composer Corin Ileto and costume design by Matthew Stegh. Together they make intangible knowledges visible and audible to evoke new ways to belong in a changing world.
 Acting Carriageworks CEO Jonty Claypole said: "Carriageworks is proud to commission this innovative new work by resident company Marrugeku that brings together artists and choreographers working at the forefront of contemporary dance, and leading new approaches in intercultural collaboration." 
Burrbgaja Yalirra 2 was co-commissioned by Carriageworks and PICA, Perth, and tickets are now on sale.